The investment will be used to fund and scale the further development and commercialisation of low delay LDPC, Polar and Turbo channel coding products. Applications include 4G LTE, 5G New Radio, MIMO cellular communications and other proprietary systems where low power, small footprint and ultra-low latency are all key requirements.
Through this investment Bloc Ventures will take a seat on the board, adding to the experienced team through their deep knowledge of the cellular communications sector.
The company's optimised Polar coding chain is already in commercial use today in 5G New Radio products, just eight months after Release 15 of the 5G NR specification was concluded by 3GPP.
AccelerComm's high performance offering is fully configurable and has a very small silicon footprint, and provides low power and latency. It is 3GPP standards compliant and covers the processing chain including the encode-decode engine, channel interleaving, rate matching, CRC and early termination functions.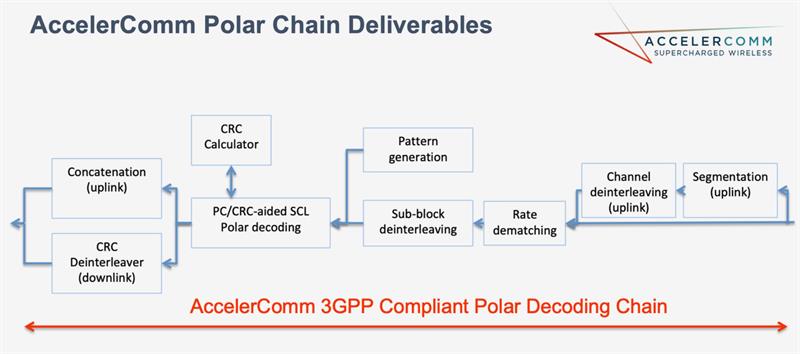 Commenting AccelerComm's recently appointed CEO and former ARM executive, Tom Cronk, said: "This investment supports and underwrites our strategy to meet the demand in a growing wireless connected world for products that can increase communications performance without compromising on size and power."
David Leftley, CTO and co-Founder at Bloc Ventures, said of the company's technology: "It greatly enhances the latency performance of wireless communications and the availability of the company's IP in the market is fundamental to enabling the delivery of ultra-low latency applications of 5G, such as V2X in automotive and mobile edge compute.
"The UK has a strong pedigree of wireless communications technology and we believe AccelerComm will become one of global leaders in this space as it looks to apply its IP and know-how to other areas of the 5G communications stack."