Looking to address the issue, the NMI, the government, the institute of engineering and technology (IET), Semta, five universities and four electronics companies, formed the UK Electronic Skills Foundation (UKESF) in 2010 as a response to the need to do something about the skills shortage in an ever-growing industry.
At its launch, NMI chief executive Derek Boyd said: "Industry hasn't been recruiting enough graduates and it doesn't have a strong enough image. There will be no hope for the UK electronics industry unless there is better talent available."
Since 2010, the organisation has expanded, notably 18 months ago when UKESF's trustees made the decision to invest more in the organisation.
"We do a number of things, explained UKESF CEO Stewart Edmondson. "We started with the scholarship scheme for undergraduates studying electronics at our leading universities. With the scheme, a company sponsors an undergraduate by giving them a bursary and paid work experience during the summer, and we organise workshops to help broaden their skillset. We are now involved with 18 universities, 300 scholars of which 93 have graduated, and next year we should count more than 30 sponsoring companies."
Since its establishment, UKESF has expanded its educational activities with the aim of promoting electronics in schools. It focuses on three main age groups:
The first is sixth-formers doing maths and science A-levels. UKESF organises residential courses at partner universities to give then an insight into what studying electronics is about. This year, it took 80 sixth-formers to York University for a week.
The second age group is year nine, when the children are looking at choosing their GSCE options. This year, UKESF organised a one-day electronics-based activity for them, reaching out to more than 600 children at state schools.
The third is year seven, and UKESF has been working with the IET on an activity based around the BBC micro:bit computer.
UKESF also partners with organisations such as GO4SET, and this year, will collaborate with Studentrobotics and Heriot-Watt University, both for robotic projects. It also takes part in science fairs, in cities such as Bristol and Wiltshire, with small electronics activities.
This year it provided more than 1200 children with some activity around electronics.
Thomas Dell, senior software engineer at McLaren Applied Technologies has benefited from the UKESF programme. He believes these initiatives are crucial to making electronics more approachable to children and sparking an interest. "90% of the problem would be solved if kids had the opportunity to understand the industry. The term 'electronics' doesn't evoke anything to children. Real-world project experience provides little windows into the sort of areas you can apply skills to the real world."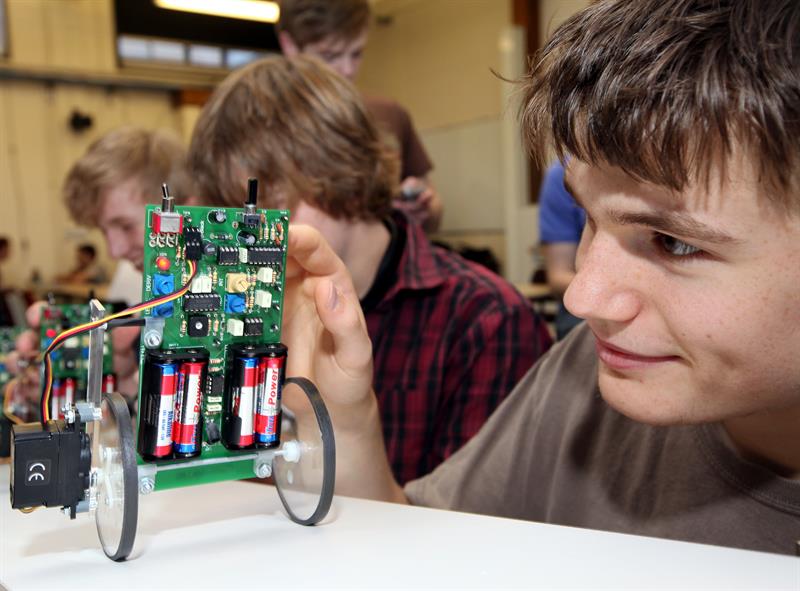 Dell himself grew passionate about electronics at secondary school, partly due to a competition in which his school participated, designing and building electric racing cars.
Commenting, Edmondson added: "Graduates like Thomas are great role models because they're just that bit older than the children we're trying to relate to and therefore they've got a better rapport." All the graduates enrolled in the programme are expected to take part in school activities.
Edmondson also explained that female role models are crucial to getting more girls interested in electronics. UKESF has been working with the Woman in Science and Engineering (WISE) campaign on ways of promoting opportunities for girls in electronics by creating its own campaign called 'people like me'.
"If you ask a 10-year-old girl to draw an engineer, they'll probably draw a man with a hard hat and big boots, said Edmonson. "Electronics isn't like that anymore, so we're trying to demystify it and get them to recognise that all sorts of people can do electronics. We're proud of the fact that about 20% of our scholars are female."
The demand for engineers is as high now as it was five years ago – maybe even higher, according to Edmonson – because the industry has broadened out to include new markets, such as IoT and virtual reality, with electronics becoming more prevalent in the automotive and medical sectors.
Edmondson continued: "People don't realise how many electronic opportunities and companies there are in this country. 90% of smart phones contain electronics designed in the UK. The problem is that electronics is always hidden away so people don't have that exposure to the industry, unlike civil or mechanical engineering."
According to Dell, it was a visit organised by UKESF that led to him working for McLaren Applied Technologies. "I met a few people who worked here, grasped a better understanding of what they did, and realised that it matched exactly what I wanted to do. UKESF provided that connection."
When asked about the future, Edmonson answered: "UKESF will continue to raise the profile of electronics. We're trying to increase the number of companies over the next year because that means we can help more undergraduates and in terms of our educational programme we're looking to double the number of activities we do this coming school year."