When designing a new product, design engineers have to contend with time to market and cost pressure issues, along with having to cram increasingly powerful components into much smaller spaces but, crucially, they also have to address the critical issue of overheating.
They need to be able to manage risk throughout the product design cycle and avoid expensive failures that can lead to having to redesign products. Within that cycle, thermal management is a critical, if often overlooked, element. Designing a suitable thermal management solution is essential if a product is to be taken to market successfully.
When components get too hot they don't function properly, undermining the product's performance. There's a chance that the product will overheat and fail prematurely, so reliability is a critical issue, and, if the device gets too hot, there's the issue of safety to consider too.
Research carried out by Future Facilities, the company behind the 6SigmaET thermal simulation software solution, and published in two reports 'The Heat is On' in 2016 and the 'State of Thermal' last year, looked to find out how engineers viewed and then approached thermal issues.
According to Tom Gregory, 6SigmaET product manager, Future Facilities, "Our research helped us to better understand the thermal issues design engineers face and how they're managing them in the design process and also helped shape the latest release of our simulation software (Release 12)."
While cost was seen as important, it was reliability that was the priority for 43percent of engineers. By contrast, thermal management was considered the least important issue by 40percent of respondents who saw it as a 'low priority' when it came to their design.
"By not prioritising thermal management, engineers are leaving themselves vulnerable to failure in the long term," explains Gregory. "Most engineers have seen products derailed by late stage complications and many of those are caused by thermal issues."
Late stage thermal issues lead to designs having to go back to the drawing board, raise costs and force companies to invest in new prototypes."It's an interesting contradiction when you consider how many engineers say that reliability is their top priority," Gregory continues. "Twenty seven percent wait until after a design has been completed before even considering testing for thermal issues. Worryingly, 13percent of engineers don't test the thermal performance of their designs at all.
"Our goal at Future Facilities is to make thermal management much easier for the non-specialist. Many engineers developing low-power devices don't think they have a thermal issue – but smaller form factors are causing them problems."
Engineers are also over engineering products so as to give themselves a 'thermal margin'. That means adding additional components which aren't necessary, instead of identifying the optimal solution.
Move to simulation
While a sizeable group of engineers accept that they need to spend more time on testing for thermal issues, Future Facilities' research found that the majority were turning to simulation rather than standalone prototyping.
Using simulation engineers can experiment with new design options and identify where devices may be vulnerable to overheating.
"Without using simulation testing a prototype can be both time consuming and very expensive. Engineers need to incorporate simulation more effectively into the design process so that they can identify issues early on, before prototyping. Not only does it help to reduce time pressures but it delivers a more reliable product," says Chris Aldham, Product Manager, Future Facilities.
When it comes to using simulation, software engineers want accuracy to ensure sound judgements. They want to enable more detail and greater automation in order to solve problems quicker.
Speed and accuracy are essential. Engineers are spending over a day building their simulation models. Thermal simulation is time consuming, especially when it comes to importing CAD files or building models and 40percent of engineers were found to spend over an hour gridding their designs. Over two thirds were then spending a day or more solving simulation problems.
"While accuracy is crucial, too many engineers are either gridding their designs manually or find that their simulations are being held back by hardware limitations," says Aldham.
Surprisingly, just 2percent of engineers said that they used the Cloud to make up for poor in-house hardware. Most engineers require huge amounts of processing power to produce accurate results quickly and over a third of engineers, when questioned, said that they would benefit from being able to solve their thermal issues via the Cloud.
The Cloud provides engineers with the opportunity to run multiple variations of their designs and to test different design layouts, but without the need to develop or produce costly physical prototypes.
Future Facilities has looked to address the need for faster modelling and greater accuracy with the launch of Version 12 of its 6SigmaET thermal management software.
Not only does it provide users with the ability to simulate heat and solar radiation through transparent materials, it also now provides enhanced radial fan and blower modelling, and leak detection has been added to pinpoint leaks in liquid cooling systems.
"It's now possible to provide detailed modelling of component substrates," says Gregory, and crucially, "engineers now have access to 1400 petaflops of computing power that's available on the Cloud via Rescale's 30 data centres. We're able to offer computer resources on an on-demand model-by-model basis."
Release 12 also features the ability to create DELPHI compact models and has an expanded library with integrations to support updated fan models from Papst and interface materials from Parker Chomerics, making it easier for thermal engineers to centralise data from across their organisation and their suppliers in order to create more accurate models.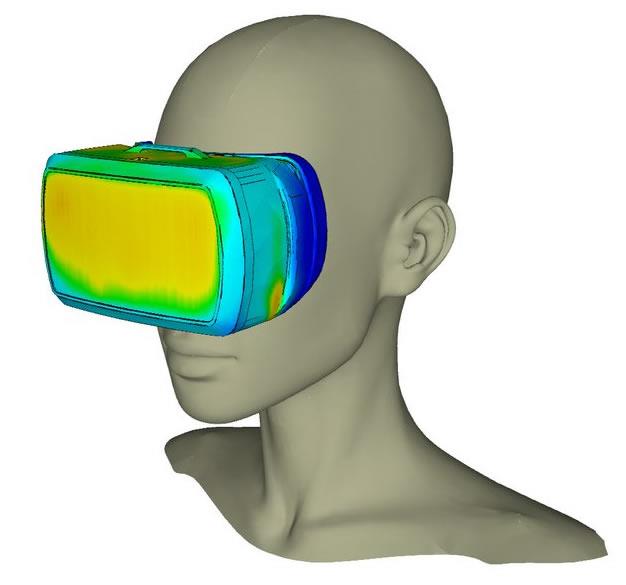 Above: 6SigmaET software is now connected to the Oculus Rift VR headset, allowing engineers to explore their designs in VR
Along with usability and performance upgrades, the latest release provides enhancements to the simulation software's multi-level unstructured staggered grid system providing a new boundary cell reconstruction method for more accurate geometry capture. It also supports 3D mouse control to make model manipulation not only faster but more efficient.
In a world first, Release 12 also includes a prototype virtual reality (VR) visualisation mode. This new software looks to provide users with a glimpse of the potential for VR as it opens up new possibilities when it comes to thermal design analysis and optimisation.
Future Facilities has connected its 6SigmaET software with the Oculus Rift VR headset, allowing engineers to view and explore their models in VR for the first time.
"Engineers can use VR to closely analyse and fix design issues from 'inside' their models, and Release 12 offers the first glimpse of the potential for this new design approach," says Aldham.
Gregory adds, "Ultimately, thermal simulation users want faster, easier to use and more accurate tools – and we're continually evolving 6SigmaET to help our users in a fast-paced market. As part of that, we think it is important to focus our development not only on immediate enhancements, but also to look further ahead.
"While this release features improvements that respond directly to our customers' specific needs, and which we identified in our research, we're also looking to the future with our VR capabilities.
"Although VR is still an emerging technology for industrial applications, we think there is enormous potential for it to bring new value as a user interface and we want to start to explore that potential now."