As part of the Fourth Industrial Revolution there is accelerated investment in, and development of, smart ports with the aim of delivering significant reductions in the time and cost of handling ships and their cargoes through digital transformation.
While maritime logistics and port operations are experiencing ever more extensive digitalisation, what exactly is a 'Smart Port'?
For Lars Böddeker, Sales Director Transport & Logistics Europe, Advantech Service-IoT, a smart port is one in which, "processes are automated and connected using emerging technologies such as 'Big Data', the Internet of Things (IoT), artificial intelligence (AI), blockchain and other technologies that improve both the port's performance and its competitiveness."
Advantech is an example of a company that provides a broad range of infrastructure components to ports, from 5G routers and edge computing devices to IoT sensor technology that are being used to collect, aggregate, store, analyse and communicate data.
"By harnessing these technologies both facilities management and inventory management can be greatly improved. Ports will be able to handle bigger ships and containers through a combination of intelligent load automation and more efficient transportation," says Böddeker.
Ports are using sensors and cameras, which automatically collect and share information such as weather, traffic and pollution data, to optimise operational planning, while the use of AI is speeding up security checks and automating screening processes improving both safety and reliability.
"Determining the traffic flow of ships may be difficult to do manually, but by automating the task you can achieve shorter loading and unloading times, allowing more cargo to be cleared in less time," adds Böddeker.
These smart technologies also have a critical role in ensuring the environmental sustainability of ports. With more automated processes enabling more mandatory environmental reporting, maritime businesses will be able to handle more stringent environmental regulations, for example, complying with the 'Paris Agreement' and the '2030 Agenda for Sustainable Development'.
"The port of Hamburg has effectively utilised a system of sensors, cameras and smart lights on roads to help monitor and direct traffic, helping to optimise traffic and reduce emissions," says Michael Mehlem, Senior Technical Project Manager, Advantech Service-IoT. "The 'Green Port' and 'Smart Port' are closely intertwined when it comes to intelligent port development."
Technology is shaping how international ports and our borders conduct their business. For example, a platform, co-developed by Dutch start-up Teqplay and the Port of Rotterdam, allows vessel operators to cut waiting times by up to 20%. Once ships are in port, autonomous, unmanned gantry cranes handle cargos efficiently and quickly, while at the Port of Valencia, a smart IoT network spans 200 cranes, straddle carriers, trucks, and forklifts that are able to gather data on location, status of operations and energy consumption.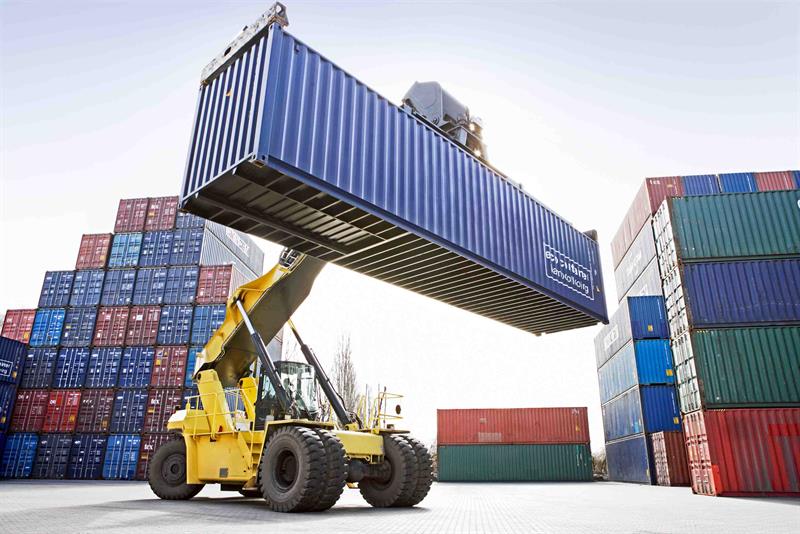 The largest seaport in Europe, Rotterdam has created a digital twin of the port to test and learn about the transformational process for this smarter future and the physical properties and characteristics of the port have been transferred into a simulation where multiple variables can be changed and tested quickly and effectively.
Technology shaping ports

Hamburg has been testing 5G technology as it sets itself up as a hub for next-generation industrial mobile communications, while the Hong Kong based port and shipping conglomerate China Merchants Port (CMP) Group is leading a 5G-enabled port transformation project with Huawei, Alibaba and Tencent at the Haixing (Mawan) port in Shenzhen, China. It represents the first upgrade in China of a traditional sea port to an automated smart port.
"Ports are looking at the potential offered by 5G and how it could improve the flow of information and enable automation and the harnessing of artificial intelligence (AI)," explains Mehlem.
Another example can be found in Northern Ireland, where BT and Belfast Harbour have signed a partnership to build a 5G ecosystem within the Port of Belfast with the aim of delivering a series of 5G-led innovations that will help to accelerate the harbour's digital transformation.
BT will build and manage a live 5G private network delivering ultrafast mobile connectivity, coverage, reliability and security across the port's operations in transport, logistics, supply chain and shipping.
The partnership will explore how 5G could help pave the way for other technologies, functioning in tandem with the Internet of Things (IoT) and AI. The IoT, for example, will enable equipment to transfer data through sensor technology and make operations more independent, automated and efficient - supporting data analytics-enabled decision-making.
"IoT provides connectivity between port assets (vessels, containers, cranes) and a vast amount of data. This is leading to intelligent terminals, with total automation as the ultimate goal," explains Böddeker. "Automation can involve the deployment of drones (monitoring discharges, asset inspection), robots and 'cobots', smart sensor technologies, mobile equipment, video analysis, wireless RF technologies,
and 3D printing (repair and maintenance of parts and accessories). The efficiency of all these new technologies will increase when built on 5G network connectivity."
While the Internet of Vehicles (IoV) remains at an early stage of development autonomous vehicles will have a role in terms of supporting more effective management of port traffic, increasing safety by lowering the chance of collisions, thinks Böddeker.
"Leading port facilities in Europe are integrating IoV technology, with the Port of Valencia and MSC Mediterranean Shipping Company working together to integrate new truck solutions with specially designed IoT devices that can be tracked in real time, helping the port predict and prepare for potential arrivals and congestion at the port's gates."
Sensors, when combined with autonomous vehicles, can be used to generate information on parking availability, the best route to reach them, and the expected cost delivering better capacity utilisation, a less negative environmental impact and increased safety.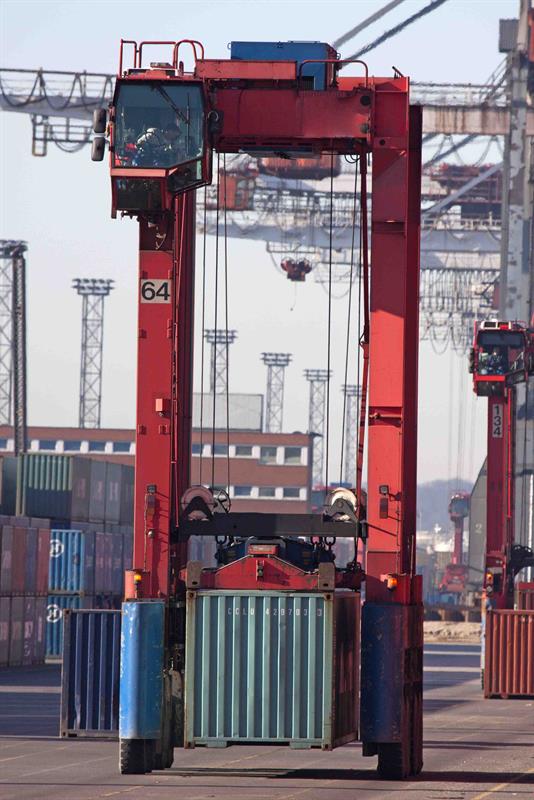 Several ports are currently running autonomous applications in closed areas that are not dependent on many compatibility standards but, ideally, port operators should look to familiarise themselves with this technology and establish test sites equipped with supporting systems such as additional sensors and wireless or mobile networks to ensure their technical capability, suggests Mehlem.
Ports are also using AI technologies such as ANPR cameras at entrance gates to automatically guide arriving trucks to their destination, while IoT Gateways are transferring machine data from port equipment enabling predictive maintenance and more detailed planning with reduced vehicle downtime.
"With the IoT, sensors play a pivotal role in measuring the physical characteristics of objects, which can be read by another device or by the user," explains Böddeker.
A network of smart sensors and actuators, wireless devices, and data centres make up the key infrastructure of the smart port, allowing the port authorities to provide essential services.
"Various sensors such as inertial sensors, ultrasonic sensors, eddy current sensors, radar, lidar, imaging sensors, and RFID readers and tags are all being used to collect the required data in order to transform a port into a 'smart port'," says Böddeker.
Ports, like any industrial operation, will need to employ a cybersecurity strategy to protect as many assets as possible; certainly the most important ones.
"Since it is not feasible, sensible or even efficient to try to protect everything in equal measure, it is important to identify what is valuable and needs greatest protection. The next step is to identify vulnerabilities in order to prioritise and to erect a defence-in-depth architecture that ensures business continuity," argues Mehlem.
Resilience is not achieved simply by installing secure technology. According to Mehlem, it is mostly about understanding and mitigating risks in order to apply the right protection at the appropriate points in the system.
"It is vital that this process is very closely aligned with organisational goals because mitigation decisions may have a serious impact on operations. Ideally, it should be based on a systems-approach that involves stakeholders from throughout the organisation."
Smarter port networks

As referenced earlier the deployment of 5G will make it possible to connect and interact with billions of devices across all aspects of a port's commercial operations.
In a complex eco-system that makes up a modern port reliability and security are two critical elements ensuring that ports run effectively.
"Ports operate over several square kilometres and are filled with moving metal objects and radio frequency-emitting devices. Using communication technologies, such as 4G and Wi-Fi, are relatively straightforward, given range, bandwidth and resilience considerations, but 5G will be essential in delivering the smarter port," suggests Mehlem.
In order to maintain security and manage costs Deloitte has predicted that ports, airports, and similar logistics hubs will account for a third of the 2020-2025 private 5G market and will be early adopters of this new technology.
"The biggest advantage of 5G is not its speed, but its capability of transporting vast amounts of data simulations, making 5G-powered technologies one of the key building blocks in digital ports," says Mehlem.
Projects related to smart ports in the IoT era can be found from Europe to Asia, to Australia and North America; in all these new architecture implementations, sensing technologies play a key role.
But beyond the individual port the major benefit of port digitalisation is that in time it will create a wider network of hubs that are equally digitised and ambitious; in short, a Smart Port Network.
Once several ports are automated, they can connect with each other to form an integrated network of systems, all working in unison to exchange data and improve the efficiency of their collective operations.
"This is called a Port Community System and will form the basis of a global logistics chain, which optimises transport modes and allows all participants to benefit from lower costs and faster delivery speeds, therefore increasing competitiveness and driving further innovation," says Böddeker.
There is no doubt that the application of Smart Technology in ports in the future will not only increase but become a necessity. However, such transformational development of ports will require massive capital investment from operators and government bodies.
As a consequence proper planning will be needed to ensure a successful transformation.
According to Böddeker,"Port developments have close relationships with other industrial activities such as manufacturing, refineries and inland logistics so planning for land use and digital infrastructures should also consider optimal logistics flow and operational efficiency, in order to maximise the value and productivity of land and assets. The components, especially the digital infrastructures and facilities, will be in use for up to 20 years or longer and the cost of maintaining and repairing these infrastructures could be significant if not properly managed. Hence, it is imperative to adopt a life-cycle costing approach for development options evaluation to shortlist the optimal development combined with the desired cost profile."
In order to deliver on the promise of digitalisation and smarter ports, proper planning will be an imperative as will ensuring that greater connectivity is both secure and safe.