With the National Health turning 70 in July it will provide an opportunity to celebrate one of the most enduring institutions to have been created by the UK since 1945, but it is also likely to highlight growing concerns that an increasing number of key services are being overwhelmed in the face of rising demand from an ageing population.
The extra billions recently announced by the UK Government will help, but health and social care services are likely to remain under unprecedented pressure, despite figures, supplied by the King's Fund, which shows that healthcare is taking up an increasing proportion of the UK's resources accounting for around 8% of GDP, compared to 3.4% fifty years ago.
Could technology square this circle? Many believe it could, delivering a more modern, efficient and responsive health service that's better prepared for future challenges, but in truth, the challenges facing the health service can't be solved by technology alone.
The digital health landscape is changing rapidly and as a global market is expected to be worth £400bn by 2025.
That rapid growth provides opportunities for innovative solutions that could transform the delivery of services and tackle some of the health challenges facing healthcare systems.
For example, the NHS deals with over 700,000 patients every day. Over 18million Britons are thought to have chronic health conditions and a quarter of the UK's population is set to be over 65 by 2040.
"There are numerous successful tech innovations happening at the frontline of health and social care," according to the Institute of Public Policy Research, "but the current under-utilisation of both medicinal and digital technology means that there is a real opportunity to unleash a new wave of innovation that could have a revolutionary impact on how care is delivered, and how patients interact with professionals and manage their own health and care."
From opening up new possibilities to treat patients remotely, as well as improving patient flow through digital appointments and access to medical records, to the sharing of information between emergency services, the opportunities to use technology to improve health outcomes are profound.
Wearable technology could provide a vital component in solving many of these problems, reducing the demands on family doctors and other primary care providers. Wearable technology has the potential to reduce hospital admissions and bed stays and could end up being placed right at the front of the patient 'pathway' into the NHS.
The problem with the greater adoption of wearable technology is that among NHS trusts, some 80% are unprepared for the impact of wearable technology.
Practitioners are also unwilling to use it unless there is evidence of benefits.
Data management
The NHS produces vast amounts of data. Technology can better provide and store that information, making it easier for patients to organise appointments as well as monitor their symptoms more easily.
A report from Reform, the think-tank, found that 12% of us already use wearable fitness trackers. That data could be analysed to potentially help detect, diagnose, treat, or manage many different medical conditions.
Combined with electronic medical records, remote monitoring, and information captured from other sensors or apps, there are real opportunities to deliver healthcare more efficiently.
The use of data, however, poses challenges for managers and operators in terms of safety, security and ethical concerns.
According to a survey, the results of which were published at the HIMSS Healthcare Security Forum, recently held in San Diego, California, over a thousand patients suffered harm when their medical devices were hit by cyber-attacks.
The research, undertaken by the University of California, highlighted the importance of security in maintaining the safety of patients, according to Garrett Sipple, managing consultant at Synopsys' Software Integrity Group.
"Medical devices often move through long product development cycles that can make them slow to react to new cybersecurity threats, especially if cybersecurity wasn't even a key consideration in the development process," Sipple suggests.
Sipple warns that where it was found that the security of medical devices had been breached, inappropriate healthcare had been delivered to the patient as a result.
"One of the key themes in this research is the critical role that systems must play in the healthcare sector, because there is shared responsibility among regulators, manufacturers, healthcare providers, and patients," he explains.
"While software security has been discussed for many years, fewer people are talking about systems security and integrating security into systems engineering. The healthcare industry must solve this problem at the system-of-systems level, as well as for individual products like MRI machines and patient monitors."
According to Sipple, "The key is evaluating security at every layer in a product or system lifecycle – systems, software, firmware, hardware."
Despite the security risk, better use of data will be crucial to improving patient outcomes.
Speaking at TechXLR8 in London, earlier this month, Juliet Bauer, Chief Digital Officer, NHS England, said, "We all know the challenges facing the NHS and the importance of improving communications between patient, carer and professional. Used collectively, data and information could improve our health system beyond recognition.
"If we are better able to connect services, we know we will see better outcomes and experiences. We can use data to use our resources more effectively as well as encourage the development of personal healthcare plans."
The introduction of remote monitoring, the Internet of Things, wearable and smartphone technology could be used to help empower individuals.
Robotics and AI
Beyond the use of data, many technologists are focused on the role of robots and artificial intelligence (AI) in providing key services in the NHS.
Could we see robots being deployed to help patients eat their meals, or diagnose a serious illness or help patients recovering from operations?
In a new report looking at the possible impact of AI on the NHS, it was suggested that machines could take over a wide range of tasks currently done by doctors, nurses, healthcare assistants and administrative staff.
"Given the scale of productivity savings required in health and care - and the shortage of frontline staff - automation presents a significant opportunity to improve both the efficiency and the quality of care in the NHS," said the report from the Institute for Public Policy Research (IPPR).
The report stipulated that widespread adoption of AI and the NHS embracing "full automation" could free up as much as £12.5bn worth of staff time for them to spend interacting with patients each year.
As well as "bedside robots" helping patients, the report suggested that, "someone arriving at hospital may begin by undergoing digital triage in an automated assessment suite. AI-based systems, including machine-learning algorithms, would be used to make more accurate diagnoses of diseases such as pneumonia, breast and skin cancers, eye diseases and heart conditions."
AI could be used to help predict which individuals or groups of individuals are at risk of illness and allow the NHS to target treatment more effectively.
The UK Prime Minister, Theresa May, has already pledged to bring forward a long-term funding plan that will look to transform care models and make the most of new technologies and data in healthcare.
The challenge for health providers is to ensure that new opportunities can be grasped, that NHS staff have the right digital skills and the right technology is in place to improve care.
But it is not just in the NHS where innovation can help meet care demands. A huge potential benefit of remote technology is that people can more easily remain in their own homes whilst being properly monitored. They can also be monitored whilst in care homes instead of having to be admitted to hospital. Given that the annual cost to local Government of adult social residential care is approaching £10bn, there is potential for digital technology adoption to help local authorities meet demand in social care.
It appears too, that a previously sceptical public is coming around to the idea of increased use of AI and robotics in healthcare.
Research undertaken by PWC found that 39% of people would be willing for a computer or robot to diagnose medical conditions and even recommend treatments.
More than a third (36%) said that they would have no issue with a robot carrying out minor, non-invasive surgery on them, while 26% said that they would be happy for a robot carrying out major, invasive procedures.
However, Andrew Foster, chief executive of the Wrightington, Wigan and Leigh NHS trust says that while it's realistic to assume that significant elements of patient care could be improved by robotics and artificial intelligence. "We must never forget the fundamental importance of human care, compassion, empathy and even the importance of a gentle, physical, human touch. For it to be welcomed, health services will have to sensitively blend new technologies with old-fashioned care."
Drug discovery
But it is not just the cost of delivering health that is straining budgets. The cost of making and developing a pharmaceutical drug is expensive and typically takes around twelve years. Drugs need to be thoroughly tested before they can be licensed, and the cost of drug developments is soaring, causing real problems for the NHS, which in some cases is forced to ration expensive drugs.
In response, a new project has been set up to develop technology that will help to drive faster and more effective drug discovery.
Based at the Rosalind Franklin Institute (RFI) in Harwell, Oxfordshire, this Government-backed project will look to pioneer fully-automated, hands-free molecular discovery to produce new drugs up to ten times faster in a project that could help to transform the UK's pharmaceutical industry.
New drugs are discovered through a slow and painstaking process that relies on optimising candidate molecules to allow the discovery of a drug that can treat an underlying disease.
The RFI will look to develop an integrated suite of new technologies that will accelerate the discovery of high-quality lead molecules, which will help to reduce the cost of drug discovery.
The project will be developed through a collaboration between large companies, SMEs, several universities, and the Medicines Discovery Catapult.
According to Professor Adam Nelson from the University of Leeds, drug development is, "A rather conservative process, using a small number of building block types and a limited suite of reactions means we are only exploring a very small area of chemical space.
"It costs around $2bn to bring a new drug to market because for each new marketed drug you have to start with around 50 drug discovery projects.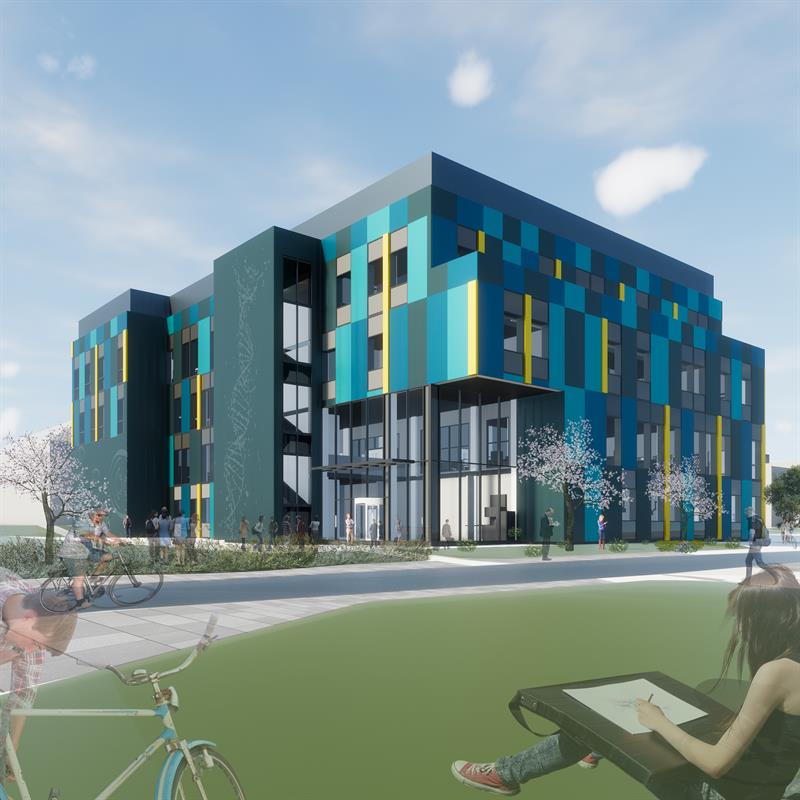 Artist's impression of the Rosalind Franklin Institute
"This won't be a traditional chemistry lab. It will have a unique design and harness robotics and AI to automate the discovery process. It will allow hundreds or thousands of candidate molecules to be investigated at a time. Our aim is to increase productivity by 5 to 10 times."
At the heart of the new facility will be a number of new instruments that will allow the direct observation of the interactions between drug candidates and target proteins, harnessing disruptive new technologies such as AI and robotics.
Commenting, Professor Ian Walmsey, Pro-Vice-Chancellor Research & Innovation at the University of Oxford and Chair of the RFI's Interim Board, said: "The RFI will pioneer disruptive technologies and new ways of working to revolutionise our understanding of biology, leading to new diagnostics, new drugs, and new treatments."
The NHS has been criticised for being slow to embrace new technologies. That's not surprising when you are dealing with people's well-being, but the increased use of data, robotics, and AI has the potential to transform healthcare in the UK, whether that's on the frontline in operating theatres or A&E, in reducing administrative work or, as described above, in transforming the delivery of new drugs.
"The current under-utilisation of both medicinal and digital technology means that there is a real opportunity to unleash a new wave of innovation that could have a revolutionary impact on how care is delivered."
- Public Policy Research