As the trend for the Internet of Things (IoT) accelerates with the number of connected devices surges, the demand for IoT gateways has also increased and is forecast to continue to grow exponentially.
The global IoT gateway market is set to grow at a rate of 30.9% between 2017 and 2023 (according to a research report 'IoT Node and Gateway Market by Hardware, by End-Use, and Geography-Global Forecast to 2023' by Markets and Markets).
The need for IoT gateways is realised because isolated systems are rapidly transforming to the ubiquitous Internet-enabled system (also known as 'connected devices') that can be used to capture and communicate information by leveraging diverse wireless connectivity technologies to IoT gateways for unified edge-analytics.
In other words, IoT gateways play a vital role by providing the fundamental building blocks to develop secure and powerful wireless connectivity between IoT devices and IoT Cloud based applications.
Gateway/hub
As more OEMs look at offering a gateway/hub to connect their existing wireless devices portfolio they have to take into consideration a number of issues.
The main three are: the cost; overall efficiency and effectiveness of the system; and the flexibility that it provides to enable the design of customised IoT solutions that evolve over time.
Typically, when it comes to designing IoT gateways, most OEMs would tend to have taken one of four approaches:
Design from scratch – Building a gateway from scratch based on IoT use case specific requirements with a desired form factor, wireless connectivity and other configurations. While it may have its advantages, this approach tends to increase costs and time to market.
Open platform based solutions – Leveraging open platform-based solutions such as Raspberry Pi, Arduino, or the Beaglebone, and implementing a customised gateway product without extensive programming. This tends to be more suitable for small IoT applications, but isn't sustainable for larger-scale IoT applications.
Fixed configuration-based OEM solution – Purchase a production-ready gateway platform and then build an IoT application. Most vendors will have fixed configuration and form factor designs and, as a result, do not provide the flexibility to customise the architecture for specific needs.
Modular/configurable OEM Gateway solution – A growing number of vendors such as Phytec, VOLANSYS, Digi, are able to provide a production-ready IoT gateway starter kit platform to build an IoT solution. These can be quickly customised with a modular architecture implementation.
This white-labelled gateway solution is suitable for both small and large scale IoT applications as it is able to provide a flexible architecture and enables faster time to market.
The first three approaches bring a number of issues which may affect a business, whether that's in terms of cost-effectiveness or time-efficiency. The fourth one however, provides a middle-ground approach which is both flexible and the most feasible option to prototype custom configurations-based gateways, allowing early field-trials and, more importantly, supporting mass production at reduced time, cost and risk.
So, what are the key factors that need to be considered across an IoT gateway product development lifecycle from prototype to production.
Prototype design
While designing gateway prototype platforms, there are several areas like form factor design, hardware platform, wireless connectivity and pre-compliance that will need to be considered whether you are building from scratch or leveraging available platforms.
Form Factor Design: IoT gateways combining all functions, such as networking, control and data, security, remote operation and centralised management, are generally forced to compromise on size and form factor over fan-less and vent-less designs.
Hardware Platform: For most platforms, the silicon boards; pinouts; and connectors are not friendly enough for using the platform to test the market. Traditional prototype designs are not compatible with a diverse range of peripherals that restrict the use of gateways in multiple applications.
Wireless Connectivity: Most of the prototype ready gateways that are currently available offer limited options for wired and wireless connectivity using standards such as Zigbee, Wi-Fi, LTE, Thread, Z-Wave, Sub-GHz RF, where some of these may not be available as an option.
Also, providing more options for both southbound and northbound connectivity increases the time to market. Solutions that allow product developers to choose from the northbound interface (Wi-Fi, LTE, Ethernet) and southbound interface (Zigbee, Z-wave, LoRaWAN, Sub-GHz) tend to be very rare.
Pre-Compliance: The most critical phase is to get the gateway certified before it is made available in the market, because of the time-consuming certification processes. So, pre-compliance considerations need to be addressed in good time. In today's market, certification ready platforms can help to reduce by up to three months the PDLC prior to product launch. Designers need to be aware that the total time for such products to hit the market will increase significantly if the platform is not pre-certified. At present, there are very few gateways available in the market, which provide FCC/CE/IC pre-certification along with multiple connectivity options like Zigbee, Thread, Wi-Fi/3G, and Bluetooth.
Key factors
So OEMs face multiple challenges when it comes to preparing their gateway prototype design for high-volume production. To avoid these challenges, some OEMs might consider selecting a production-ready platform for their gateway requirement.
Below: Gateways have a crucial role to play in the design and planning of any IoT architecture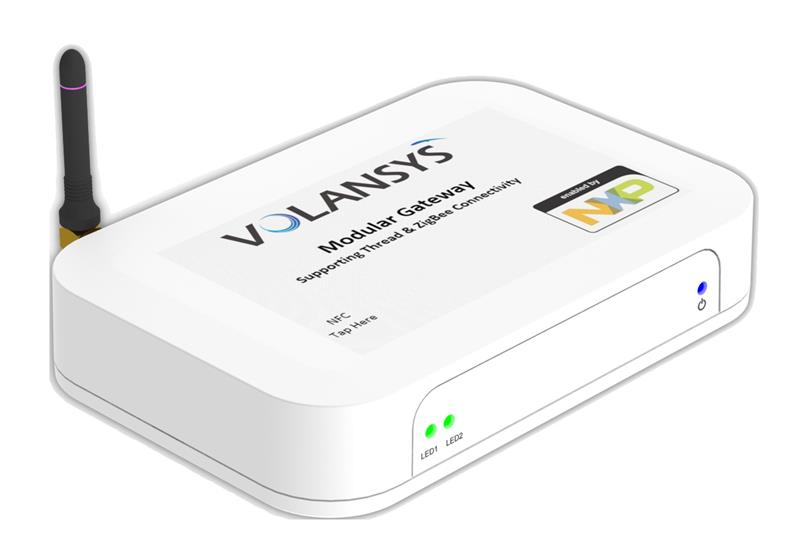 As a result there are a few factors that OEMs will need to consider for high-volume gateway production. These include:
NRE charges: If the gateway prototype platform does not meet the defined product requirements of OEMs before they ship the first unit after production, high NRE charges may impact profits due to lack of pre-planning around tooling enclosures, certifications and MOQ of purchases. The total production cost increases mainly because of custom-made products, and divert engineering and production resources from standard, consistent product lines, over to one-off designs with little opportunity to recoup design costs through large-scale production.
High Volume Supply: In many markets 10K is a small volume to be supplied per year. It restricts some players who try to innovate the end-application as the addition of R&D time, prototype development time, production time and time to test the market for an application, increase the total time to launch.
Support for Chip Down or Product Enhancements: A thoughtful product prototype design can be accomplished with a well-architected gateway that is production-ready, and that fulfils all the critical product requirements. After initial customer trials when production reaches certain volumes, the product should be converted to chip down versions to support large volumes.
During the IoT gateway product development roadmap from prototype to production, OEMs will always face numerous compromises when it comes to one or the other factors described here. As designing and creating IoT devices is never easy, modular IoT gateways, will tend to help add real value to an IoT applications.
Gateways should be a central consideration when planning any IoT architecture and selecting the right one should often be the starting point, as the gateways play a significant role in all facets of IoT – from connectivity management, to monitoring, and data processing, to cloud integration.
Author details:

Dhaval Parikh is Director Products & Solutions at VOLANSYS