It's in response to these kinds of problems that a technology that can reduce or prevent this from happening has been developed by LocatorX, a US company that has licensed a technology originally developed at Oxford University that can provide a level of location accuracy that has not, until now, been possible.

"LocatorX is all about keeping track of things," explains the company's President and CEO, Scott Fletcher.

"Whether you're distributing aid, a manufacturer, or distributor or even a consumer our technology enables you to keep track of items and ensures that you not only know where things are meant to be, but they are being used for what they were intended."

Now, partnering with the University of Oxford, LocatorX is looking to bring even greater accuracy to its platform.

The technology, a solid-state miniature atomic clock, was developed back in 2012 by scientists and researchers at the university's nanomaterials laboratory in order to provide more accurate time and frequency standards and is capable of providing levels of location accuracy to within 20-30 centimetres.

"This came out of work undertaken at the university into manmade molecules, involving the insertion of a nitrogen atom into a molecule creating a miniature atomic clock," Fletcher explains.

"It's a small device – the molecule is being placed on a microchip - and is currently going through prototyping at a specialist nano-manufacturing facility in the US. We're planning to launch it next year," says Fletcher.

Atomic clocks are used in a wide range of technological applications such as international timekeeping and in global navigation satellite systems such as GPS. LocatorX is looking to use it commercially as a key component in its Global Resource Locator platform.

"We were able to obtain exclusive rights to the solid-state miniature atomic clock patent, and have developed a scalable Global Resource Locator device capable of enabling real-time tracking of any asset at a low per-unit cost and without the need for expensive beacon systems," says Fletcher.

The Global Resource Locator is intended to be integrated into any device or product ensuring accurate and timely location tracking.
"LocatorX has taken this technology and married it up to a GPS platform satellite tracking system with solid-state nanotechnology in order to provide highly accurate tracking systems, but at a very low price," explains Fletcher. "To date most real time tracking systems have been undermined by cost or poor range."

The Internet of Things has changed that and now it's feasible to deploy tracking systems on a broad scale.

"The device will be small – no bigger that a fingernail - and can be placed on any physical item that you may want to track. It can be put on a tractor-trailer or a tube of toothpaste."

The system uses an energy-harvesting coil and can go into hibernation mode. According to Fletcher it is activated by vibrations so as soon as a pallet or the product itself is moved it will wake up and record that move.

Most tracking devices use quartz clocks but with atomic clocks precise down to 1 one-billionth of a second it is now possible to determine an object's accuracy to within a few centimetres.

"This new capability will give us the ability to determine the time and distance an object travels to an incredibly accurate degree. So anywhere on the globe that is within range of a cell phone tower, we will be able to calculate the exact longitude and latitude of where something is and how far it has travelled," suggests Scott.

An atomic clock, when it calculates a signal from a GPS satellite and is triangulated, is able to provide highly precise data and can pinpoint not only an object's location, but its elevation, the direction, time and distance it has travelled since the last signal.

The example of how LocatorX could be used in terms of accurately monitoring humanitarian aid, is just one application of this technology.
"At present we can put our tracking devices on anything, if a customer thinks there's value in that.

"Our existing GPS-based holographic labels are impossible to replicate. Shipments can be scanned from a distance enabling users to know if the items they're interested in are on the truck and on schedule to their destination.

"Critically, our devices are small, which means you can have multiple ones in a single shipment – or place the device in the cardboard packaging instead of on the product itself.

"So it is virtually impossible for thieves to steal a pallet of goods and disable the tracking capabilities," says Fletcher. "Today we have a real problem when it comes to counterfeit products and LocatorX is able to authenticate individual items through a process that uses cryptographic technologies and methods."

The core of the LocatorX is its integrated tracking, validation and security platform.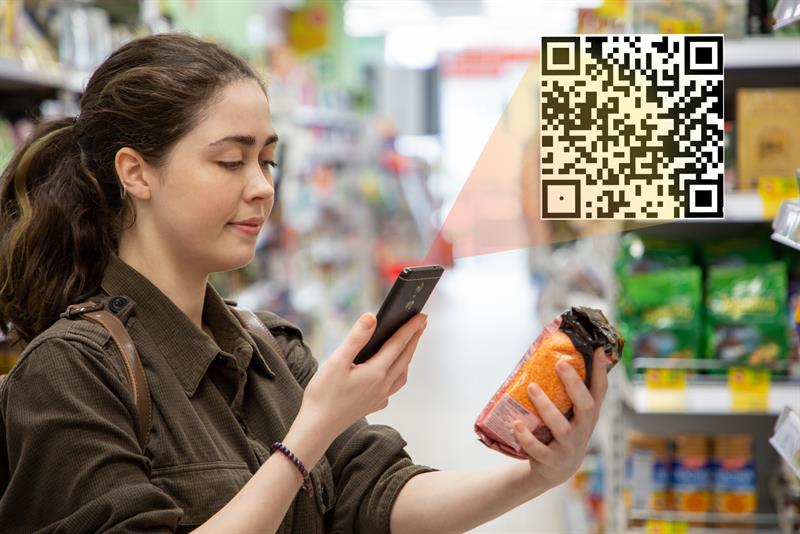 LocatorX is able to authenticate individual items through a process that uses cryptographic technologies and methods
Each component works together ensuring that each tag from its digital birth certificate until its arrival at its intended destination is tracked and monitored. That requires every scan and transfer to be logged as an encrypted transaction in a Certified Event Log.

The company has developed an integrated knowledge platform, LXConnect, which is capable of providing context-specific insight into each asset and provides manufacturers, consumers and logistics operations with a digital view of the asset, meaning it is possible to have real time management of inventory.

The platform relies on smart labels with unique Certified QR Codes that can be printed on either labels or embedded into products.

Not only does this platform provide accuracy in terms of the movement of goods via what the company calls Connect Pages, it is possible to supply customised pages to consumers - and manufacturers - delivering a variety of different services and benefits from coupons and rewards, to product alerts and notifications and instruction and usage manuals removing the need and cost of supplying multi-lingual booklets.

"Security is crucial when it comes to delivering these kinds of services," says Fletcher, "and LocatorX uses advanced encryption to protect both the data of assets but of the people using our various tools.

"Our Certified Security Architecture provides a transparent gateway to manage secure communications and we've made it easy for developers to join the ecosystem – that's crucial when you are dealing with customers who may have already have a tagging of location management system in place."

The microchips that will incorporate the atomic clock will cost just a few pennies to manufacture but the levels of accuracy that they will be able to provide will extend to billions of transactions.

According to Fletcher, "We're looking at eventually producing 400 million chips a year and are currently in discussions with corporations which see this as a way of fighting counterfeit products."

There is certainly huge potential with this technology whether that's the effective delivery of humanitarian aid, providing enhanced security for the shipping of products or addressing the problem of counterfeits goods.