Research and innovation are vital to the response to the coronavirus disease; they align funding and investment streams to facilitate recovery.
Over the past two years, numerous advanced technologies and artificial intelligence-based solutions have been developed for diagnosis, remote monitoring, logistics and mental health support.
UK Research and Innovation (UKRI) has funded thousands of research projects since the start of the pandemic, helping to drive recovery across the UK. Here are some of the real-world impacts illustrated in their Research for Recovery infographic.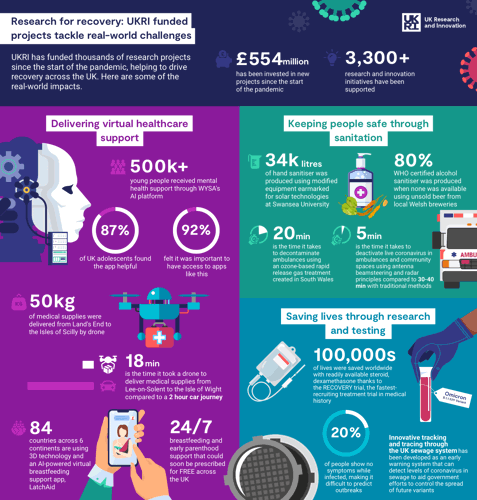 Some key statistics highlighted by the infographic include:
£554 million has been invested in new projects since the start of the pandemic
50kg of medical supplies were delivered from Land's End to the Isles of Scilly by drone
18 minutes is the time it took a drone to deliver medical supplies from Lee-on-Solent to the Isle of Wight compared to a 2 hour car journey
500,000+ young people received mental health support through WYSA's AI platform
100,000s of lives were saved worldwide with readily available steroid dexamethasone thanks to the RECOVERY trial
Repurposing products to fight the pandemic
The COVID-19 pandemic redefined how we live and behave, placing a strain on the UK's infrastructure and prompting dire consequences for many industries. Tech companies within the civilian drone sector, realising the value of their products, saw their opportunity and committed to repurposing technology to tackle the pandemic. With the clear need to avoid unnecessary direct human contact, an increased interest in cost-effective and efficient contactless transportation and delivery modes has developed. 
Using drones to support the NHS in the fight against COVID-19
The pandemic offered a real opportunity to use robotic UAVs for healthcare support. Drones have attracted the attention of humanitarian organisations as they allow for more efficient disaster handling.
Map-making and contactless performance of tasks, such as technical inspections or logistics and cargo delivery to minimise the exposure to infection, in addition to post-COVID-19 situational monitoring for lockdowns and quarantine and aerial spraying of potentially contaminated public areas, have all played a significant role in the battle against the virus.
Delivering urgent medical supplies
Drones can also quickly and efficiently transport lab samples, medicines, injections, and COVID-19 vaccinations to remote areas.
Windracers, a UAV company which aims to provide transportation services for humanitarian aid, research and environmental causes, has been funded by Innovate UK.
In December 2020, Windracer's first successful unmanned aerial vehicle (UAV) flight from Cornwall to the Isles of Scilly was completed as part of a response to support the NHS with COVID-19. A 50kg load of medical supplies was delivered from Land's End to St Mary's NHS in less than 30 minutes.
Overcoming challenges
Technical constraints like the number, weight of the product and weather conditions are still a challenge for the drone industry, however, URKI's future flight challenge has been making strides in revolutionising the aviation sector.
Supported by £125 million of government funding, they've been aiding research and innovative new technology since 2018.
750 drone test flights were completed during this project, including the longest flight by a parcel delivery drone in the UK and the first delivery by an autonomous vertical take-off and landing vehicle.