For decades, space exploration remained exclusive to large-scale international agencies, such as NASA and ESA.  In more recent years, though, things have changed considerably. Now numerous commercial enterprises and academic institutions are entering this sector, which has led to what is called the 'New Space' phenomenon.
Among the fundamental dynamics driving this has been the accessibility of more affordable technology and the emergence of open-source reference designs. These have helped lower the engineering barriers to entry, making it possible for small and medium sized organisations to take part and place the equipment they have designed and manufactured into orbit.  In addition, it has meant that the technological and financial resources needed by them are far less than they were in the past.
Based in Buckinghamshire, 4Links plays an essential role in 'New Space' development. The company, founded back in 2000, provides the engineering know-how and consultancy services SMEs need to successfully complete their space projects. It also works with larger organisations, including Airbus and Clearspace.
A recent focus for the 4Links team has been to produce an innovative platform for both software and hardware that would make space-bound systems quick, easy, and cost-effective to develop - aptly named Loki, after the Norse god, known for being disruptive, the platforms modular configuration enables the re-use of engineering designs, thus avoiding having to start each new venture from scratch, and the design done on previous projects could be re-used, saving valuable engineering resources.
From the very beginning, the objective of Loki was to provide space customers with a flexible and highly configurable, embedded processing platform on to which they could build their on-board computers. 
It was designed for satellites using the increasingly popular SpaceWire network infrastructure methodology (which 4Links founder Paul Walker was heavily involved in establishing).  Being based on programmable logic and with its modular construction, Loki reduces the engineering effort involved, leading to faster completion times and lower associated overhead costs.
Loki consists of a Eurocard format carrier board with a mezzanine board attached.  The mezzanine board is responsible for all the fixed functionality aspects, including processing, memory, system management.  At the mezzanine's centre is a high-performance Xilinx Kintex UltraScale FPGA device. It can be reprogrammed before launch or even updated once in flight. An I/O carrier board manages all the interfacing. Acting as a gateway, it covers communication with the different satellite subsystems and the input for powering the FPGA mezzanine.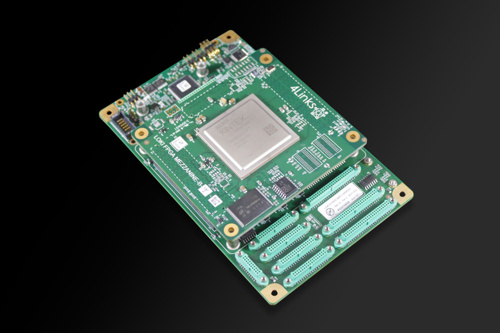 Above: The Loki development platform from 4Links (with the subsystem interfacing area shown on the right)
The ability to put the mezzanine onto carrier boards with different I/O configurations makes it much easier to modify the setup as needed, as each customer's requirements dictate.
The other key advantage of Loki is that the board is only required to be qualified once and can then be used for multiple configurations.  As a result, everything can be ready for launch in a dramatically shorter time frame - with as little as one month being possible.
As Spencer Saunders, Engineering Director at 4Links, explained, "The carrier/mezzanine approach makes this platform very appealing to our customers. It is much more agile, resulting in development progressing at an accelerated pace.  Another benefit for users is that they can initially get one board qualified and then reconfigure others.  This qualification avoids the need for costly re-certification for each new project that they embark upon."
Engineering challenges and considerations
As Loki is intended for use in satellites and other orbiting hardware, the overall weight of the hardware had to be kept to an absolute minimum.  In addition, the cost-sensitive nature of most 'New Space' projects had to be recognised, which means that using MIL-SPEC custom-built components in the design would not be feasible.
Highly resilient commercial-off-the-shelf alternatives had to be used instead. On top of this, the parts had to be resistant to damage. All the components selected needed to function for prolonged periods despite exposure to extreme temperatures, heavy mechanical shocks, and high vibrations.
How the carrier board's vital communications would interface with each of the subsystems presented the 4Links development team with several additional design challenges which they needed to overcome. As well as conforming to all the complexity of the requirements previously outlined, and because there would be very little room in which to mount the required connectors, fitting all the necessary contacts would prove difficult. As a result, specifying a high pin density interconnect solution was the answer, and with a wide array of different configurations, this meant there would be no wasted space.
An optimised interconnect solution
Conventional standard connector solutions, like Micro-D format, would have form factors too large for this type of implementation, and because of their size the PCB would take up valuable room on the I/O carrier board.  Also, such connectors would be unacceptably heavier due to metal housings, so for this reason, a smaller and lighter alternative needed to be found.
Harwin and 4Links started technical discussions on how Loki could be re-designed a little over a year ago. After extensive testing on samples, the decision was taken that the Gecko-SL connectors would be an excellent choice for the I/O carrier board and all its subsystem interfacing capabilities.
Harwin's 1.25-pitch Gecko-SL connectors have clear advantages over specifying standard Micro-D components, being significantly lighter and compact.  As with all parts of the Gecko family, they offer the extremely high reliability needed for mission-critical systems - being rugged enough to withstand the most demanding operating conditions. 
The screw locking mechanism allows retention even when subject to intense torsion forces. The 4-finger Beryllium Copper contact design ensures that interconnection is maintained regardless of heavy shocks (50G/100G) and vibrations (20G). 
Gecko-SL connectors have a temperature range from -65°C to +150°C.  In addition, they also exhibit impressive outgassing properties.
Gecko-SL connectors come in a wide variety of pin count options.  It was also significant for the Loki platform, giving 4Links' technical staff greater flexibility in connection combinations they could successfully fit into the available area on the carrier board. As a result, very little space would end up being occupied by unused pins.
"Harwin's Gecko-SL offered the high pin density we needed, in a far better way than we could get from competing solutions, with only minimal board area needing to be allocated," said Saunders from 4Links. "Also, the greater pin count versatility, through all the different versions available, was appreciated. It has meant that we do not have to over-specify, as connectors with the required number of pins can be assigned to each function, without pins being left unused and space being taken up unnecessarily."
"The quality of the products we've received from Harwin, and the technical backup that has come along with it, have been pivotal in getting our Loki platform to market," he added.
The Loki platform is already forming the basis of the on-board computing systems of numerous low earth orbit (LEO) satellite missions used in weather monitoring, Earth observation, and space debris removal.  Various other projects will be underway soon.
Author details: Andy Brayford Business Development Manager Northern Europe, Harwin