With the number of trains using the rail network doubling in the last 10 years and the number of passengers anticipated to rise by a further 40% by 2040, managing increased capacity is its biggest challenge, according to Network Rail.
The rail network in the UK was not designed to cope with this level of demand, which is causing track lifetime to tumble and raise the importance of effective maintenance.
As technology has developed, rail maintenance has become easier to perform and manage, allowing a transition from traditional, labour-intensive, manual upkeep to much faster, safer, more accurate and efficient solutions.
Sensors, for example, are being used to monitor areas of the track such as point machines and track circuits, and their use is growing, according to Network Rail.
The sensors are fixed 'in location' and comprise of Edge processing which is transmitted via GSN with o2 sim cards to Network Rail's SCADA system, Wonderware.
"This allows us to monitor the condition of the track and prioritise where we need to focus our efforts," Tim Flower, Head of Maintenance at Network Rail, says.
"Rail maintenance is about understanding that failure is going to happen," he adds. "We use the data gathered by technology, like sensors, to trend failure, so accurate predictions can be made. That way we can identify what's going to fail, when it's going to fail, and hopefully, why it's going to fail."
To support rail operators, Konux, a German sensor company, has developed an intelligent, IoT sensor solution system called KORA that monitors and analyses switch health.
The switch or 'point', according to its CEO, Andreas Kunze, is "one of the most crucial elements of the track", and accounts for 20% of train delays in Europe.
As one of the only movable sections of the track, the switch can be a fragile component, but is integral to the railway line as this is where the tracks connect.
"If it fails, it causes a chain reaction, with multiple parts of the track becoming unusable," Kunze explains.
On some of Network Rail's busiest lines, over 100 trains will pass over just one set of points in a single day, so ensuring these remain well maintained is essential to the train service.
KORA monitors the condition of rail assets, wirelessly measuring elements like acceleration, vibration and communication via GSM. The raw data is pre-processed in the sensor, selecting only the necessary data needed to allow for more efficient transmission. This data is then sent into the Konux backend system and fused with the data Konux has received from its customers. For example, information about weather, schedules, and the point machines (the closing and opening of the track).
Artificial intelligence is then used to identify and assess issues in this data – with the system comparing the 'digital footprint' of the healthy assets with the results of continuous monitoring, flagging up any anomalies.
"This is how we help train companies move away from the very costly inspection protocols that were previously needed," Kunze contends.
He points to the importance of a wireless system. "In rail, you don't want cable everywhere – every metre costs thousands. But, going cable-free means battery management is vital.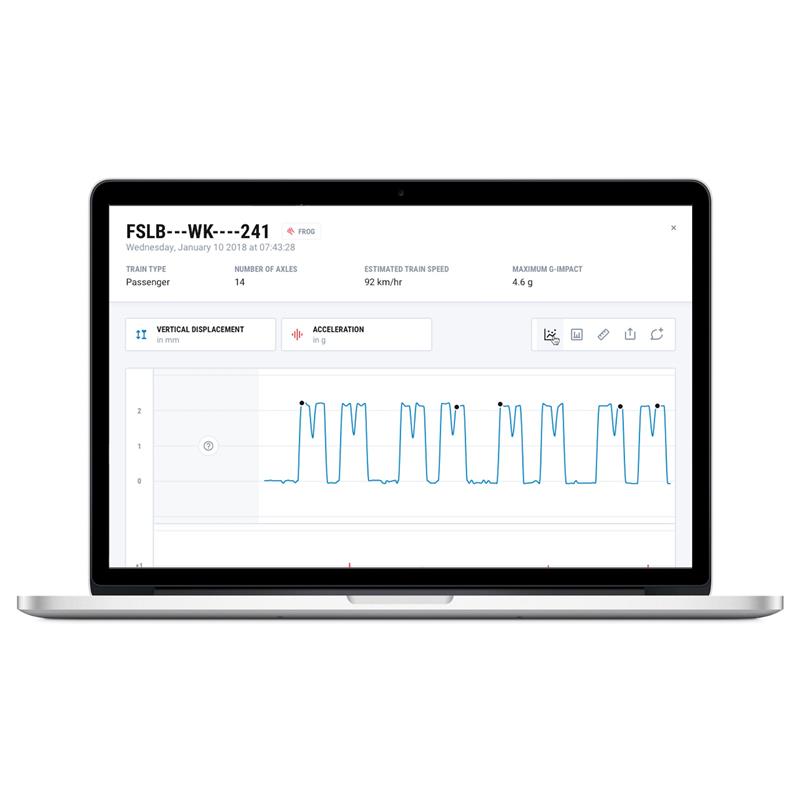 "The development of both low powered systems and communications have really helped rail maintenance to progress," he continues. "Advancements in communication technology enables us to send more data, more quickly. While the control we have over power, means we can limit the maintenance of the sensor device itself. Rail companies don't want to have to go out every month to replace parts."
According to Kunze, the materials used were another crucial consideration. "It has to be robust, not just from a mounting perspective, but the whole device has to be able to cope with shock and adverse weather conditions."
Above: The data KORA processes is sent into the Konux backend system where it is fused with customer-provided data such as train schedules
Whilst developing its piezoelectric MEMS hybrid sensors, Kunze explains that Konux dedicated three years to proving the product could survive in the harsh environment.
Harsh conditions
A harsh environment, however, isn't always a problem. In fact, Network Rail actually uses these conditions to its advantage. Its sensor system, supplied by Perpetuum, harvests energy from the movement of the train to power itself.
Along with the 60thousand sensors it has deployed, Network Rail also uses machine vision systems and ultra-sonic testing to inspect track damage – a task that is difficult, time-consuming and unsafe for human workers.
Network Rail has a series of trains that measure different types of equipment to understand how they're performing against baseline parameters. This technology is used to measure the track geometry and plain line pattern using linescan, 3D and thermal imaging cameras to scan the track as it passes below the 'measurement train'.
"We can monitor not just on a day-to-day basis, but by the hour and minute. This has reduced the number of point failures by around 30% and track circuit failures by 25%."
- Tim Flower
These cameras record raw images at up to 76kHz, allowing images to be captured at speeds up to 125mph. The cameras store the information on the device and this is then downloaded to an on-board computer and decoded by a machine vision software, synchronised with real-time positioning system and geometry data, and analysed by an on-train inspector. Reports are dispatched to the ground teams, helping them locate any faults.
Ultra-sonic testing is used to identify cracks naked to the human eye, which often occur in the railheads, due to stress concentrations at these geometrical discontinuities.
One team of researchers from the University of California is developing a solution to overcome the issue of 'air gaps' currently experienced in traditional probing methods.
According to Assistant Professor Sheng Xu of the University of California, due to the curved nature of railheads, it's difficult to get solid interfacial contact and therefore, good coupling with irregular nonplanar surfaces. This can lead to large acoustic energy reflections and wave distortions, resulting in unreliable test results. Defects, like detail fracture and transverse fissure, can't be tested from the top of the railhead, and require the operator to hold the transducer on the side of the track. According to Assist Prof. Sheng, this is time-consuming, labour intensive and can result in inaccurate measurements.
Assist Prof. Sheng and his team are developing a low-profile membrane-based stretchable ultrasonic probe which exploits an array of thin 1-3 piezoelectric composites as transducers, multi-layered serpentine metal traces as electrical interconnects, and low-modulus elastomer membranes as encapsulation materials.
"The soft elastomer encapsulation materials allow the device to intimately conform on the side of the railhead, providing excellent acoustic coupling. The 'island-bridge' layout offers biaxial stretchability of more than 50% with minimal impact on the transducer performance so that the device can work on nonplanar complex surfaces railway tracks," Hongjie Hu, part of the California team, explains.
Despite being "close to commercialisation", the team say they need to first improve the spatial resolution to enhance the accessibility and image accuracy.
According to Flower, the most valuable transformation electronics has enabled is the real-time monitoring of asset performance. "We can monitor not just on a day-to-day basis," he says, "but by the hour and minute. This has reduced the number of point failures by around 30% and track circuit failures by 25%."
Flower believes the rail infrastructure will one day move completely away from manual maintenance to an "almost factory-type inspection system". He points to big plans with Network Rail and technology, including automated tunnel inspection and pantograph monitoring.
The challenge, he says, is finding a balance between accuracy, repeatability, information and cost. "We need to improve maintenance without providing the person who has to deal with it, huge amounts of data to analyse," he concludes.
And with Network Rail planning to introduce 7,000 new carriages on the railway network by 2021 and 6,400 new train services, let's hope the balance is found quickly and these big plans keep on track.