Fast forward to today and it's hard to avoid MEMS technology. Mobile phones are an obvious example – housing motion sensors, gyroscopes microphones and speakers – while automotive MEMS can also be found in braking systems, emissions control and navigation. And opportunities for MEMS devices are appearing in many other applications, such biomedical sensors and drug delivery systems. It could be argued that wearable devices wouldn't have taken off without the benefit of MEMS.
MEMS technology has been championed over the last few years by the MEMS Industry Group (MIG), which was recently absorbed into SEMI, the electronics supply chain organisation.
Karen Lightman, previously managing director of MIG and now vice president of SEMI's MEMS and Sensors Industry Group, told New Electronics in 2012 that she believed innovation in the MEMS market relates to the way the technology is applied, rather than development of the technology itself. "What MEMS is doing," Lightman noted, "is allowing designers to realise functionality which they have always wanted in their products."
And the extent to which MEMS technology is pervading all kinds of industry is highlighted by the annual Technology Showcase, being held this year at the beginning of November alongside the MEMS and Sensors Executive Congress.
"This year's Technology Showcase finalists are as fascinating as they are diverse," said Frank Shemansky, SEMI's CTO. "Imagine, for example, a MEMS-based switching element enabling RF switching that is 1000 times faster and lasts 1000 times longer than traditional mechanical switches. That is the kind of MEMS technology that could improve wireless applications dramatically and is just one of the Tech Showcase finalists – and the others are equally compelling.
"The Tech Showcase is always a big draw at the Executive Congress because it gives attendees the chance to interact with the finalists' demos to decide their vote for the winner – one of whom will be 'crowned' at the close of the conference."
The five finalists this year are: LEIF Technologies, with its eSnowboard; the Maven Co-Pilot by Maven Machines; and Menlo Micro's Digital Micro Switch (DMS) technology. Also shortlisted are eLichens' Berries Smart Sensor series of autonomous non-dispersive infrared gas sensors. These miniaturised optical gas sensors are systems in a package integrating an infrared MEMS emitter and detector, an optical sampling chamber and signal processing; and PZFlex' Coupled Time Domain Simulation for MEMS Sensors and System Integration by PZFlex, which enables modelling and simulation in new MEMS application areas.
Russ Garcia, CEO of Menlo Micro, said the company can trace its heritage back to 2004. "Engineers at General Electric – which was then a power company – wanted to make remotely programmable circuit breakers for energy management applications. They weren't planning to make MEMS devices; rather, they wanted to source them. The engineers started to look at MEMS failure mechanisms and found one of the major problems was materials fatigue, rather than stiction. They asked what should the material be to get the results they wanted, such as reliability and electrical performance and had to invent new alloys. Having invested $40million, GE spun out the technology as Menlo Micro."
Menlo's switch technology is targeted at high performance RF and power switching applications. Amongst Menlo's first products is a six channel 25W part with a frequency range of 3GHz. "One of its first applications has been as a replacement for PIN diodes in MRI machines," Garcia pointed out. "It has reduced cost and overall power consumption by two orders of magnitude."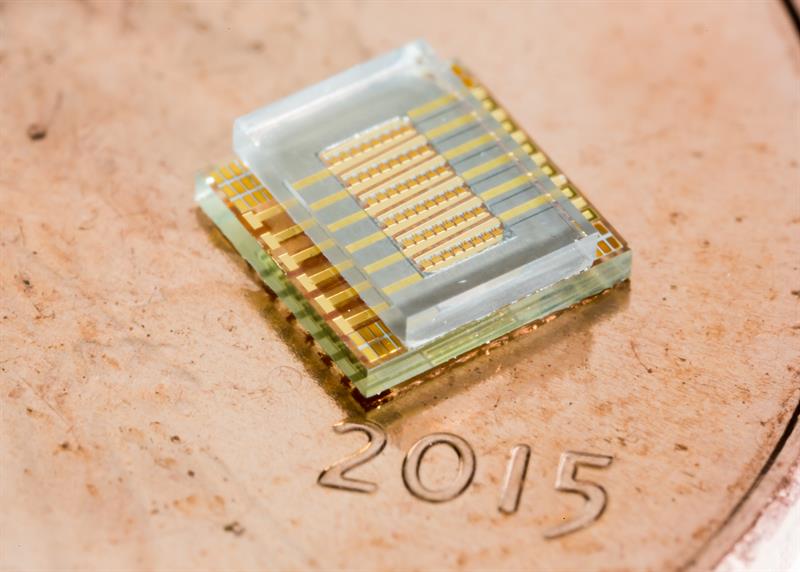 Menlo Micro is fabricating a six channel 25W part with a frequency range of 3GHz on a glass substrate
At the heart of Menlo's technology is the DMS unit cell. "You can replicate this cell in just the same way as a transistor is replicated in the semiconductor industry, but not to the same extent."
The DMS cell is fabricated on a glass substrate and, according to Garcia, you can lay down as many switches as you like, then connect them in series or in parallel. Then dice can be linked in parallel for even higher capacity.
Now Menlo is sampling a six channel 100W device and will be unveiling in 2018 a single pole, double throw 25W switch with a 12GHz range. "The ability to have good linearity over a wide frequency range and switch a lot of power makes the switch a good enabler to modular and tuneable apps in the infrastructure and military radio sectors," Garcia noted.
He has his eyes on the $5billion RF switch market. "A good part of this is green field," he said. "The apps are either using technology which is more than 30 years old or they're brand new."
Why Menlo devices? "A lot of companies have produced MEMS devices with good RF performance, but all have had reliability issues. Nobody has tried to do anything at the power levels which Menlo has and this means we can address apps where MEMS couldn't have been thought about before," Garcia concluded.
MEMS enables 'hearables'
Technology showcase finalist Maven Machines is pushing a new device category – hearables. The devices are just like wearables, but provide audio feedback to the user. Craig Campbell, vp of marketing and business development said hearables are like a combination of Twitter and FitBit. "We take input from sensors, like FitBit, then generate lots of messages, like Twitter."
One of the first markets which Maven has addressed is commercial transport, with the Co-Pilot. Based on a readily available headset, Co-Pilot takes advantage of MEMS technology to provide a safety system for truckers in the US and their employers.
Campbell said the device can detect whether the driver is getting tired before they know it, adding that it also guards against drivers texting while at the wheel. "Co-Pilot is a six degree of freedom device with accelerometers and gyros. We can tell when the driver is looking forward and when they aren't moving enough – called 'road hypnosis'. We can detect compound motions, such as the 'down, up, down, up' used when reading a text at the wheel. Drivers prefer this technology to cameras as it's less invasive."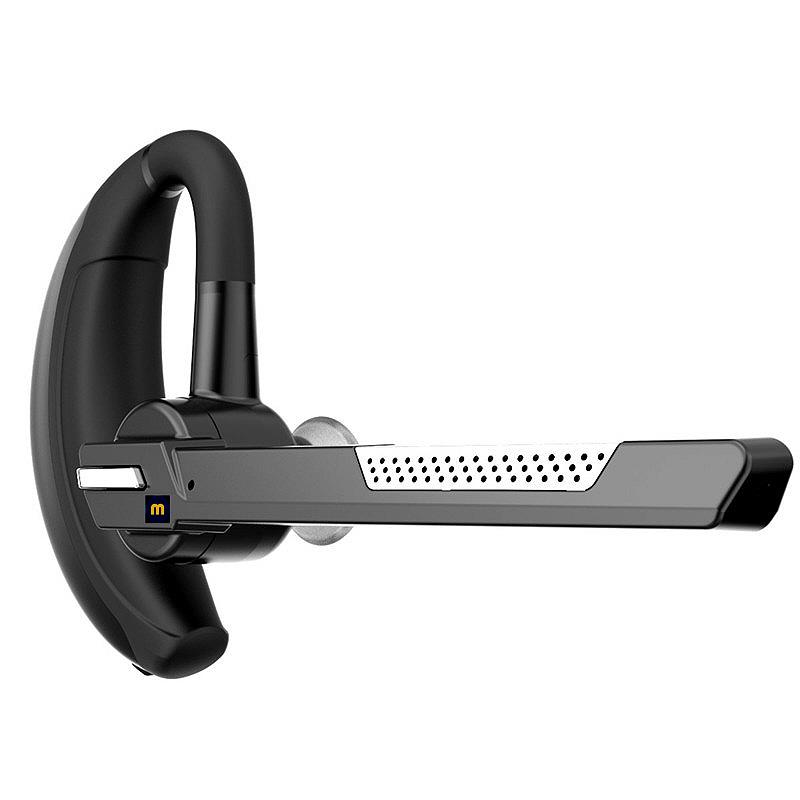 Sensor data is analysed in the cloud, where machine learning systems provide insight on the data, which can include audio feedback to the driver.
While Co-Pilot needed three chips, Maven has taken advantage of new technology from Bosch to create the Maven Co-Pilot SE. "It put three chips into one, which allowed us to shrink the form factor," Campbell said. And the SE has been designed by Maven.
But Maven is also looking at other sectors. "We've put sensors into injection moulding machines so the users can understand what the vibration means; does the device need maintenance, for example. But it's not just about putting sensors on machines," Campbell concluded, "we can also put them on things like screws to tell people what's happening."