Is now the time for the connector industry to look beyond gold as the plating metal of choice?
Due to its good conductivity and resistance to oxidation, gold is the metal of choice for plated surfaces in connectors. However, the combination of rising gold prices and environmental concerns is forcing companies to look for cheaper and greener alternatives. With new metal alloys entering the market, is now the time to replace gold completely?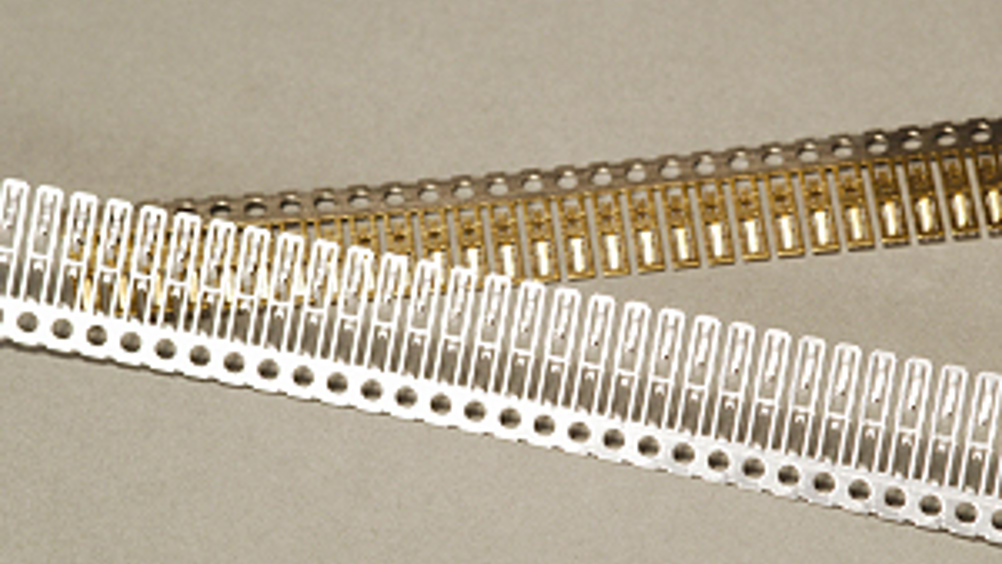 Herbert Endres, director of technology marketing at Molex, said that, from a corrosion point of view, gold is preferable because it is the most inert material. Palladium nickel with a small gold flash coating is a popular alternative, and silver – although it is known for taking sulphur out of the air and leaving a brown shiny surface – can be useful for power applications. When cost is important though, Endres said: "The choice is between gold and tin." Endres has what he calls his 50-50-50 rule for selecting between these two materials. This states that tin is more economical with less than 50 contacts, less than 50 mating cycles and less than 50milliohms contact resistance over lifetime. In the mated condition, tin has a maximum contact resistance expectation of less than 50milliohms over lifetime, whereas gold is 20milliohms. To achieve this, tin requires a contact normal force (CNF) of 2N, while gold needs a CNF of 0.4N. Tin's higher CNF creates a higher mating force, which limits the number of contacts in the connector, as well as increasing contact point wear when mating and unmating. "That is why tin plated connectors are typically not specified for more than 50 mating cycles," said Endres. Gold on the other hand can support up to 500 mating cycles. A limitation to these rules is unmated connectors in the field. "In such cases, tin oxide surfaces created over years in industrial atmosphere will not be broken through with a (fresh) mating connector," said Endres. "We do not recommend tin for unmated connectors in industrial atmospheres." Tin may offer a distinct price advantage, but because there are still applications where gold is required, Endres insists that Molex is not looking to move away from gold completely; rather, it is looking to raise awareness of alternatives. "We are just telling people that is not always the most efficient solution," Endres explained. One potential solution has arrived in the form of Silver MaxPhase, a new metal alloy which is applied using physical vapour deposition (PVD) technology. It reportedly has contact and wear resistance comparable to plated gold, but comes at a fraction of the cost. As the name implies, there's silver in it, but it does not tarnish. Peter Hogfeldt is business area manager for electrical contacts at Impact Coatings, the developer of the material. He commented that it might be cheapest alternative yet. "There are some applications which use palladium nickel with a flash of gold and that reduces the cost of the plating by up to 10%, but Silver MaxPhase can reduce the cost by 50%." Hogfeldt believes rising metal prices have had a clear effect on the market and the connector industry has encountered 'huge problems' with the cost of gold. "Connector manufacturers have been forced to do anything they can to reduce the amount of gold they use on connectors," he claimed. But he added that thinner coatings can lead to issues with wear in the contact points, so applications need to be selected carefully. Endres said Molex is converting some product lines to palladium nickel to combat 'skyrocketing' prices, but the process of reapproval takes time. Therefore, more conservative and considered use of gold is required. Endres noted: "You can do a lot by plating gold selectively." Meanwhile, customers are not willing to pay more for gold, so connector companies are having to absorb costs. Endres said: "Customers are very strict and the competition is very high." Hogfeldt agreed: "It's definitely the connector companies being squeezed because the OEMs are not prepared to pay more for the connectors and are pushing down prices every day." Hogfeldt believes the connector industry is crying out for alternatives, but might not be looking in the right place. "So far, the alternatives have been based primarily on traditional wet plating techniques." The key to Silver MaxPhase is that it uses PVD, which brings other cost benefits. PVD, a vacuum coating technique popular in the semiconductor industry, condenses a material onto the surface of an object. This allows the use of different substrate materials in the connector. "PVD also allows you to coat on stainless steel and aluminium for example," Hogfeldt pointed out. "Today, stainless steel is cheaper than copper, so a lot of companies are looking to move over." There are also environmental concerns regarding how and where gold is mined and processed. This is a growing problem as governments focus on whether materials are sourced from conflict areas: the Chinese government, for example, does not disclose whether gold comes from conflict areas. Hogfeldt commented: "That is a problem some of our customers mention. When they buy gold in China, they cannot get a guarantee that it's not conflict gold." There is also the issue of cyanide from the production process entering the environment. This makes it difficult to get licenses to set up gold plating facilities, even in China. Silver MaxPhase and PVD might be able to solve this as well. Hogfeldt said: "First of all, Silver MaxPhase does not have any gold in it or any other materials listed as conflict metals. Also, it is a totally different technique; it is a solid material, so no cyanide or hazardous materials are involved in the process." As PVD coating is a completely dry process, there is no possibility of water pollution and no need for complex licenses. Hogfeldt foresees successors to Silver MaxPhase potentially replacing gold completely. "The Silver MaxPhase we are offering can replace gold for some applications. But there are other PVD metal alloys that could replace gold in other applications, especially if the gold price continues to rise." Endres is reflective, remembering how companies tried to move from gold to palladium in the late 1990s, but went back again when palladium prices skyrocketed. "Prices are not under our control," he noted, "so we have to go where the market is. It is crucial to predict price development of these metals. While there's enough gold and there's enough palladium at the moment – things may change." Different industries have different requirements: Endres points out that some military applications are using more consumer connector products than in the past to save cost, whereas in the telecoms industry, fibre optics could replace metallic connectors completely. The challenge for the connector industry will be to deliver whichever product best fits into next generation equipment. With developments like Silver MaxPhase, metal replacement can bring significant savings. But gold, especially when used selectively, might not be going anywhere just yet. Each material has its strengths, but Endres believes: "Gold is necessary for good connectors – and I don't think we can go away from gold completely."