So it's interesting to see a leading developer explain that its latest introduction has required it to 'redefine' the mid range oscilloscope. But that's what Tektronix says it has done with the 5 series MSO, which has just had the wraps removed.
Chris Godfrey is oscilloscope market development manager, EMEA, for Tektronix. He said development of the 5 series was driven by increasing system complexity. "The drive towards power efficiency is bringing challenges for signal acquisition, including jitter, while noise is becoming more significant. However, there are fewer engineering specialists, so everyone needs to be an 'expert', whilst handling time to market pressures. All of this causes pain for engineers."
In Godfrey's view, four analogue channels in an oscilloscope is no longer good enough. "While people need to do things simply, engineers also need more from their tool of choice. But there are budget issues, as well as the need for flexibility and upgrades."
Looking to address these issues, Tektronix has launched the 5 series MSO, said by Godfrey to be the result of the company's largest ever development effort. "It's new in every regard," he contended. "There's a new ASIC with A/D converter, more channels, tighter integration and more flexibility."
Amongst the innovation are FlexChannel technology, which allows four, six or eight analogue channels and up to 64 digital channels, integrated protocol analysis and signal generator, a new 12bit signal acquisition system and a high-definition capacitive touch display.
According to the company, the device 'breaks accepted rules for scope design'. One aspect is FlexChannel which, as the name implies, allows engineers to configure the scope to meet a particular project's needs. Until now, Tektronix contends, scopes have had fixed configurations, with a decision needed 'up front' about how many analogue and digital channels would be needed. FlexChannel allows each input to be either one analogue channel or eight digital channels – and whether that input is analogue or digital is determined simply by the probe which is plugged in.
The default input is a TekVPI+ connector, which accepts all TekVPI analogue probes. However, if the TLP058 logic probe is used, the input is converted to eight digital channels.
Any combination of analogue and digital probes is said to be supported.
This is said to be of use in a range of applications, including motor control and inverter designs, as well as automotive electronics and power supply design, where more than four analogue channels are said to be required.
The 5 Series MSO also features a new front end amplifier that is said to lower noise by about 4.5dBm, compared to previous generation scopes. The front end has a 12bit A/D converter and supports a High Res mode. In the latter mode, accessed via a button push, vertical resolution is increased to 16bit. Tektronix notes that a DSP filter is applied at each sample rate, providing a more accurate view of the signal.
Data is presented on a 15.6in capacitive touchscreen with a resolution of 1920 x 1080 pixels. The display supports similar operations to those of a phone or tablet, allowing users to pinch, zoom and swipe. However, operations can be conducted using a mouse interface. Features can be accessed directly through objects on the display, but traditional front panel controls are available.
So called badges enable users to see relevant information for all displayed waveforms, while there is also access to maths, reference and bus waveforms. Horizontal, trigger and acquisition parameters are also displayed. "A lot of thought has been put into the design and how engineers will use it," Godfrey asserted. "And the new stacked displays feature will be really good, compared with the traditional overlay mode."
The scope can also be operated in dedicated scope mode or in an open Windows configuration. According to the company, users can switch between the two modes by simply inserting a solid state drive featuring the Windows OS into the scope. The user interface remains the same, whether Windows has been booted or not.
Along with a range of optional embedded serial communications standards packages, users can also specify optional jitter and eye analysis software, offering bathtub, time interval error (TIE) histogram, TIE spectrum, eye diagram and jitter measurements. "This will enable easier operation than in the past," Godfrey claimed.
Three variants are available, with four, six or eight FlexChannels. Each is available with bandwidths of 350MHz, 500MHz, 1GHz or 2GHz and a 62.5Mpt record length, extendable to 125Mpt. The 350MHz and 500MHz devices can be field upgraded to 1GHz via a licence, while an upgrade to 2GHz is available via a return to base agreement.
Professional functionality, 'budget price'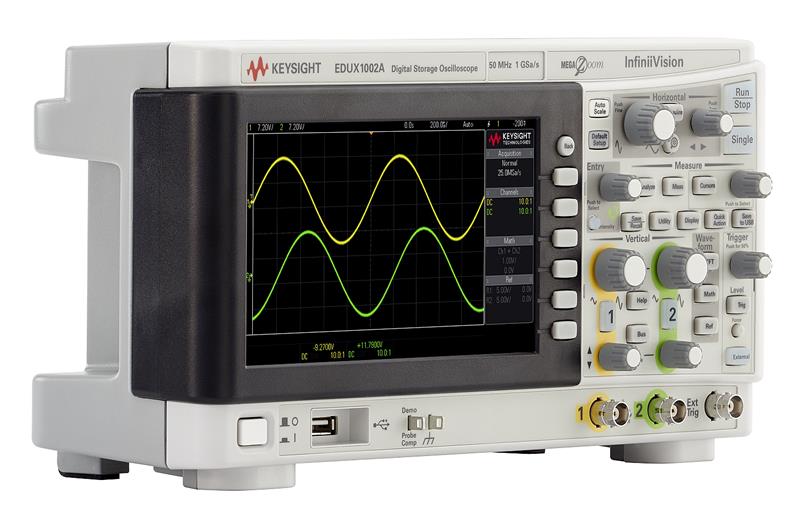 Keysight recently launched the InfiniiVision 1000 X-Series of scopes. The low-cost oscilloscope family is said to deliver professional functionality, as well as integrating up to six instruments in one. All models have a serial protocol analyser, digital voltmeter and frequency counter, while the EDUX1002G and DSOX1102G models include a frequency response analyser and WaveGen function generator.
Featuring Keysights MegaZoom IV technology, the scopes can capture 50,000waveform/s and sample at up to 2Gsample/s
The scope features 24 typical oscilloscope measurements to quickly analyze signals and determine signal parameters. Additional signal analysis is provided by the gated FFT function, which allows users to correlate time and frequency domain phenomenon on a single screen. And mask limit testing is also available to help users easily detect signal errors.
The 1000 X-Series also supports decoding and analysis of embedded and automotive serial bus applications, including I2C, SPI, UART/RS232, CAN and LIN.
Low cost scope with touchscreen
According to Rohde & Schwarz, the RTB2000 is the first low cost oscilloscope to offer touchscreen operation and 10bit vertical
resolution. "Rohde & Schwarz engineers love challenges where they can apply leading edge technology to customer needs," claimed Joerg Fries, Vice President Oscilloscopes. "We gave our team an additional challenge: to provide R&S quality at an extremely competitive price."
The RTB2000 includes a proprietary 10bit A/D converter, providing four times more resolution than other oscilloscopes in this segment. It also supports a 10Msample acquisition memory on each channel, or 20Msample per channel in interleaved mode. A 10.1in capacitive touchscreen allows the instrument to be operated more quickly and efficiently. This, says the company, is the first time that users with lower budgets can take advantage of capacitive touchscreen operation.
The RTB2000 comes in two and four channel models, with bandwidths of 70MHz, 100MHz, 200MHz and 300MHz and upgrade options.