UK TEC's Professional Solutions Manufacturing (PSM) department has adopted the Raspberry Pi as part of its wider initiatives to embrace Artificial Intelligence (AI), enhance product quality and create a more efficient workforce, with the aim of raising productivity by between 20 and 30 per cent.
As Sony's only manufacturing site in Europe, UK TEC uses cutting edge manufacturing techniques to generate advanced broadcast equipment and professional audio and video solutions. The cameras and systems manufactured at the site are used worldwide in the production of major live sports events, news and current affairs programmes, TV dramas and blockbuster films. Today, UK TEC has around 150 Raspberry Pi devices installed across its manufacturing facility to monitor its industrial automation and control systems ensuring high performance across its manufacturing operations and end-products through the monitoring of smart robotics and automation to capturing big data and analysing processes.
Why Raspberry Pi?

The Raspberry Pi has been adopted far beyond the educational sector, where it was first launched, and is now commonly used in both commercial manufacturing and the industrial sector supported as it is by a strong supply chain and robust compliance.
A compact single board computer the Raspberry Pi can operate on very low power due to its ARM and RISC architecture, generating much less heat than a desktop computer and eliminating the need for a heat sink or fan on its microprocessor. Simplicity, flexibility, and reliability are ensured by the Raspberry Pi's Linux operating system.
According to Kevin Edwards, General Manager at UK TEC, "The Raspberry Pi is an extraordinary piece of technology – flexible, very cost-effective, a small form factor, low power, portable computer solution which is easy to install. It has so many things going for it. We chose the Raspberry Pi because of its reliability, quality, price, ease of use and support. Our aim is to capture the real world in our manufacturing facility by using cost-effective computing."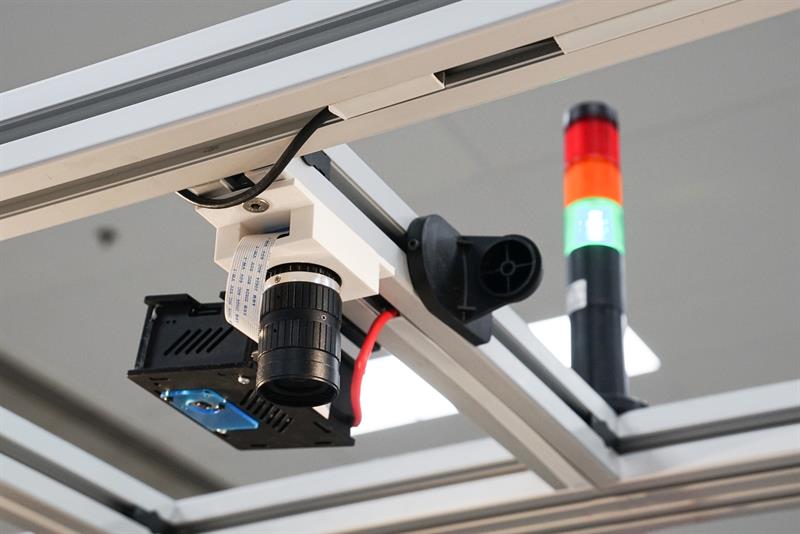 Above: Raspberry Pi and Pi camera used in the manufacturing facility

Getting started

In the early stages of deployment, UK TEC gathered critical data on environmental conditions such as humidity, temperature and lighting using the Pi Sense HAT. The Sense HAT has an 8×8 RGB LED matrix, a five-button joystick and includes such sensors as a gyroscope, an accelerometer and a magnetometer which allows a Raspberry Pi to 'sense' the world around it. Data gathered was used to debug UK TEC's big data storage and standardise the factory to enhance production.
Kevin says "The most valuable information we have is monitoring our processes directly and we can now measure data using sensors that are directly connected to control systems of equipment. We are able to use the Raspberry Pi to capture videos and to drive displays that give information back."
Imaging enabled by AI

A key focus for UK TEC was to improve manufacturing efficiency through the use of image processing technology. The company is using the Raspberry Pi to carry out non-intrusive image processing and data capture using AI technology that monitors product variation and quality on the factory floor.
To ensure UK TEC adheres to lean manufacturing processes and eliminates waste as efficiently as possible, the Raspberry Pi is partnered with the Raspberry Pi High Quality Camera to review processes, such as the mounting of parts on individual boards, to ensure consistency. A major benefit of this camera is that it can capture the whole manufacturing environment in a single shot rather than having to rely on traditional sensors for monitoring robotics and capturing data on position, temperature and movements.
"The Raspberry Pi offers us a very low-cost method of capturing scenes of our operation. As we move more into AI and the analytical world, this vision can be used to achieve a measurement capability that has never been possible before," said Edwards. "That is the exciting part we are investigating, and the first stage is to be able to capture the physical world. The Raspberry Pi does a wonderful job of that."
Touchscreen for Raspberry Pi

UK TEC also uses Touchscreen for Raspberry Pi to display communications throughout its warehouse. They were chosen for their reliability, cost-effectiveness, connectivity and small form factor, as well as their low heat and low power characteristics. These features made it possible to insert the small computers inside the manufacturing equipment, with close proximity to the product eliminating the need for any infrastructure to process signals across a long distance.
"I could not imagine putting 150 PCs around our factory, it would have cost us a fortune. It also wouldn't have been practical to have had lots of desktop computers in cabinets next to the equipment. The Raspberry Pi is
a far more viable option and it enables us to embrace edge computing by embedding these little units directly inside our equipment and machinery. The technology is almost invisible," Edwards added.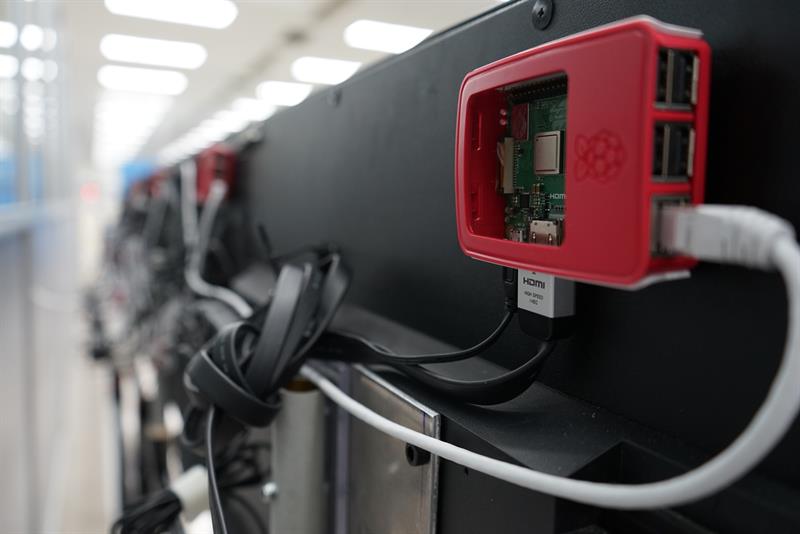 Above: A Raspberry Pi being used to power digital signage within the facility

Looking to the future

UK TEC believes the recently launched Compute Module 4 (CM4) is another Raspberry Pi solution that will support adherence to lean manufacturing processes and improving productivity while keeping costs down. The CM4 family delivers a variety of mix-and-match functionality and power with 2Gb, 4Gb and 8Gb SD-RAMs, on-board flash, and the ability to boot from the cloud, offering reliability and security.
"When adding computers to an industrial site, security can be a problem, however it can be easily resolved with the Raspberry Pi. The CM4 fits nicely as a low-cost, small form factor alternative to the Pi4 and, of course, the applications run perfectly well on both so you can't tell a difference when you look at them on the network," explained Edwards.
In the future, UK TEC is looking to expand its use of the Raspberry Pi into a range of industrial devices and projects. For example, the site is currently evaluating the technology in mobile devices that could be used to scan barcodes in warehouses, and to improve connectivity of automated guided vehicles (AGVs).
"The Raspberry Pi is marketable because it delivers technology that is easy to access, use and develop. That's hugely powerful. Just as communities have been able to pick up the Pi and use it in different types of projects, technical experts in manufacturing have the same capability to use the technology to develop new applications that improve efficiency and performance," said Edwards. "The beauty of the Pi is that it offers such a highly scalable foundation to build products on."
Today, an estimated 40 to 50 per cent of Raspberry Pi boards are being used by the industrial sector. Widespread adoption is supported by Raspberry Pi's reputation for innovation and performance, alongside guaranteed longevity with every generation is guaranteed to be in production for at least five years.
The Raspberry Pi's strong compatibility with desktop and server development environments has the potential to place the board at heart of many new manufacturing solutions in the future.
Author details: Ankur Tomar is a Technical Marketing Manager, Farnell