The most significant climate summit since Paris in 2015, the measures that were outlined in the COP26 Glasgow Climate Pact have been described as critical if the world is to set a course to keeping global warming below 1.5 degrees.
Despite signalling that coal, oil and gas have had their day; a commitment to try and limit warming to 1.5 degrees; a $100bn/year commitment to climate finance and an agreement that governments will work together on the implementation of a loss and damage mechanism there is still much to be done.
However, for many the sense of urgency that was evident at COP26 will make it harder for governments and businesses to kick the issues of sustainability and climate change down the road.
For most businesses sustainable practices are no longer 'nice to have' but critical at a time when the impact of climate change is becoming more apparent.
All sectors are now looking at how they can reduce the harmful impacts that they can generate, and technology is seen as playing a critical role in addressing issues such as reducing product waste and the use of limited resources or measuring and monitoring the impact these sectors are having on the environment.
Among manufacturers there is an awareness that sustainable manufacturing operations are now critical to their future success and reputation.
According to Jason Chester, Director of Global Channel Programs at InfinityQS, the drive towards optimising manufacturing efficiency and productivity should no longer centre solely around performance and profit but should revolve around sustainability, with sustainable practices being at the forefront of any manufacturer's digital transformation strategy.
"Coverage on climate change is dominating TV screens resulting in consumers and brands paying attention to the environmental impact of products and services. The rise of social media means that the pressure for responsible and sustainable manufacturing is only going to grow."
At present manufacturing accounts for almost a third of total carbon emissions.
"For manufactures to truly make an impact they must rethink how they design their products and their production processes, how they source and transport materials and goods, manage their processes and so on. But they also must not overlook how by optimising their production processes, to minimise waste and maximise efficiency and productivity, they will also greatly assist in mitigating any negative impact on the environment," explains Chester.
However, a recent survey revealed that two-fifths of UK manufacturers are still operating without a sustainability policy blaming costs and time as a barrier to achieving a more sustainable operation. Yet, with the right technology, it is possible.
Chester argues that there is great potential for manufacturers to use technology to their advantage.
"Utilising new technology will allow manufacturers to unravel the complexity in their processes and give them the visibility to ensure they are able to make those decisions at every level within their operation."
Great oaks from little acorns grow
When it comes to sustainability and climate change rather than these issues simply being brushed off as the rantings of green extremists, they are now being discussed by politicians, industrialists and academics around the world. However, as Jonathon Porritt, a leading environmental campaigner, has warned, "There's still a massive gap between rhetoric and action, and getting to grips with the full 'gut-wrenching' reality of the climate emergency does not come easily for any of us."
At COP26 there were a large number of companies that used the event to unveil or display new technologies that were intended to help in combating climate change. Many were small scale in nature but, as one attendee said, "Great oaks from little acorns grow."
During COP26 one new technology that was unveiled claimed that it could have a lasting impact on the future of all the trees on the planet.
The new platform – the New Energy Matrix - has the potential to build a trusted and verifiable way of measuring and monitoring net zero targets and any subsequent progress.
This ecosystem software was developed to allow citizens, institutions, companies and government regulators to transparently and fairly post and monitor their carbon footprints and targets.
Trees can be digitally tagged with an RFID chip which then provides a unique identifier, and other information about the tree, including its geolocation, species and current physical dimensions. All this data is then loaded into the New Energy Matrix APP to automatically and irrefutably prove its existence and its status.
The technology will have an important role in delivering the commitment made by national leaders at the climate summit to stop and reverse deforestation, by ensuring better monitoring and global climate change accountability.
Jon Curtis, CEO of Curtis & Associates, which has developed the platform, said: "There are many ways to measure both individual and corporate carbon footprints, but there exists today no common store for that information.
"This makes it difficult to analyse how well organisations are doing in reaching their declared targets and whether or not they are indulging any form of deliberate 'greenwashing' or offsetting their emissions without evidence or proof.
"Bringing all the data into a common repository, which cannot be altered once it is verified, means that it can be scrutinised and analysed to ensure fair play across the monitoring of stated targets, not just in forestry, but in all business sectors."
The New Energy Matrix is already being used to tag trees at GoldTeak, one of the company's ethical agro-forestry projects in Indonesia, where it has planted more than 30,000 trees which, to date, have sequestered 16,000 tons of carbon dioxide equivalent.
According to Curtis, "Following some very valuable personal interactions with political figures and business leaders at COP26, we have had many enquiries from companies which want to invest in similar Environmental, Social and Governance (ESG) projects and, indeed, want to visit our plantation to see how it is done."
Transport
Transport is a major contributor and currently represents 23% of global energy-related CO2 emissions. In response, the automotive industry is developing numerous alternative ways to power vehicles, whether through electricity or hydrogen.
While battery technology is evolving rapidly and governments have made commitments to phase out petrol and diesel vehicles, a capable infrastructure has now become a priority.
One major issue, especially in the UK, is the lack of off-street parking. In the UK around 40 per cent of car-owning households, especially in larger cities, don't have designated off-street parking – that's around 8.5m households.
To address this ZipCharge unveiled a portable Electric Vehicle (EV) charger, the Go.By that it said would bring home charging to all.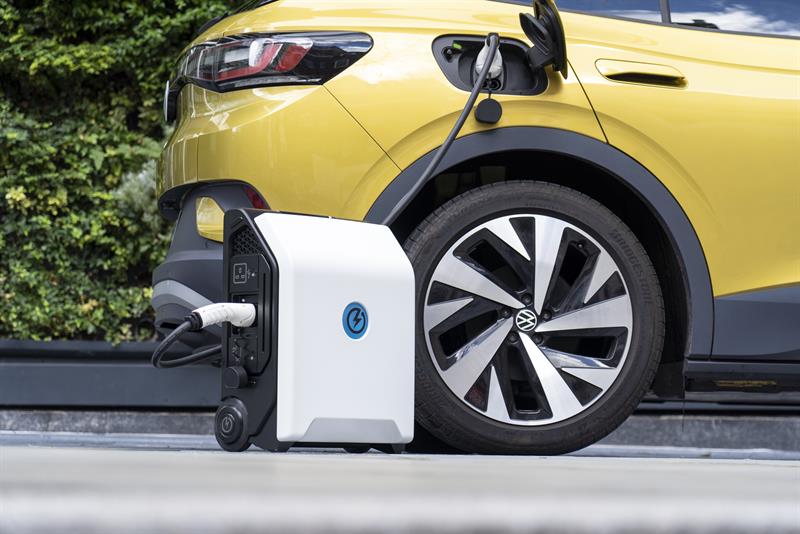 The Go is the first element of a global portable EV charging platform that will look to combine hardware, software, and machine learning in order to bring affordable, practical EV charging to more people. Go also creates an intelligent energy management platform that provides flexibility and resilience for national power grids.
ZipCharge co-founders Richie Sibal and Jonathan Carrier said that the first models would be available to customers at the end of 2022.
Speaking at COP26 Carrier said, "In light of the UK Government's recent Net Zero Strategy: Build Back Greener manifesto announcement, never before has the automotive industry had cause to innovate so rapidly to help reach a low carbon future. One of the key barriers to wider uptake of EVs is charging anxiety; the inability to charge near or at home. ZipCharge looks to remove that hurdle and in doing so, democratise EV ownership."
According to the SMMT, the UK's motoring trade body, there are currently 600,000 plug-in electric hybrid vehicles (PHEV) and battery electric vehicles (BEV) on the roads in the UK that could make use of the ZipCharge product.
Speaking prior to COP26 Mike Hawes, the Chief Executive of the SMMT, said, "In the same way people charge a phone overnight, people will want to charge at home when they park overnight."
While ZipCharge targets the critical automotive market other companies demonstrated new technologies that address smaller, but no less important, transport segments.
COP26 saw the world's first hydrogen fuelled ambulance, that's been created by ULEMCo, a leading UK hydrogen fuel company.
The working prototype vehicle incorporates a hydrogen fuel cell in the powertrain, can be refuelled quickly and is capable of up to a 300-mile range.
The Zero Emission Rapid Response Operations ambulance was originally started by Yorkshire Ambulance Service, but a trial is now being conducted by the London Ambulance Service, where it can access the public refuelling stations around London.
The project is being led by ULEMCo, with expert partners including Mellor, Promech Technologies, Lyra Electronics and VCS, and is supported by Innovate UK and NHS England & NHS Improvement.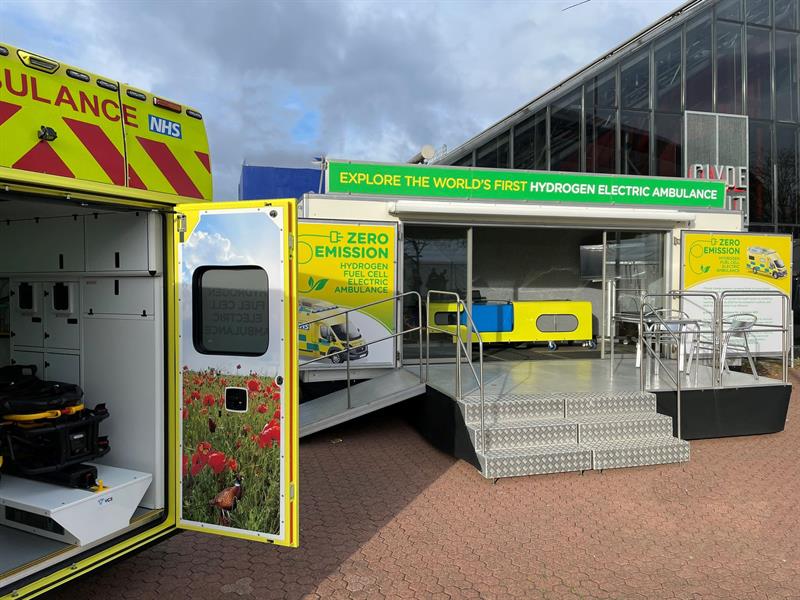 Innovations built into the ambulance include a hydrogen fuel cell range extender with an electric drive, a low frame chassis and a bespoke lightweight ambulance body and the hydrogen fuel cell ensures fast and flexible refuelling.
Commenting Amanda Lyne, MD of ULEMCo said, "A great deal of hard work from the industrial partners has gone into bringing the ZERRO project to this stage. We believe this is a key milestone in the development of hydrogen mobility and shows what can be achieved today to achieve zero emissions from HGV and utility vehicles."
Monitoring and tracking
As the New Energy Matric demonstrated, the ability to track and monitor emissions will be critical if the agreements made at COP26 are to be met.
AiDash launched an Intelligent Sustainability Management System (ISMS) which can be used by utility, energy and other companies to measure, enhance, track, report and offset biodiversity, natural capital, GHG emission and other critical sustainability metrics.
A provider of satellite and AI-powered operations, maintenance and sustainability platforms, AiDash said that the ISMS would help companies achieve their sustainability goals including the 10 percent biodiversity net gain by 2030.
The ISMS SaaS solution was also seen as helping companies, such as the National Grid here in the UK, to increase cost savings and other efficiencies by eliminating frequent land surveys that are currently performed manually.
Large organisations with significant land holdings can struggled to monitor biodiversity – it can be both costly and complex and with the UK's upcoming Environment Bill setting targets for both biodiversity and land sustainability it'll be a challenge for many.
"Sustainably responsible organisations are struggling to find integrated operations platforms that can help them stay on top of their goals and meet the regulations within their sectors," explained Abhishek Singh, Co-founder and CEO of AiDash."Existing tools and techniques lack the ability to analyse historical data and make data-driven environmental improvements. Our new platform solves this. Any organisation with large land or water assets can benefit from ISMS."
The ISMS 'Land' module provides AI-backed image analysis for systematic mapping, planning and assessing land enhancements, and is able to quantify biodiversity to plan sustainable land development and restoration initiatives based on the environmental value of varying habitats.
Whatever COP26 actually achieved, there is no denying that climate change is happening, and while the many commitments made to action have yet to deliver anything tangible, the technology as described here, will have a crucial role to play in delivering on those commitments.