Company takes the assp route to support 100Gbit Ethernet systems
Merchant chips that address 100Gbit Ethernet and optical transport are finally coming to market. Cortina Systems claims its CS605x family of transport processors is the first to address the 100Gbit Ethernet and Optical Transport Network (OTN) markets.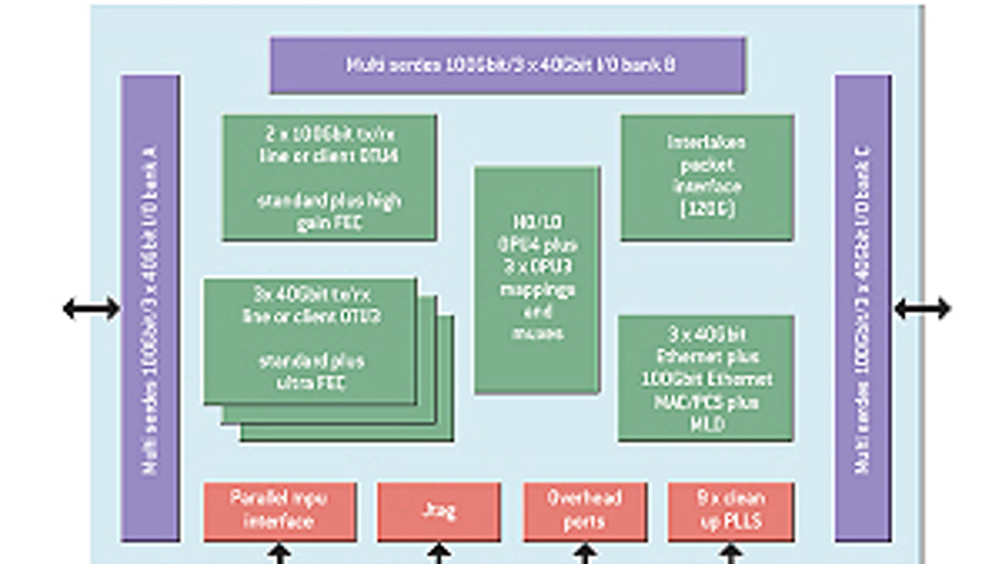 Until now, equipment makers have used fpgas to implement 100Gbit/s designs. This is an important sector for fpga vendors, with the likes of Altera and Xilinx making several company acquisitions to bolster their IP offerings to address the high end sector. System vendors have also used fpga board based designs from specialist firm TPACK, which was acquired by Applied Micro in 2010. The advantage of an fpga design is that it allow faster entry to market, while supporting relevant standards as they mature. FPGAs also allow equipment makers to insert their proprietary IP; for example, advanced forward error correction (FEC) codes, to distinguish their designs. But once a market reaches a certain maturity, application specific standard products (assps) become available. "ASSPs are more efficient in terms of cost, power and integration," said Alex Afshar, transport product line manager with Cortina Systems. But industry analysts point out that assp vendors have a battle on their hands. "In this class of product, there is a lot of customisation and proprietary design and fpgas are well suited for that," said Jag Bolaria, senior analyst at The Linley Group. Cortina's CS605x family of devices can offload a standard function from the fpga, but it becomes an issue of cost. "The fpga vendors are in the driving seat and could influence direction by pricing strategy," Bolaria continued. Cortina decided to develop the transport processor family once two customers committed to using the product. The CS605x transport processor is aimed at dense wavelength division multiplexing (DWDM) optical transport platforms and other telecom equipment, such as packet optical transport systems, carrier Ethernet switch routers (CESRs) and Internet Protocol edge and core routers. The chip family can also be used within the data centre, for use in aggregating 'top of rack' Ethernet switches. "Our traditional business in optical transport networks (OTN) has been in the wavelength division multiplexing market," said Afshar. "What we see now is demand across all those platforms." Cortina says the market for packet optical transport systems that combine DWDM and switching functionality has been growing in recent years, while carrier Ethernet is a relatively new segment for the company. CESR equipment operates at higher layers of the network than packet optical transport platforms, namely at layer two to support carrier Ethernet as well as some layer three Internet Protocol functionality. Some equipment makers, such as ECI Telecom, are even combining CESR and packet optical transport functionality within one platform. "When we introduced our 40Gbit Ethernet assps – the CS604x family – in early 2011, we were able to aggregate 4x10Gbit Ethernet into 40Gbit," said Afshar. This won the company several carrier Ethernet design wins. The CS605x extends Cortina's existing CS604x 40Gbit/s OTN transport processors. Bolaria says the latest family is useful for transponders – converting between Ethernet and OTN traffic – and for bridging between OTU4 100Gbit/s line rates and lower data rate OTUs. The CS605x devices aggregate 40Gbit/s Ethernet or OTN streams into 100Gbit/s or translate – map – between 100Gbit Ethernet and 100Gbit OTN frames. Combining devices from the latest CS605x and the CS604x family enables 10 and 40Gbit OTN/ Ethernet traffic to be aggregated into 100Gbit streams. Of the four announced C605x assps, the CS6051 is the flagship device. The CS6051 can interface directly to three 40Gbit/s optical modules, a 100Gbit CFP optical form factor or a 12x10Gbit/s CXP module form factor. The device also supports the Interlaken interface at 6.25Gbit/s and at 12.5Gbit/s channel rates, one of the first assps to address the faster channel rate. The device supports up to 120Gbit/s via Interlaken, to interface to a network processor, traffic manager or fpga device. The CS6051 also supports several FEC codes, including the standard ITU-T G.709, a 9.4dB coding gain FEC with an overhead of just 7%, and an 'ultra FEC', whose coding gain can be traded with frame overhead, from 7% to 20%. The CS6053 is similar to the CS6051, but offers only the ITU-T G.709 FEC. The device is aimed at system vendors that have their own powerful FECs, such as the soft decision FEC now being used for long haul 100Gbit/s coherent optical transmission (see NE, May 24, 2010). "Maybe 10% of [system vendor] customers have that [soft-decision FEC] right now," said Afshar. The CS6052 supports Ethernet and OTN mapping, but not the aggregation of smaller traffic types into bigger pipes: 40 and 100Gbit/s, but not 10Gbit/s. An example application would be for use with a packet optical transport system's line card to place Ethernet traffic into an OTN payload for network transmission. The CS6054, which supports Ethernet only, is suited for carrier Ethernet switch routers and in the data centre, for aggregation switches. The assp family has a CAUI interface for 100Gbit Ethernet, a 40Gbit Ethernet XLAUI interface and supports the OTL4.10 and OTL3.4 interfaces. The devices can thus be linked directly to optical modules. In a router application, for example, the CS6054 can take traffic directly from three 40Gbit/s optical modules and interface to a network processor to perform higher layer packet processing on the received traffic. Another design feature is the integrated timing circuitry that removes the need for external phase locked loops (PLLs). On receipt of time division multiplexed OTN traffic – OTN is protocol agnostic – there is a need to regenerate the payload, including its timing information. Cortina has integrating the PLLs inside the ics. "Integrated PLLs help eliminate external components and thus could be useful in reducing cost," said Bolaria. The CS605x family also supports the IEEE 1588v2 precision timing protocol used primarily for mobile backhaul. "Whenever you need to carry the timing information across the Ethernet network," said Afshar. The CS605x optical transport devices consume between 10W and 12W. Having announced in 2011 the 100Gbit/s family closely after the 40Gbit/s transport devices, Cortina is reticent to outline what comes next. Afshar will say the company is looking at adding OTN switching, but it depends on how the use of switching evolves in the network. The most obvious developments, says The Linley Group's Bolaria, is to add more ports and a 25Gbit/s serdes to support the electrical interface channel speeds of the emerging CFP2 optical module. There is also the next anticipated Ethernet speed hike, to 400Gbit, which is still being defined. Cortina says that it is part of the standards work and is monitoring developments, but that the main growth for the moment will be in the 100Gbit market. While work has started on 400Gbit Ethernet, it is unclear what the next optical transmission rate of choice will be – 200Gbit/s, 400Gbit/s or 1Tbit/s. What has been significant for the 100Gbit marketplace is the convergence of Ethernet and OTN around 100Gbit, says Afshar. Samples of the CS605x family have been available since October 2011 and volume production will begin in the first half of this year.