FIELDBUS_cables_and_connectors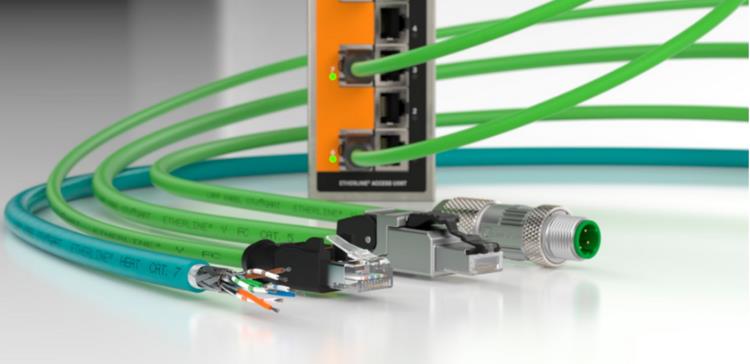 Numerous plants employ both types of communication networks. Their maintenance and expansion requires the use of special cables, strictly dedicated to a specific data transmission protocol. In addition, this cabling has to be selected depending on the conditions on the operated production line. Contact with oils, high temperature or the continuous bending of the cable during operation implies the use of products that are specially adapted for this purpose.
What Fieldbus communication standards are available?
There are several dozen different FIELDBUS transmission protocols available on the market. Among them, it is worth distinguishing three most common types.
PROFIBUS® DP – one of the most popular systems, associated with SIEMENS, but it is based on an openly published model. Numerous manufacturers offer compatible devices and accessories. Well-scalable, it offers a wide range of transmission speeds and, consequently, single cable lengths (up to 1200m). Applied in most industries. A special version dedicated to process automation (refineries, chemical industry) called PROFIBUS® PA8 is also available.
CANopen –a standard that was originally developed for automotive applications. Still commonly used in the automotive industry. With its help, car service technicians conduct computerized diagnostics of the vehicle – however, it has a much wider application in the automotive industry. After being extended with a communication profile, it was introduced into industrial automation as CANopen. It is mainly used in Europe, whereas overseas, thanks to Rockwell Automation, it became the DeviceNet standard.
The CC-Link standard is most popular among users from Japan and other Asian countries. It has a simple structure and offers easy integration of components from different manufacturers, so it is also frequently chosen by European users.
There are also a few other systems applied in production lines: Actuator Sensor Interface, better known as AS-I, INTERBUS, FOUNDATION Fieldbus or a very popular Modbus system.
Which industrial Ethernet technologies are the best?
In the era of the so-called Industry 4.0 we are witnessing a tremendous increase in the number of devices connected to the industrial network. The capacity of FIELDBUS systems is becoming insufficient. That is why it was necessary to introduce new solutions. Traditional office Ethernet was not suitable for industrial applications, mainly due to signal transmission time lags. They can reach up to 500ms, while production lines with drive control require time lags of a few milliseconds. In other words, real-time operation is necessary. At the beginning of the 21st century, mechanisms were created to allow for short response times of systems based on the Ethernet infrastructure. An idea of the Industrial Ethernet emerged.
The cabling of industrial networks must be resistant not only to harsh environmental conditions, but also protect the transmitted data from electromagnetic interference. That is why Industrial Ethernet, in contrast to the office network, mainly involves the use of screened cables or optical fibres.
Also in this case, we can list several coexisting standards.
PROFINET® is a leading openly published industrial Ethernet standard in Europe. It enables real-time data exchange between control devices and on-site devices. PROFINET® is the successor to PROFIBUS®.
Modbus TCP is an interesting example of adaptation of the popular FIELDBUS standard. The Modbus data frame has been "packed" into an Ethernet frame to create an open system that has now become one of the standards in process automation.
EtherNET/IP is an industrial bus system used in control and automation systems, mainly in the USA. One of the key advantages of this open standard is the ease of integration of existing on-site devices with a serial RS interface.
CC-Link IE is the leading Ethernet-based standard in Asia, the successor to the CC-Link Fieldbus system. It is used to manage much larger (compared to its predecessor) data volumes.
POWERLINK is an open, real-time extension of the basic Ethernet technology protocol. It is currently the leading Ethernet system. It works in real time and is used in automation technology.
LAPP cables for Fieldbus and Industrial Ethernet communication

Ethernet_cables
Industrial Ethernet cables.
Selecting the right cable for your application can be quite a challenge. Therefore, it is worth using a ready-made algorithm and answering some basic questions. The key ones will concern the communication standard. Below, we present subsequent steps that will allow our customers to choose the right product. Just click on the answer to go to the catalogue and get familiar with the relevant TME offer.
What will be the type of connection?
Cables fixed in cable ducts:

UNITRONIC BUS PB
ETHERLINE PN Cat. 5

Cable that may sometimes be moved, e.g. when relocating a control panel: UNITRONIC BUS CAN
Movable connections, e.g.continuous bending in a chain guide: ETHERLINE FD
Will the cable be applied outdoors, exposed to UV radiation?
Yes, laid on a cable bridge: UNITRONIC BUS PA
Yes, but it will be movable (also in winter): ETHERLINE TORSION
What chemicals will come into contact with the cable?
The cable will be exposed to oil: ETHERLINE P
The cable will be regularly washed and disinfected, e.g. in a food plant: ETHERLINE ROBUST
The cable must be resistant to contact with boiling water or temperatures up 100°C: ETHERLINE 105 plus
For more information CLICK HERE