"They don't have to spare every platform and they don't need to learn its hardware operational environment," says Manish Gulyani, vice president of product marketing for Alcatel-Lucent's IP routing and transport business.
Alcatel-Lucent has been offering two IP applications running on servers since the middle of 2014. The first is a router reflector control plane application used to deliver internet services and layer 2 and layer 3 virtual private networks (VPNs). Gulyani says the application product has already been sold to two customers and another 20 are trialling it. The second application is a routing simulator used by customers for test and development work.
More applications are now being trialled: a provider edge function that delivers layer 2 and layer 3 VPNs; and an application assurance application that performs layer 4 to layer 7 deep packet inspection. "It provides application level reporting and control," says Gulyani. Operators need to understand application signatures to make decisions based on which applications are going through the IP pipe, he says, and based on a customer's policy, the required treatment for an app.
Alcatel-Lucent has rearchitected its edge IP router functions – its service router operating system (SR OS) and applications – to run on Intel x86 instruction set servers.
Glen Hunt, principal analyst, transport and routing infrastructure at Current Analysis, said: "The edge of the service provider network is where all the services live. By supporting all services in the cloud, operators can retain a seamless operational model, which includes everything they currently run. The applications being discussed here are network type functions – Evolved Packet Core, broadband network gateway and wireless LAN gateways, for example – not the applications found in the application layer. These functions are critical to delivering a service.
"It will be hard for an x86 platform to achieve the performance levels needed in the IP core to transit high volumes of packet data. Most of the core routers in the market today are pushing 16Tbit/s of throughput across 100Gbit Ethernet ports into an optical transport core. This level of capability needs specialised silicon to meet demands."
Ray Mota, chief strategist and founder, ACG Research, noted: "Carriers have infrastructure that is complex and inflexible, which means they have to be risk averse. They need to start transitioning their architecture so they just program the service, not rearchitect the network each time they have a new service. Having edge applications becoming more nimble and flexible is a start in the right direction. Alcatel-Lucent has decided to create a network function virtualisation (NFV) edge product with a carrier grade operating system. It appears, based on what the company has stated, that it achieves faster performance than competitors' announcements."
The company's Virtualized Service Router (VSR) portfolio aims to reduce the time it takes operators to launch services and is the latest example of the trend of moving network functions from specialist equipment onto stackable servers – or NFV. "It is taking IP routing and moving it into the cloud," says Gulyani.
Michael Howard, principal analyst with Infonetics Research, added: "There is overwhelming evidence from the global surveys we've done with operators that they plan to move functions off the physical IP edge routers and use software versions instead.
"These routers have two main functions – to handle and deliver services and to move packets. I've been prodding router vendors for the last two years to tell us how they plan to package their routing software for the NFV market. Finally, we hear the beginnings, and we'll see lots more software routing options."
Additional VSR software products planned for 2015 include a broadband network gateway to deliver triple play residential services, a carrier Wi-Fi solution and an IP security gateway.
Alcatel-Lucent claims a two rack unit high (2RU) server hosting two 10 core Haswell Intel processors achieves 160Gbit/s full duplex throughput. The company has worked with Intel to determine how best to use the chipmaker's toolkit to maximise the processing performance on the cores.
"Using 16 of these 10Gbit ports, we can drive the full capacity with a router application," says Gulyani. "But as more and more [router] features are turned on – for example, quality of service and security – the performance goes below 100Gbit. We believe that, from a single server perspective, the sweet spot is in the sub 100G range."
In comparison, Alcatel-Lucent's FP3 high end network processor chipset, used within its router platforms, achieves 400Gbit wireline performance, even when all the features are turned on.
"With the VSR portfolio and the rest of our hardware platforms, we can offer the right combination to customers to build a performing network with the right economics," says Gulyani.
Alcatel-Lucent's server router portfolios split into virtual systems and IP platforms. Fig 1 shows two platforms that use merchant processors on which the company runs SR OS – it has experience in porting its OS onto hardware other than its FPx devices before it tackled the x86.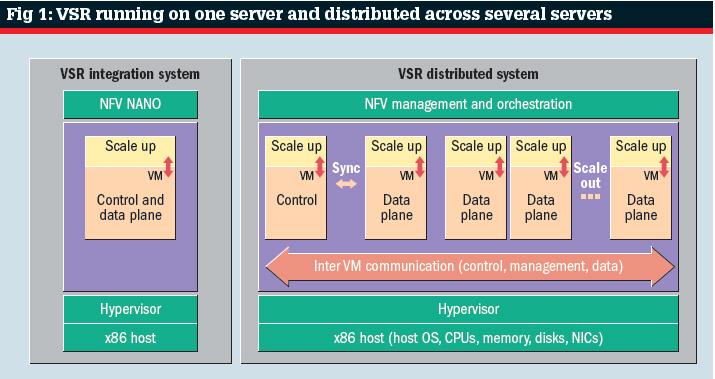 Hunt observed: "Alcatel-Lucent's full routing functionality, available on an x86 platform, enables operators to continue with their existing infrastructures – the 7750SR in Alcatel-Lucent's case – and expand that infrastructure to support additional services.
"This is on less expensive platforms, which helps support new services that were previously not addressable due to capital expenditure and/ or physical restraints."
According to Hunt, virtualisation expands the operator's ability to launch capabilities without deploying dedicated routing/device platforms. "That's not in itself a bad thing, but with the ability to spin up resources when and where needed. Using servers in a data centre, operators can leverage an on-demand model which can use distributed data centre resources to deliver the capacity and features."
Howard believes that, despite the packet-processing performance achieved by Alcatel-Lucent using x86 processors, it should be noted that some functions – like the control plane route reflection example – only need compute power, not packet processing or packet-moving power.
"There already is, and there will always be, a need for high performance for certain places in the network or for serving certain customers. And then there are places and customers where traffic can be handled with less performance."
Mota concluded: "Alcatel-Lucent is addressing a few areas: this is great for testing and proof of concepts, and an area of the market that doesn't need high capacity for routing, but it also introduces the potential to expand new markets in the webscaler space.
"You will see more and more IP domain products overlap into the IT domain; the organisationals and operations are lagging behind the technology. But once service providers figure it out, only then will they have a more agile network."
Author profile:
Roy Rubenstein is a freelance writer specialising in telecomms. This is an edited version of an article published on www.gazettabyte.com