And in some cases, to develop a solution that might otherwise almost seem impossible.
As a product design consultancy, 42 Technology is often asked to design PSUs either as a standalone project or part of a complete product design. Some of these projects can have particularly challenging requirements, not easily achievable using standard components, and to help with this the company regularly collaborates with the custom magnetics division of Würth Elektronik.
Having identified the need for a bespoke transformer, the process usually starts by first listing the required electrical specifications – such as input/output voltages, primary inductance and so on – as well as details on relevant safety standards, mounting preference, manufacturing volume and cost target.
However, Martin Romero, one of Würth Elektronik's custom magnetics design engineers says some design teams do not always consider safety requirements or production volumes from the start. But these factors make a significant difference to other design trade-offs such as size, reliability, efficiency and cost.
"Würth Elektronik is not only a transformer design house, developing over 100 new custom part numbers per month, but also a manufacturer. If we are told about target production volumes, we can adapt our designs to more easily fit into existing production lines to help reduce costs," says Romero.
"Also, it really helps if we are able to choose the transformer size and pin outs rather than them being pre-determined upfront."
The bobbin and core are the two largest drivers behind transformer cost and size so they usually feature heavily in follow-up discussions to determine where design compromises can be made.
For example: if the specified windings are too thick to fit into the target bobbin they can be reduced at the expense of efficiency. Alternatively, the core size can be increased but this adds cost and increases the transformer footprint.
Würth Elektronik typically takes around a week to develop a detailed design, then an additional week to supply test samples that can be evaluated by building and testing a prototype PSU.
Samples are supplied with a specification sheet listing electrical parameters, package outline and pin outs, and a test data report When the design has been finalised, the transformer is then assigned a part number, allowing it to be ordered.
If issues arise during on-going product development, such as EMC due to ringing, then the consultancy's design team tends to avoid changing the transformer design, instead adjusting the hardware elsewhere by adding a snubber circuit for example.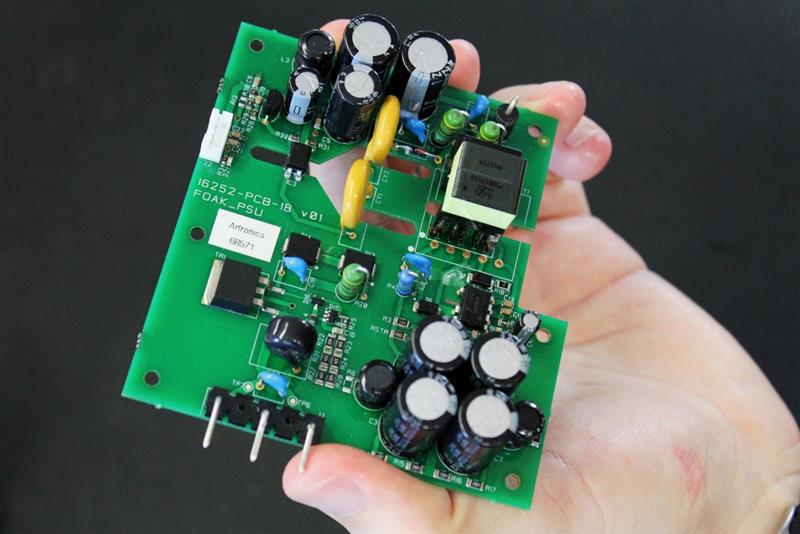 Above: The consultancy's electronics design team initially considered two options to meet the CAT IV creepage requirement. Both would have added cost. However, Würth Elektronik then suggested a minor PCB layout change to enable use of an existing bobbin from their catalogue.
Customisation

Of course, developing customised transformers is not new but two recent examples illustrate just how powerful this approach can be, particularly when you are bringing together complementary skillsets in component design and manufacture with product and system design capability (including all the relevant safety, EMC and regulatory aspects).
In the first example, the client needed a 7W AC to DC PSU for integration into an innovative new product that they had already designed in-house and with target production volumes of 100k per year.
The challenge was that the PSU had a very small and strict mechanical form factor, needed to be low cost, surface mount and was required to have very low standby power. Finding the right components to fit within the 12 mm height restriction (including the PCB thickness and height of the components) was difficult enough, but designing a transformer to fit the available space seemed virtually impossible.
One option was to consider using a push-pull topology because of its smaller transformer sizes. But this would have impacted standby power, and the PSU needed to operate at 90 to 240 VAC which would have been hard to achieve without added circuitry.
As a result, the design team opted for a flyback solution and identified two bobbin and core candidates that could deliver the required power but only when operated at switching frequencies above 150 kHz.
However, the space allocated for the PSU within the system provided a specific design advantage as it was exposed to a continuous stream of cool air, which meant the PSU did not need to be particularly efficient. In effect this allowed the use of a higher switching frequency and low-gauge windings to fit into the specified bobbin. While the switching controller IC reduced the switching frequency for no-load or light-load conditions to help reduce standby power consumption.
To make a significant difference to the final transformer component cost, Würth Elektronik recommended an automated winding solution that would only work for the selected bobbin if a proportion of the primary and secondary windings were distributed between both sides of the bobbin terminals. This made it impossible to achieve a high creepage distance for safety isolation; luckily this was of no consequence in a non-isolated power supply.
By combining a premade core, an existing bobbin and a specific coil construction conducive to automated winding, it was possible to achieve a 50% reduction in the final cost of the transformer and to comfortably meet the client's aggressive cost target.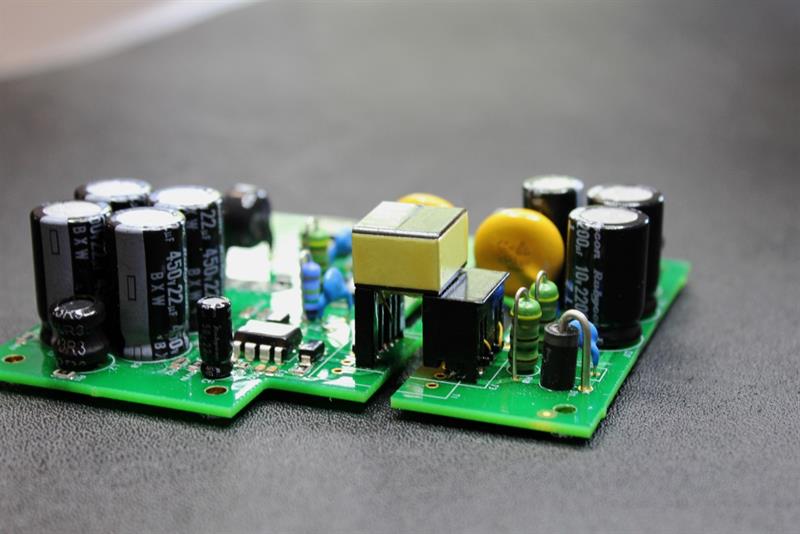 Above: This 5W three phase AC to DC flyback PSU has been designed by Tolga at 42 Technology to work with FuseOhm: a low-cost asset monitoring system for real-time monitoring within electricity substations.
The second example involved the design of a 5W three phase AC to DC flyback PSU for use with FuseOhm: a low-cost asset monitoring system that has been designed for installation within low voltage electricity substations.

Designing a PSU to comply with Category IV (CAT IV) requirements is particularly challenging, especially when it comes to the transformer. The PSU needed to have at least 16 mm creepage between the primary and secondary contacts, to provide 8 kV isolation voltage, and to operate from a three-phase mains power source.
The nominal effective phase-to-phase voltage is 415 VAC +10%, -10%, and a full wave three-phase rectification method was used to create a rectified DC bus voltage to power the flyback converter. This meant the DC bus voltage could reach up to 645 VDC peak in the worst-case scenario and with a reflected voltage on the primary winding of the transformer around 130 V. Taken together, these two voltages could result in a 775 V peak voltage stress on the primary windings, which needed to be addressed within the transformer design.
The design team considered two options to ensure compliance with CAT IV creepage requirements: either to specify a larger bobbin, effectively increasing the transformer's cost and footprint; or to develop a custom bobbin from scratch which would require special tooling, as well as being time consuming and costly.
Würth Elektronik works with safety standards every day and has particular expertise in transformer safety, although this was their first involvement in a CAT IV design. However, they were able to suggest a minor amendment on the PCB that would allow the use of an existing bobbin from their catalogue, which had been specifically designed for high safety requirements. This ensured that the resulting transformer not only fully complied with all the CAT IV safety requirements but it also delivered a much lower cost solution compared with either over-specifying the bobbin or developing a custom-tooled bobbin.
These two examples demonstrate just what can be achieved when a design team works in close partnership with a transformer manufacturer, and where pooling their respective skills and experience has been pivotal in finding low cost solutions for particularly challenging applications.
Author details: Tolga Aydemir is an electronics engineering consultant at 42 Technology