We may have an impressive engineering legacy here in the UK, but a survey conducted by EngineeringUK last year found that three quarters of 11-19 year olds have no real grasp of what engineers actually do, let alone given any serious consideration to actually becoming one.
In fact, a large proportion of adults seem to have a very similar view about the engineering sector. According to Rhys Morgan, Director of Engineering & Education at the Royal Academy of Engineers, "People's perception of engineers still predominantly consists of men in high-vis jackets wearing hardhats."
Given that the country already has a significant skills shortage this is a view that has to be challenged. Dr Hilary Leevers, EngineeringUK's CEO, suggests, "Among the issues we have to deal with is that engineering doesn't manifest itself as an actual subject during children's school years. Very silo-oriented teaching practices are still common in the UK, with little crossover between subjects. What A NEW HOPE is needed is an interdisciplinary approach. That's why teachers should get the chance to supplement their day-to-day lessons with extra curricula activities, like robotics or coding clubs."
But are teachers really in a position to do that? Morgan from the Royal Academy believes, "A lot of teachers lack the time and freedom necessary to create interesting cross-curricular learning opportunities, which is exactly where the exciting elements of STEM occur. The pressure they're now under to deliver large amounts of content restricts their ability to contextualise the curriculum with examples of how STEM can solve real-life problems."
Targets for teacher recruitment in physics, mathematics, design and technology (D&T) and computing have been missed for over five years, says Morgan and staff shortages mean that a lot of teachers need to cover subjects where they don't have the necessary expertise. His organisation is currently in discussion with the Department for Education about ways of enticing engineering graduates into the teaching profession.
"This would allow pupils to gain from their teachers' first-hand knowledge, and learn in the context of modern and exciting practical applications."
Influences outside the classroom also need to be taken into account as parents can pass on their own misconceptions about engineering. For that reason, the IET's Head of Education, David Lakin, believes that greater emphasis must be placed on STEM for younger age groups.
"By introducing basic engineering concepts in primary school and even pre-school, they can be embedded long before children have been exposed to any negative connotations, either from the media or their families." Lakin describes this as 'Engineering by Stealth', with kids participating in fun, hands-on projects that will allow them to develop their problem-solving, communication and teamwork skills.
The UK's education system forces children to make choices relatively early on that will, in many cases, preclude them for certain career paths. Compared to other countries, the UK is unusual as we start narrowing down the subjects pupils take at around 13 and again at 16. Both EngineeringUK and the Royal Academy are strong advocates of changing this - keeping specialisation to a later stage.
Maths lynchpin
Mathematics really acts as the lynchpin, as it is a perquisite for any engineering degree, but this isn't something our schools are currently excelling in. Research done by the Nuffield Foundation showed that the UK as a whole did particularly badly with respect the number of children taking mathematics above the age of 16. In fact, it was only one of three countries out of the 21 surveyed with less than 50% of upper secondary pupils taking mathematics.
"Mathematics A level is on the rise in schools again, after a really bad patch, but a lot more still needs to be done to get the numbers to where they should be," says Dr Leevers.
Numerous universities are starting to offer foundation courses to help bring students into the engineering sphere who didn't originally study it at A level. "We need to stress its value as a key enabler meaning people don't have to backtrack further down the line."
Poor A level mathematics uptake is particularly acute when it comes to girls, and this goes some way to explaining why a huge gender imbalance still exists within the engineering sector. Though 47% of the total UK workforce are female, they constitute just 12% of our engineering fraternity.
In terms of the individuals currently in education/training the tally isn't that promising either. Females make up only 16% of STEM-based degree entrants and, even worse, a mere 8% of engineering companies' overall apprenticeship intake. There is also a major pay disparity between men and women once they are qualified - something that is probably putting off aspiring female engineers and leading to them taking other career options instead.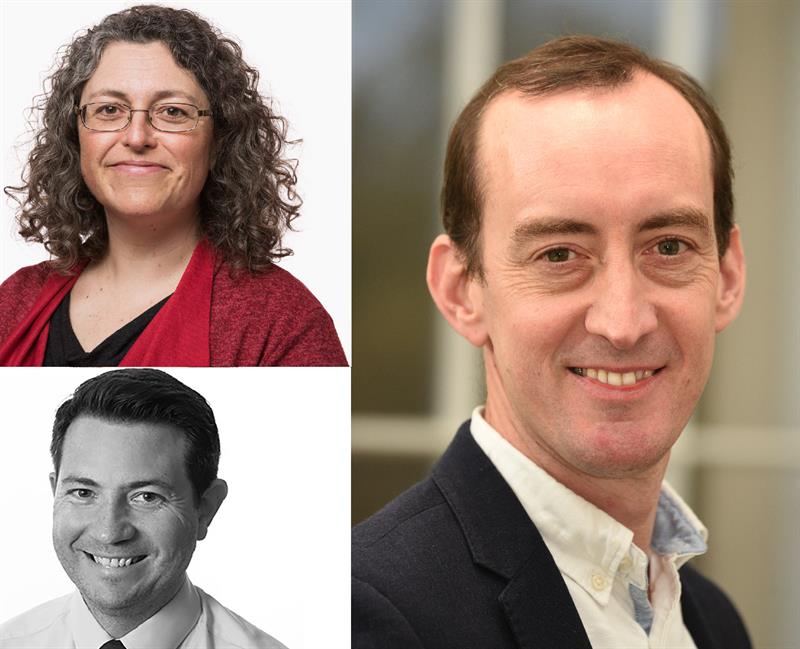 Above: Dr Hilary Leevers (top left), David Lakin (bottom left) and Rhys Morgan (right).
Why now, well into the 21st Century, are traditional gender stereotypes still apparently so steadfast? Most are agreed that role models will be pivotal in combatting them.
As Dr Leevers noted, "There are actually plenty of really good exemplars out there, it is all about elevating them so they can be an asset to this cause." Towards the end of last year, she and her EngineeringUK colleagues staged the annual Tomorrow's Engineers Week.
Now in its seventh year, the objective here is to highlight the ventures being undertaken to strengthen Britain's pool of engineering talent - with contributions from primary, secondary and tertiary education, plus government agencies and the private sector. The core theme on this occasion was developing technology to improve people's health and wellbeing.
The centrepiece of the whole affair was the 'Big Assembly' live videocast, in which over 52,000 pupils and teachers from 850 schools across the country were involved. Some 550 schools participated in the Robotics Challenge that took place during Tomorrow's Engineers Week - with pupils constructing, then subsequently programming Lego-based robots (using the popular Mindstorms platform), in order to perform certain environmentally-focused tasks.
This is Engineering
Complementing this, the Royal Academy, in conjunction with EngineeringUK and various industry partners (including BAE Systems, Rolls-Royce, Centrica, BP, National Grid and BT), launched the 'This is Engineering Campaign.' It is all about giving youngsters a better understanding of what a career in the field of engineering could entail. An important part of the campaign has been the promotion of different 'Meet the Engineer' profiles (each including short video interviews with the individuals themselves). These encompass a broad array of occupations (with many of those interviewed being female engineers). As well avionics, civil engineering and suchlike, there has been a considerable push to showcase more creative opportunities for would-be engineers (in virtual reality, special effects, etc.) - thereby underlining the point that engineering doesn't have to be mundane.
There have been many schemes and initiatives over the last couple of decades looking to encourage more young people into the engineering sector, yet there stills seems to have been a lack of traction to date.
"It's been important to invest in mechanisms for gauging the impact of our campaigns and evaluating their effectiveness. That way we can see what is working best and target available funds accordingly," Leevers explained. "Also, in the past, supporting people on their journey into engineering tended to be handled in a very fragmented way. Though the intentions were good, there wasn't enough coordination.
"Now the focus is on greater cooperation between stakeholders, meaning our individual and collective efforts have greater reach," she continues. "Consequently, overlaps between the actions of different bodies are only likely to reaffirm what's being done by their counterparts."
This is echoed by the IET. "There is now a willingness of those within the STEM community to collaborate with one another, and to share resources. The result is that we can deliver a more consistent message that has far better clarity," Lakin concludes.