The Telegärtner data networking components for field-assembly feature excellent easy assembly and unique homogeneity. This makes them ideal in situations in which speed and reliability are essential.
Fast.
The assembly of field-assembly data networking components from Telegärtner convinces with the minimum time it requires. You can perform professional assembly directly on site within only 60 seconds.
Simple.
You need no special tools for assembling the field-assembly data networking components from Telegärtner. AMJ-S Module Cat.6A and MFP8 Cat.6A are suitable for all common cable types.
Comprehensive.
With the AMJ-S Module, MFP8 plug and the VM8-8 Connection Module, you not only get three top class products but also a perfectly adapted system solution for your daily cabling tasks
Field-assembly RJ45 keystone AMJ-S Module Cat.6A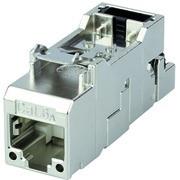 The AMJ-S Module is a Cat.6A connecting hardware for structured cabling. The fully shielded AMJ-S Module for 10 Gigabit Ethernet is based on the transmission advantages of the million times proven connection technology from Telegärtner and offers cabling professionals various possibilities in their daily cabling tasks. The striking feature of the AMJ-S Module is its slim design in Keystone format (19.3 x 14.7 mm) with a zinc diecast housing. In combination with the integrated fine graded cable clamp and the 360° shield connection, the AMJ-S Module is a real installation time saver. The IDC termination in the AMJ-S Module guarantees reliable contacting with conductor size of AWG26/1 – AWG22/1 for solid wire and AWG27/7 - AWG22/7 for stranded wires. Another special feature of the AMJ-S Module is its design capability: The AMJ-S Module can be combined easily with covers from the switching programmes of all well-known manufacturers.
Field-assembly RJ45 plug MFP8 Cat.6A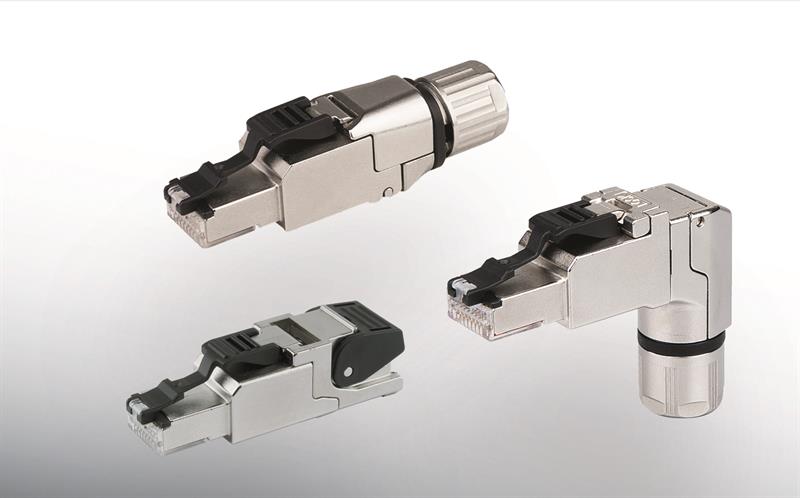 With the MFP8 Cat.6A RJ45 plug you can assemble all common cable types, up to 10mm diameter, to the desired length on site – without special tools. Available in four versions; MFP8 Cat.6A, MFP8-4x90 Cat.6A, MFP8 IE Cat.6A and MFP8 Cat.8.1, offering solution for all requirements from data centre, enterprise and residential cabling to control cabinets with confined spaces as well as industrial and installation cabling. MFP8 plug series enables time-saving and efficient onsite assembly for all networks, from Voice right through to 40 Gigabit Ethernet.
VM8-8 Cat.7A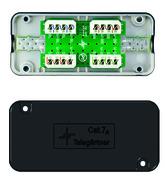 Installation cables can be rerouted, extended or repaired quickly and easily with the VM8-8 Connection Module. It is suitable for AWG24/1- 22/1 solid conductors, shielded/unshielded twisted-pair installation cables (Cat.5e/Cat.6/Cat.6A/Cat.7/ Cat.7A). When VM 8-8 Cat.7A modules are used, the cable segments in a structured wiring system do not need to be laid out again. This reduces the expenses for alterations and the overall costs to a minimum. Depending on the connection module type, up to 12 incoming and 12 outgoing 8-wire cables can be permanently connected together without any significant reduction in the transmission characteristics or any limitation of the maximum link lengths.