ITS market growth is attributed to the increasing emphasis on smart city and smart transportation development initiatives by government agencies, aggressive R&D in autonomous vehicle technology, and rapidly increasing vehicle production demanding effective traffic management solutions.
Government agencies around the world are also establishing strict norms for controlling vehicle emissions and improving roadside safety. Such initiatives are promoting market players to develop advanced ITS for a diverse range of transportation modes such as roadways, railways, airways, and maritime.
According to the International Transport Forum's Road Safety Annual Report, 2017, road fatalities in the U.S. increased by 6.3% between 2010 and 2016. While the Annual Accident Report, 2017, by the European Union (EU), indicates that road traffic accidents in the EU member states claimed 26,100 lives and left over 1.4 million people injured in 2015.

In the roadways intelligent transportation systems market, Advanced Traffic Management Systems (ATMS) held a majority share of over 34% in 2018, due to the growing demand for reducing traffic congestion in urban areas by enhancing an effective utilisation of the prevailing infrastructure. These systems acquire real-time information from roadside traffic sensors and aid in developing effective traffic management strategies. Also, the development of adaptive traffic control solutions is improving the efficiency of these systems, leading to the growing adoption of ATMS around the world.

In terms of applications, the traffic management application is expected to hold a major share of over 20% in the roadways ITS market by 2025.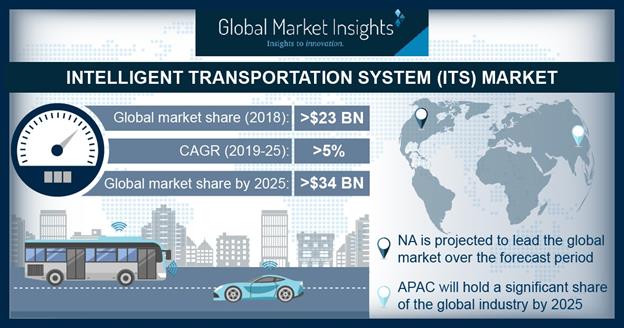 Rail traffic management solutions dominated the railway ITS market in 2018 due to the growing emphasis on optimising rail movement of international trade routes as well as increasing focus on enhancing railway safety infrastructure. The major features of railway traffic management systems include real-time traffic planning, route scheduling, power supply & infrastructure, operation information for passengers & the staff, and maintenance support. These solutions automatically control and set routes for trains and establish route control in events operational disruption. Operation and collision avoidance application is projected to hold a dominant share of over 30% in the railway intelligent transportation systems market by 2025.
In the airways ITS market, communication and networking systems are projected to exhibit excellent growth between 2019 and 2025 at a CAGR of over 7%. With increasing air traffic levels and rising demand from passengers for in-flight communication systems such as Wi-Fi access, airlines are exploring innovative methodologies for improving communication and the network infrastructure.
Companies are investing heavily in improving network connectivity with airborne aircraft. As a result, avoiding congestion is becoming much easier with the use of modern communication and networking systems.
In maritime ITS, the weather information market is expected to register accelerated growth over the forecast timeline. Good weather forecasting helps ships and their crew with effective navigation and taking informed decisions to reduce risks due to unexpected weather shifts.
The Asia Pacific region is projected to hold the second largest share of the global ITS market over the forecast period. Major economies in the region, such as China, Japan, and India, are investing significantly in creating megacities and modernising their transportation networks to facilitate enhanced trade exchanges. Also, government initiatives in the region for issuing stringent emission norms to combat rising levels of air pollution are expected to contribute to market growth over the forecast timeline.