This progress is evident in several key trends which the report identifies, outlined below:
Increasing industry experience
Users are engaging with many parallel qualification processes to find the graphene that works for their specific circumstances, says IDTechEx.
A rise in availability
According to the report, suppliers have had to take the risk to invest in sizable production in the face of small and uncertain demand. The process of installing capacity has made significant progress worldwide, meaning that availability – in the medium term – is not a major industry concern.
But, further progress is needed, IDTechEx says, in particular, quality control and consistency needs to improve more.
Increasing affordability
Graphene platelet prices have fallen, and are beginning to converge, for now, around the 75-125$/Kg mark, adds IDTechEx. But a range remains, with some charging much more as they still serve research markets, and with a few charging much less. The latter group, IDTechEx believe, sell at a loss to get market share or kick-start projects. The report outlines that prices will continue to come down as utilisation rates creep up, enabling more effective cost amortisation.
However, the report highlights that prices will not settle around a single point, and suppliers will be reluctant to further cut costs out of fear of premature commoditisation, although the continuation of this trend has an air of inevitability to it.
Growing revenue and volume sales progress
The report data suggests that income at the graphene company level has been rising steadily since 2013, and this will continue at similar rates until 2021/22, around which time an inflection point will occur, putting the market into its rapid volume growth phase.
This rise in revenue however, has not always been accompanied with increasing profit, in fact losses have grown in line with revenues.
IDTechEx points to this changing soon: experience has demonstrated that new materials take years to commercialise and early phases of the commercialisation process demand extensive investments. Therefore this behaviour is, in IDTechEx's view, a natural part of growth process of the industry.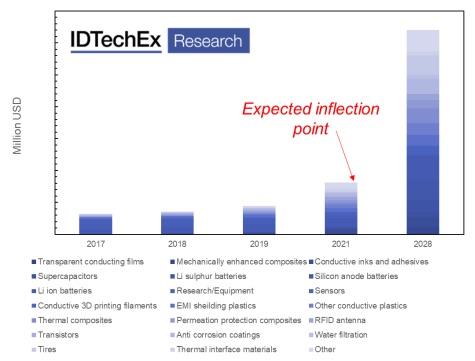 Medium-to-long prospects
IDTechEx believe that 2021/2022 is likely to be an inflection year for graphene, as it is likely that, by that time, market reference for several use cases will exist; more qualification processes will have been completed, cost of production will have been further reduced; and issues with supply consistency will have been addressed.
The IDTechEx report forecasts that a circa. $300million market, at the material supply level, will be formed within the next ten years. Since graphene is still largely an additive material, this means that graphene, of different types, in numerous volume applications, will be available in the years to come.