Highlights of the year's data include:

Devices continue to become more complex
The average (mean) device certified during 2018 is operational in 17.3 frequency bands, across average 2.6 bearer technologies such as GSM, 3G and LTE. This is up 29% on 2017, where the average device supported 13.4 frequency bands.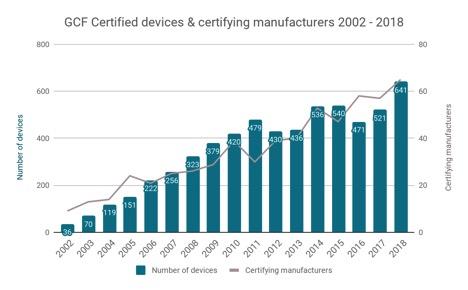 Figure 1: Certifications at record levels
LTE growth slows significantly
In 2018, 548 (85% of all) devices incorporated LTE (fig 2). And while the overall number of devices increased significantly on 2017 levels (437 devices) proportionally it is only a marginal increase on 2017 data, where 84% of devices incorporated LTE. Notably, this represents a significant year on year deceleration in growth. In 2015 LTE was incorporated into 69% of devices, rising 7 points in 2016, 8 points in 2017 and only 1 point in 2018.
3G has a resurgence, GSM continues its decline
Unexpectedly, the proportion of devices incorporating at least one 3G band increased during 2018 (reversing 2017's decline) and it is again the most commonly used standard with 87% of devices incorporating 3G. Despite the rise, however, there were no stand-alone 3G devices suggesting the standard will continue to decline as operators replace 3G capacity with LTE.
The penetration of GSM continues its decline. 75% of certified devices incorporated GSM in 2018, this is down from 81% in 2017 and 84% in 2016. Just 20 standalone GSM devices were certified in 2018.

Figure 2: LTE growth decelerates
IoT modules saw the fastest growth of any segment in 2018
While smartphones again represent the largest class of certified devices and the number of smartphones certified has increased, smartphones fell as a proportion of all devices - from 55% in 2017 to 49% in 2018. This drop has primarily come from a significant growth in IoT modules, now make up a quarter (24%) of devices, up from a sixth (16%) in 2017 (fig 3).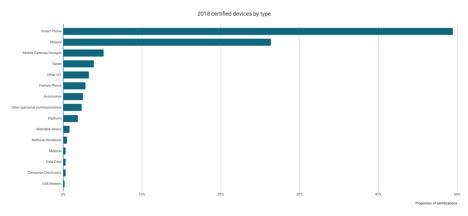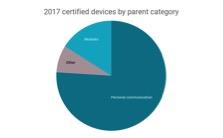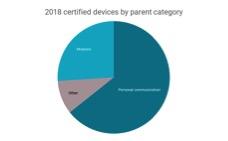 Figures 3, 4 & 5: Certifications by type (and vs 2017)
Forecasts for 2019:
5G certifications begin in 2019, but is expected to be few in 2019
Towards the end of 2017, GCF started the development of 5G device certification to cover both the non-standalone (NSA) and standalone (SA) 5G system modes of operation. The 3GPP has yet to announce its final 5G NR specification; however, GCF is prepared for when it does – expected Q1 of 2019 and GCF certification will apply to 3GPP 5G NR implementation.
"We forecast that certifications for 2019 devices supporting 5G will likely be a modest number and they will use the sub-mmWave bands. And while no certifications took place in 2018, January 2019 saw GCF's first 5G NR test system," Keysight Technologies' 5G Conformance Toolset.
The GCF is a globally recognised quality mark for the interoperability of mobile handsets and wireless devices. The organisation collaborates with other dynamic leaders in standards - from 3GPP and GSMA to the NFA Forum and oneM2M - to ensure devices can operate correctly in all their target markets. The data has been announced in its 2018 white paper - available to download for free at www.globalcertificationforum.org.