Mirada Medical's stated mission is to accelerate cancer care and help clinicians around the world to reduce treatment times and deliver much improved outcomes for patients suffering from cancer.
The company, which was spun out of Oxford University in the 1990s, was bought by Siemens over 20 years ago but in its current form – a management buy-out back in 2009 – is now an independent company backed by the likes of Albion Ventures and Apposite Capital.
The company has become a leading international brand in medical imaging and has developed advanced software applications that help healthcare professionals use medical images more effectively and efficiently to improve cancer care.
According to Hugh Bettesworth, CEO of Mirada Medical, "Digital technology and AI have the power to solve many of today's healthcare problems, and can give oncologists and their clinical teams the ability to deliver much better levels of care to more patients, improving cancer outcomes in the UK and worldwide."
Using artificial intelligence (AI) the company has developed advanced software applications that help healthcare professionals to use medical images more effectively and efficiently.
"When it comes to radiation therapy health professionals have faced some challenging problems. While radiation has been used as a treatment for many years the issue has always been how much radiation is needed to kill a cancer and, more critically, how do you avoid damaging the healthy tissue around it? Preserving healthy tissue is critical so carers need to be able to accurately delineate on a scan where the tumour and the healthy tissue begin and end. If you use too much radiation you can end up damaging the patient's heart, lungs and even their spinal cord.
"But the process for outlining these structures can be very time consuming and as every patient is different, so treatments and outcomes can vary," explained Bettesworth.
"Imaging has always been a task in which computers and software have had an extremely important role to perform, but using traditional algorithms many surgeons found that the results generated weren't good enough, and as a consequence had to repeat the process again and again. By applying AI and deep learning, however, it is now possible to deliver much better results. The technology has come a long way in the past 10 years and it has improved immeasurably in that time.
"AI can be used to improve a vast number of different treatments but we have chosen to focus on the cancer market. It's a market that is evolving rapidly and the use of radiation as a treatment has been transformed by AI," added Bettesworth.
"When we started 20 years ago radiation treatment was little more than a palliative, an end-of-life treatment. It wasn't accurate and getting sufficient radiation into the tumour often caused extensive damage to neighbouring healthy tissue. It was about managing pain relief. But, today, AI has helped to transform this form of cancer treatment. The technology is now in place to cure cancer and is hugely beneficial to patients wilh all forms of the disease."
According to Bettesworth, radiation treatment has now improved cancer survival rates and, used in combination with other multi-dimensional treatments, is able to boost survival rates.
Growing demand

Since March 2020, Mirada has seen 50% growth in healthcare organisations using its DLCExpert and Embrace technology. The company has also been selected for two AI in Health and Care Awards from the NHS, which Bettesworth suggested would help to cement its position as a leader in AI-powered medical technology. The award also saw Mirada granted funding to introduce and validate its DLCExpert technology within the NHS, getting it into the hands of frontline staff faster.
Medical imaging, or autocontouring, automatically delineates organs at risk, taking away the manual need to draw around these organs.
"When it comes to using radiation in cancer treatment this is the critical step in preparing the patient. It ensures that the healthy organs surrounding the tumour are spared," said Bettesworth.
There are currently two forms of autocontouring currently being used - Atlas-based contours and Deep Learning, a form of AI.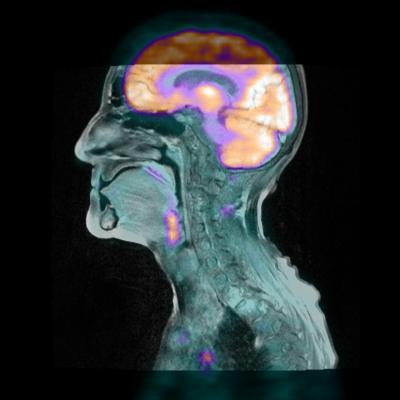 Atlas-based autocontouring uses a combination of previously contoured patients, and a matching algorithm selects the patient or contour most similar to the patient being treated before deformable image registration is used to transfer the contours from the Atlas onto the patient.
Deep learning uses hundreds of past cases (carefully selected to ensure high-quality, consistent input data) to train an AI, which then learns how to predict the same structures onto new data.
Deep learning contouring is a form of AI that's based on neural networks that mimic the human brain and has shown to provide more usable clinical contours and is the technique being deployed my Mirada in its DLCExpert platform.
Mirada has developed an AI library of contours that cover the four most important anatomical regions – the head and neck, thorax, prostate and breast.
"The DLCExpert treatment planning structures are continuously being added to Mirada's library, which is contoured according to consensus guidelines, such as ESTRO and RTOG," explained Bettesworth. "All hospitals and Dosimetrists will contour differently and this varied approach to contouring styles is reflected in the differing consensus guidelines that Mirada works with."
Over the past year there have been major updates for Head & Neck and Breast, adding over 35 new DLC structures to the company's growing library and includes the Brachial Plexus, Brain, Cochleas, IAMs, Lacrimals, Larynx, Lips, Orbits, and Trachea.
Despite the use of AI Bettesworth makes it clear that human intervention remains critical, and believes that wont be, "changing any time soon."
In the medical space regulation has a critical role to play and the benefits associated with AI – that it will be able to update itself as it learns - is not permissible under current medical regulatory guidelines.
"All of our products have to be built to a high regulatory standard and we develop to a known version point that has been validated and signed off by the market. We make an update to a version and then incrementally redesign in new ideas adding new structures," explained Bettesworth.
For example, Mirada recently introduced a new service update, Workflow Box 2.6, which includes configuration and workflow improvements as well as incorporating new contouring improvements.
The demand for healthcare continues to grow and the impact of the pandemic on treating diseases other than Covid has been profound – you just have to look at the rising waiting lists in the UK's NHS to understand the pressures the service is currently facing.
"AI can be used to save time, but also to enable doctors to do more in that time," explained Bettesworth. "If clinicians are able to carry out procedures more quickly then they will be able to focus on more demanding aspects of their work. There is currently a bottleneck in terms of treatment capacity so if we can save 15 minutes when dealing with one patient that's more time that can be spent planning and adapting treatment cycles, making the entire process more efficient and accurate."
The AI medical imaging market is continuing to evolve but still has some way to go.
"The market is developing rapidly but fewer than 1 per cent of patients are benefitting from it," conceded Bettesworth. "While some clinicians have embraced the technology others have pushed back. Interestingly both the UK and France are embracing it, especially its ability to speed up treatment time and to free up clinicians, as well as to keep costs down."
The NHS is looking at Mirada's technology and leading hospitals in Manchester and Oxford are currently testing it with a view to validation.