While, in many cases, the newer product supersedes the older one, this is not always the case. Even though the newer product is 'functionally identical', subtle differences in performance can cause significant problems in the end application.
When searching for inventory to keep production lines running, it is all-too-easy these days to run into the problem of counterfeit devices. As the counterfeiters become more sophisticated, even well-organised companies with good procedures can fall foul of these unscrupulous traders – sometimes with disastrous consequences.
As a result, many manufacturers – especially in the military and hi-rel sectors – are seeking specialist support in managing the most challenging parts of their supply chain.
Electronic component obsolescence has been – and remains – a significant issue, especially within the military and high-reliability marketplaces. Often, manufacturers assure military buyers that products ranging from simple radios to complex vehicles will be available with exactly the same specification for many years – sometimes several decades. However, as they enter into these agreements, they do so in the knowledge that they have little, if any, control over their supply chains and the longevity of supply of specific components.
The relatively low volumes seen in military applications compounds the issue. Low volumes give component manufacturers little incentive to maintain component availability beyond their own business plans, while long development timescales also play a part; it is not uncommon in a multi-year project for components to become obsolete before design is finished.
There are many tools available to assist with monitoring the components used within military programmes. BOM analysis, component lifetime prediction, end of life (EOL) notice monitoring and long term storage all play a part in mitigating the effects of obsolescence. Last-time-buys (LTB) go some way to alleviating the problem, especially where the contract is for a fixed volume. When the contract does not stipulate the total quantity to be delivered, then manufacturers are faced with a dilemma; buy too many and suffer excess stock issues (including cash tied up and storage costs), or buy too few and face an expensive redesign.
While, in commercial circles, redesign is expensive; in the military world things are far more serious. Lives will depend on critical parameters being met. Yet it is not just the cost of the redesign itself, there are also the costs for re-qualifying the design – not to mention that supply may be interrupted for several years while redesign and re-qualification takes place.
Pockets of inventory
When inventory is depleted and companies are faced with the prospect of new orders that need to be fulfilled, many will begin a search for 'pockets' of inventory that may be stored in the global supply chain. However, this is fraught with risk. The supply and demand equation dictates that prices will be high – probably very high. However, paying too much for genuine, well stored, components is probably the best outcome that can be hoped for.
With the rise of counterfeiting in recent years, there is a significant lack of trust in the supply chain, especially within non-franchised brokers where the provenance of any inventory can be questionable. While counterfeiting is not seen as serious in many circles, in the military world, it is regarded as deadly serious.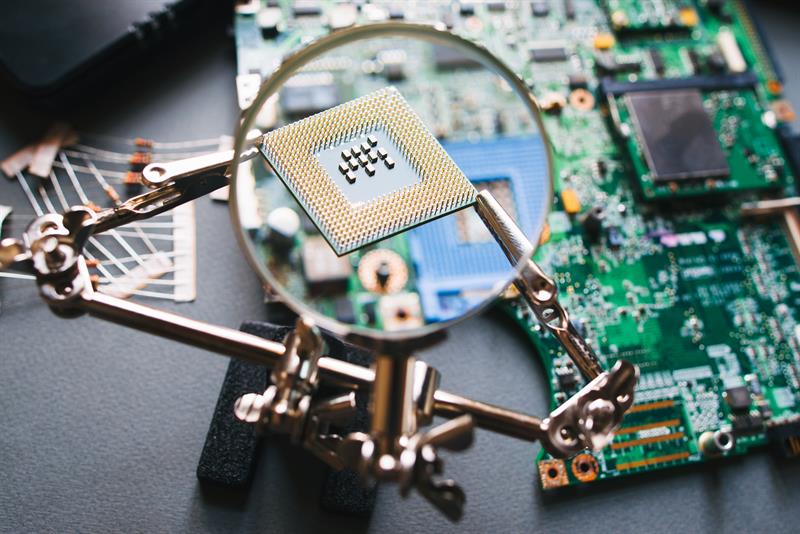 Counterfeiting can affect any component from the humble passive to complex semiconductors (above)
Counterfeiting can affect any component, from humble passives through discrete semiconductors to complex ICs – very little escapes the counterfeiters. Many counterfeit components have poor parametric performance and will be caught during functional testing. However, the risk of early and catastrophic failure takes on a new dimension when you consider likely applications include aircraft landing gear, radar, military vehicles, military radios, nuclear power plants and missiles, to name but a few.
Clearly, electronic product manufacturers face a significant challenge. Obsolescence and counterfeiting affects everyone, yet the greatest impact is felt in the military sector, due to programme longevity and impact of any sub-standard product.
There are a number of basic policies that manufacturers can implement to alleviate the issues and rebuild trust in their supply chain. Firstly, multi-sourcing every component on the BOM gives options if one manufacturer declares a component EOL. Secondly, purchasing only from assured sources and insisting on full documentation is an effective guard against counterfeiting.
However, in the real world, components are becoming obsolete and pools of supply are drying up. As a result, many manufacturers are turning to industry associations and specialist supply chain management companies to assure them of the provenance of the components they are buying.
For those companies serving the defence market, it's crucial that they offer sourcing and obsolescence solutions (SOS) business.
Solid State Supplies has operated in this space for many years and is at the heart of a trusted supply chain that combines experience and market knowledge and includes AS9001C approved test laboratories and AS9120A suppliers. The aim of which is to assure customers that they are receiving exactly what they expect.
The SOS programme built at Solid State Supplies rests upon five key pillars:
* Electronic Component Sourcing: Through globally approved sources, we can access OEM excess and LTB stock, as well as sourcing within franchised distribution networks.
* Anti-Counterfeit Process: This includes visual inspection, date and lot code checking against counterfeit databases, 100% visual inspection in accordance with AS5553, XRF testing and 'de-capping' to check the authenticity of the silicon die.
* Electrical Retesting/Requalification: Performed in AS9001C test houses, components are fully tested to manufacturers' specifications. Solderability is also tested and full test paperwork supplied to the customer.
* Component Up-screening: When the correct grade is not available, components can be up-screened to industrial, military (MIL-883) and application-specific levels.
* Value-added services: To pre-empt issues in production, components can be re-tinned as well as being repacked into tape and reel and/or moisture-sensitive packaging.
While obsolescence and counterfeiting are causing growing problems, companies can avoid re-design by employing the services of a fully accredited sourcing company. While many companies offer a similar service, it is crucial to only approach those organisations taking a far more in-depth approach and which have long-established partnerships and rigorous processes in place. This will ensure that customers receive only genuine, full specification products.
It is generally true that sourcing the right component is always the lowest cost option. While sourcing hard-to-find inventory is not free of charge, it is far cheaper in the long run than the costs too often associated with redesign and requalification of products. And the cost pales into insignificance when compared to the reputational damage and liability associated with premature failure in a safety-critical application.
Paul Dale is business development manager with Solid State Supplies