What are motor breakers and what do they do?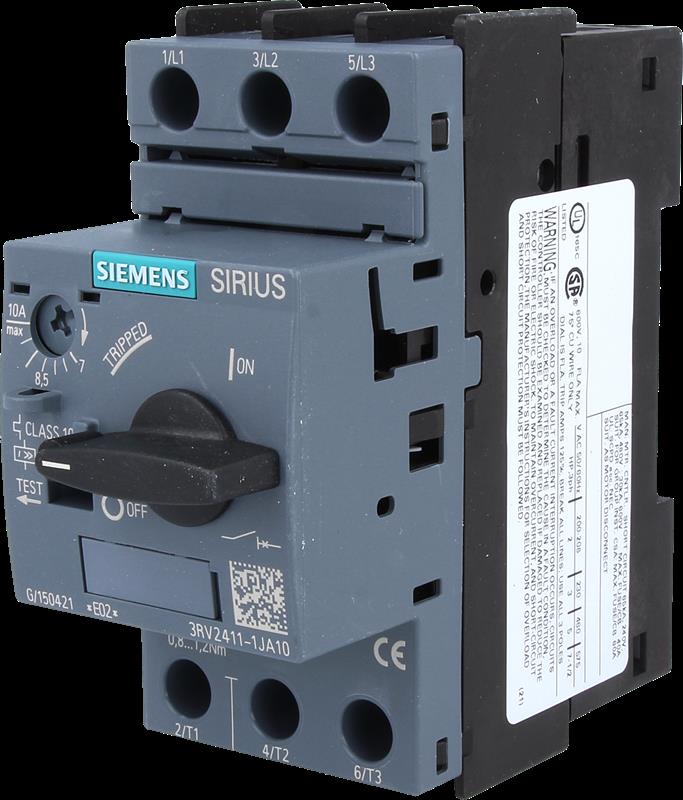 In short words: motor protection breakers are connectors for connecting, protecting and separating current circuits with load. Moreover, these connectors protect drives from damage due to start-up block, overload, short circuit or one phase failure in 3-phase mains. They are characterized by the presence of a thermal and electromagnetic release and the possibility to connect to them undervoltage release, shunt release, auxiliary contacts and release-signalling contacts.
The above description is very concise and needs to be further explained. It is worth mentioning that motor breakers enable the protection of drives without additional fuses, which means that they are a compact solution that saves space and reduces costs. The importance of these modules is great. They react in milliseconds and protect the most valuable element of any electrical device: the motor that drives it. Moreover, they protect the power supplying mains from the impact of short circuits, overloads or phase asymmetry. However, the most important task of motor breakers is a quick power supply shutoff in case of detection of short circuit or overload current, so their use is recommended e.g. wherever large inrush current occurs. Each motor breaker is therefore equipped with an electromagnetic release which is responsible for short circuit response, and a thermal release that is responsible for switching off the circuit when overload is detected (motor winding protection), and for reacting in case of one phase failure in 3-phase power mains. Phase control and response to increased circuit temperature is very important. Sometimes, after a power failure, the local electricity supplier turns on only two phases first, which can result in damage to the drive. These two releases (thermal and electromagnetic) constitute "the heart of motor breakers" and protect not only the motor, but also the contactor. However, one condition must be met: the breaker must be installed before the contactor.
The diversity of drives used currently in the industry and manufacture is huge, just as is the diversity of motor breakers. When choosing a motor breaker for any drive, follow a simple rule: the set rated current of the breaker must not be lower than the rated current of the motor operating normally under optimal conditions. In order to set it correctly, it is sufficient to follow a simple formula Ir x 1,1 = Ibr in which Ir is the rated current the motor, and Ibr is the target current of the motor breaker setting.
It is rarely mentioned that motor breakers also have the function for manual switching the motors on and off. Various switches may serve the purpose, including rocker switches and rotary switches. In simple words, they enable manual control of the motor.
Basic types of motor breakers and their complementary equipment.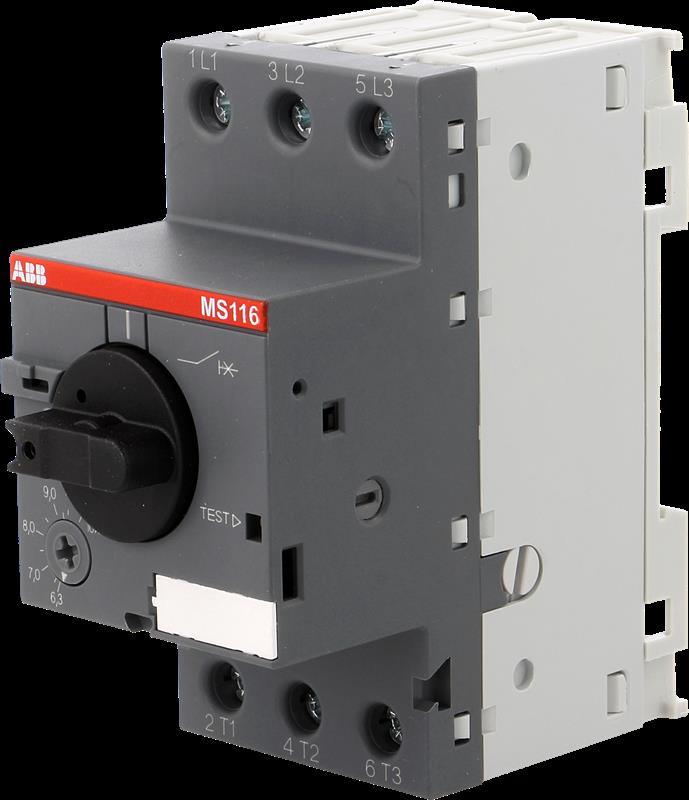 The most typical breakers classification is based on the current and mains parameters. Therefore, there are single-phase breakers (cage, serial, etc.) and three-phase breakers (cage, linear, annular, etc.). By analogy, there are also switches requiring AC or DC power supply. Popular classification includes also classic breakers, which use the properties of bimetal, and electronic ones with an electronic overload module and a control unit. Another way is to classify them with regard to polarity (2-pole, 3-pole). Further classifications into groups, types and subtypes are based on specific parameters of the breakers. Each major manufacturer classifies their products according to their own criteria.
Motor protection breakers can be additionally equipped with multiple accessories, including undervoltage releases and shunt releases. In the case of the former, the breaker is triggered when the voltage is decreased (fading) in the connected circuit. The latter (shunt trip) triggers the breaker when receiving an impulse signal or continuous voltage.
The second important group of accessories for motor breakers are auxiliary contacts. They are used to transfer information about the breaker operation and (among other things) to implement control systems. Release-signalling contacts constitute an important group, although the leading manufacturers of motor breakers increasingly often equip their products with a built-in accessory that signalizes the activation of each protective module. Often, the position of the knob or the rocker switch itself indicates e.g. whether the overload release has been activated. Very often, the coloured or mechanically moved indicators can be described as the user-friendly features. They indicate with their colour (e.g. red) whether the short-circuit breaker has been activated. The solution was developed to help the operators supervising the motor-breaker-equipped drives, who often had trouble distinguishing which type of protection was activated at any given time – the short-circuit or the overload release.
Motor switches in the TME offer – overview.
The offer of motor protection breakers from Transfer Multisort Elektronik includes hundreds of products from renowned and global manufacturers. The following overview presents a range of many types, series and families of motor breakers supplied by four major brands, namely SIEMENS, ABB, EATON and SCHNEIDER ELECTRIC. The product catalogue also includes a wide range of compatible accessories and products from many other manufacturers.
SIEMENS motor breakers and protective accessories.
Siemens motor protection breakers and accessories are grouped into the Sirius 3RV family, a component of the Sirius modular system for applications below 100A. As in other brands, this system comprises a number of circuit breakers with different parameters, available in seven compact families, as well as standardized accessories. Ergonomic screw and snap-fastened connections make maintenance easier and faster. These breakers are intended to be used in normal switching cycles as well as for safe isolation of the system from power supply during maintenance or modifications. The Sirius 3RV family of motor breakers is divided into two subgroups coded 3RV1011 and 3RV2, both mounted on DIN rails. The former is equipped with rocker switches and consists of only one family of size S00 models. Their operating voltage range is 220-690V, and short-circuit release occurs for currents of 0.11A to 12A. The latter group, 3RV2, is equipped with rotary switches and consists of six families (3RV20/ - 21/ -23/ -24/ -27 and -28) in sizes S00, S0, S2 and S3. Their operating voltage range is up to 690V, and their short-circuit release occurs for currents of 0.11A to 100A. Additional accessories for Sirius 3RV1 and 3RV2 breakers are e.g. front and side auxiliary contacts (2- and 4-polar), signalling contacts and undervoltage releases.
ABB motor breakers and protective accessories.
ABB motor breakers are grouped in two product families coded MS116 and MS132. They offer solutions that are compliant with all accepted standards, e.g. they have lockable handles (MS132), offer a testing function and regulation of tolerated current amperage. They are featured with a wide range of operating temperatures and with compact sizes (width 45 mm). Both product families offer a wide scope of protection for motors with power of up to 15 kW (400V) / 32A, thanks to short-circuit shutoff for currents of 50kA (MS116) and 100kA (MS132). Other features of ABB MS 116/132 motor breakers are e.g. the function of temperature compensation (no release up to 60ºC), rotary switch with clearly visible indication of position, and compatibility with motor starters with 1- and 3-phase applications. Additional accessories include auxiliary contacts, signalling contacts, undervoltage releases, shunt and manoeuvring releases, power blocks and blocking mechanisms for the protection against unauthorized changes (for MS116 series).
EATON motor breakers and protective accessories.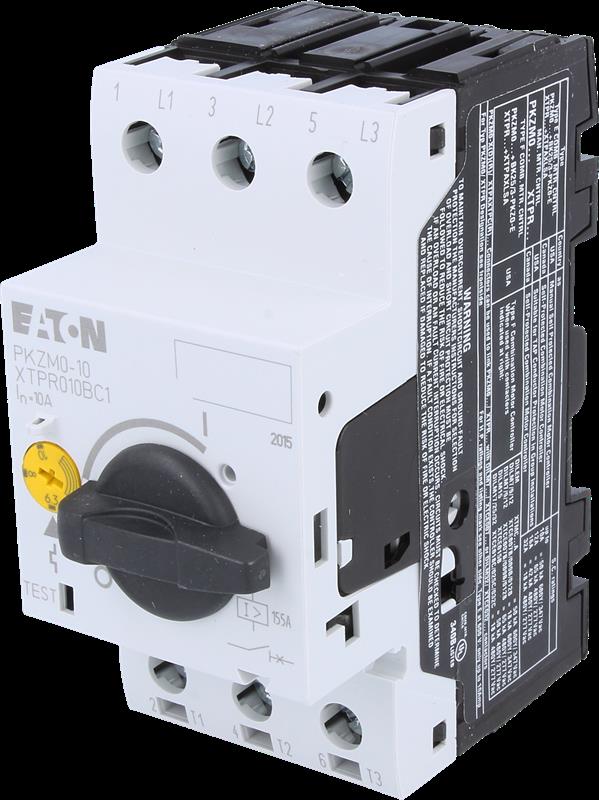 Motor protection breakers from Eaton include PKZM0, PKZM4 series and PKE electronic breakers, which allow to regulate the wide range of the overload current.
PKZM01 motor protection breakers with button drive are available for a wide range of rating currents up to 16A. They are usually used for small machines and devices that are preferably operated by means of pressing a button. Many accessories can be shared with PKZM0 apparatus, e.g. enclosures with IP65 protection level with mushroom-headed buttons. That facilitates their use in accordance to the user demands.
PKZM4 series are automatic motor protection breakers intended to protect drives with a rating current up to 65A. They have a high shutoff capability, increased to 150kA for the models with the rating current of up to 25A. Built-in short-circuit release with a pre-set actuation current setpoint and overload release with regulated setting protect efficiently both the receiver and the power installation in this series of products.
Motor protection breakers PKE with an electronic overload module are an interesting alternative to PKZ solutions that use the properties of bimetal. These specific breakers have electronic release with wide-range settings and offer many advantages over standard thermal protective shutoffs. Their features are: a wide range of settings, small heat loss, the release class higher than 10, and very accurate and time-stable characteristics of release. The wide range of the breakers' settings makes it possible to reduce the number of devices in the type series, and the wide range of their functionalities ensures high levels of flexibility in protecting motors with a rating current of up to 65A.
For the three series of motor breakers described above, TME offers accessories, e.g. auxiliary contacts (side and front), undervoltage releases and shunt releases.
SCHNEIDER ELECTRIC motor breakers and protective accessories.
Schneider motor protection breakers are designated GZ1 and GV2 (the module width 45 mm) and GV3 (55 mm). They have a simple but solid construction and are highly reliable. GV2 are 3-phase motor breakers intended for motor control and protection, in line with to IFC 947-2 and IFC 947-4-1 standards. They are connected with screw terminals, and are operated with a rocker switch I/O.
Those breakers can protect motors with a power of up to 15 kW/400V in fifteen current ranges (0.10A to 32A). They offer a setting of thermal shutoff and a knob-controlled adjustment to the rating current of the motor. The magnetic fuse in GV2 breakers has a non-adjustable shutoff point, about 13 times maximum of the thermal shutoff set current.
GZ1 is the series of 3-phase motor breakers compliant with IEC 947-1, IEC 947-2 and IEN 60204 norms. Their connection and motor operation is the same as in the series GV2. Those breakers are designed for protection of 3-phase motors with a power of up to 15KW/400V, like the GV2 series.
Unlike the previous ones, the GV3 series is distinguished with a BTR screw connection (hexagonal socket), installed with an Allen wrench. Thanks to that, the "creep" of wires can be avoided. GV3-P motor breakers are also available with a ring-terminal connection. This type of connection meets the standards of some Asian markets and may be used is the environment without any strong vibrations. Schneider Electric offers also enclosures and safety switches with IP55 ingress protection class, which means these devices can be mounted in the environment with harsh conditions of increased humidity or dustiness. Moreover, the manufacturer offers a wide gamut of accessories compatible with the devices from the three series described above.
For more information please go to our website www.tme.eu/gb