The mobile industry was keen to tout the benefits of the protocol over its predecessor. Lower latency and high bandwidth would power applications from virtual reality to robotics.
Such grand plans naturally attracted scepticism as technologies such as virtual reality have been through many false dawns and market acceptance does not look that much better than five years or a decade ago.
At the analyst's forecast meeting in London earlier this year, Future Horizons president Malcolm Penn pointed to 5G as one of the technology industry's regular problems of creating "a solution looking for a market". And yet, the cancellation of MWC may have provided 5G with the kind of boost it needs: a way to deliver effective tele-presence in an environment where people are suddenly forced to work remotely.
However, the telecom industry has a second problem. Gartner expects the premium that operators can charge over 4G to be just 10 per cent, a scant reward for a massive build-out. One answer may be for mobile to build closer links with the fixed-telecom world in a bid to upgrade the speed of home and office connections as governments such as the UK's push for gigabit broadband.
To help address the issue, ETSI kicked off a working group called F5G that seeks to build standards for a fibre-optic network that can both supplement 5G and help deliver the wireless service to more locations through the widespread deployment of much smaller cells.
F5G working-group chairman Luca Pesando, said: "We feel it's strongly needed. We need a base to match the pace of the mobile networks to have more services available and have a better reach for all users."
A problem identified by people such as Oğuzkağan Kanlıdere, senior architect for fixed-access networks at Turk Telecom, is that today the internet service providers and mobile operators are deploying infrastructure based on internally developed architectures with piecemeal use of existing standard protocols.
Such networks lack the economies of scale that comes with widespread standardisation as well as the ability for operators to work together in the way they could with a converged network architecture.
"There are many vendors, each with their own views of execution and all the ISPs have different views on execution. Standardisation is a must for fixed access networks," Kanlıdere argues.
ETSI's plan is to use a similar approach to standardisation as that employed for cellular.
"The evolution of mobile been characterised by generations. What about fixed networks? Well, it's been nothing like that. There are no formal generations. Rather there has been an evolutionary continuum. Nobody has ever spoken about what one generation or the next generation could be. And there are many standards bodies that work [in the field]. All of them do very good work but in an uncorrelated way and sometimes their activities are not so easy to coordinate."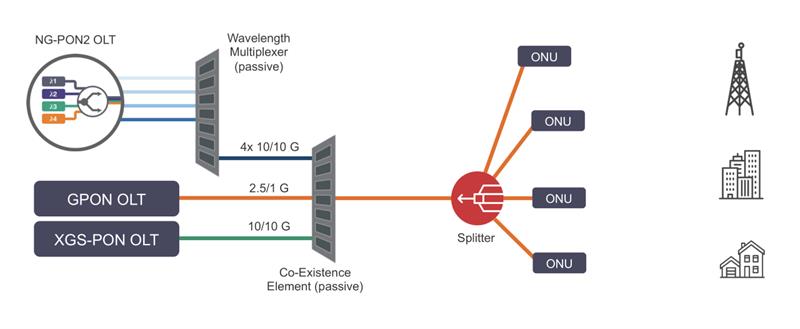 Above: Huawei have put forward a proposal that combines fixed and wireless links
Huawei ahead of the curve
Although the ETSI group has only started work formally in the past few months, Chinese manufacturer Huawei has been promoting the idea of F5G for some time, and has put forward a proposal based around a mixture of fibre-optic fixed links and wireless-access based on WiFi 6 based on the IEEE 802.11ax protocol.
Sue Rudd, director of networks and service platforms at Strategy Analytics, says: "ETSI is creating F5G in order to coordinate inputs to multiple official standards bodies."
Those bodies include the 3GPP group responsible for the 5G releases, the ITU and IEEE, which have defined a number of the existing fibre and Wi-Fi protocols and the Broadband Forum, which recently issued in the TR-470 standard its own architectural guidelines for a 5G infrastructure that handles traffic from both wireless and wired access networks.
The key to the deployment of the wired side, for the F5G group and others, is focused on a passive optical networks (PON) architecture in which signals passed through the underground fibre are handled using optical combiners and splitters rather than active electro-optical switches and routers. Deployment based on existing standards such as 1G PON has been patchy with penetration in many larger economies is only on a small scale.
However, one reason for expecting a more extensive deployment of a PON infrastructure around the world lies in the needs of 5G itself.
Equipment vendors such as Calix Communications argue organisations who put the fibre in the ground and offer access will acquire a significant user base not just from internet-service and TV providers but the 5G operators who need a way to connect millions of small-cell basestations. Splitters peel off optical signals from a trunk to direct fibre connection to groups of homes and pico-basestations.

Above: Equipment vendors are suggesting that organisations which put fibre in the ground will acquire a significant user base
That original 1G PON standard, now well over a decade old, has spawned numerous variants that have gone through the ITU process aimed at handling aggregate data rates of 10Gbit/s and higher. First came XG-PON, with 10Gbit/s downstream at the 1577nm wavelength and a 2.5Gbit/s upstream on 1270nm. XGS-PON boosts that upstream link to the full 10Gbit/s. In parallel, an IEEE working group created 10G EPON, which is superficially similar to 10G XGS-PON except that it supports either 1Gbit/s or 10Gbit/s upstream and is intended to be backward compatible with 1G PON for an easier upgrade by having 1Gbit/s and 10Gbit/s share the same channels using time-division multiplexing. The downside is a loss of aggregate bandwidth if the fibre is used for both.
The ITU has since added NG-PON2, which uses wavelength division multiplexing to offer handle multiple downstream and upstream channels in parallel, with support for more than four users through time-division multiplexing. Google extended the work in a different way for its so-called Super-PON, using a concept first proposed in the mid-1990s. It is aimed at connections as long as 50km with the help of fibre amplifiers in the delivery path. This option is primarily for greenfield deployments as it does not coexist with older PON equipment in the way that most of the other WDM options do. Huawei appears to favour the ITU options such as XG and XGS-PON in its equipment though the F5G group itself has not as yet specified a favoured option. Among the few chipset vendors with 10G offerings, Broadcom is hedging its bets with support for both the IEEE and ITU options.
More work to do
The work does not stop at 10Gbit/s. Huawei and others are working on 50Gbit/s extensions including a possible version that uses multilevel signalling over a single wavelength based on the same kind of technology that goes into high-speed ethernet.
Cost may prove to be a stumbling block for the higher-speed variants as, to handle coexistence on a passive network, the laser modules may need to be tuneable. Vendors are looking to silicon integration to help bring costs down though this will depend heavily on operators adopting the F5G or something similar.
At launch ETSI had a number of operators backing the F5G concept including several based in China with the remainder being mainly operators in Europe and the near East such as Altice Portugal, Bouyges Telecom and Turk Telekom. But there were no US operators. For F5G and the fibre-generations concept itself to become as influential as the mobile generations, the work will need far more acceptance among larger players. The cost savings promised by moving to a converged network may be enough to bring other players onboard. But there is still the chance that the F5G group may see competition from other groups who favour a different crop of protocols.