MOSA is not itself a technical standard, but rather an acquisition and design strategy that prioritises the use of open standards-based technology.
Codified into law, (Title 10 U.S.C. 2446a.(b), Sec 805), MOSA gained a great amount of momentum in 2019 when the U.S. DoD issued a memorandum, "Modular Open Systems Approaches for our Weapon Systems is a Warfighting Imperative," that stated the Secretaries of the Army, Navy and Air Force had deemed the use of open standards "vital to our success." The memo mandates that MOSA supporting standards should be included in requirements for all weapons systems going forward.
The DoD identifies five key benefits to MOSA:
Interoperability
Tech Refresh
Competition
Innovation
Cost savings/Cost avoidance
While MOSA offers powerful benefits for system designers looking to bring advanced capabilities to new platforms, it also delivers a great way to modernise legacy electronics on older platforms. As an umbrella design philosophy, MOSA encompasses a wide variety of open architectures, such as those defined by the U.S. Army's CMOSS suite of standards, (which calls out such well-known standards as OpenVPX, FACE, and VICTORY), and The Open Group's Sensor Open System Architecture (SOSA), which also leverages existing standards as well as providing a certification process to help drive interoperability and cost-reduction for sensor processing systems.
Because MOSA specifies an approach rather than specific standards, it's applicable not just to line replaceable modules (LRM), such as 3U and 6U OpenVPX cards, but also to line replaceable unit (LRU) type system solutions, such as mission computers, network routers/switches, and data recorders, that, rather than using common hardware form factors, achieve openness through the use of common interfaces.
For example, the U.S. Air Force's OMS standard defines how LRUs inter-communicate but does not define a specific form factor. That means MOSA principles can be met with a spectrum of open architecture system designs, ranging from the most rugged OpenVPX CMOSS chassis on-board fighter jets and tactical ground vehicles, to ultra-compact LRUs that better match the size, weight, power, and cost limits of some unmanned aircraft systems (UAS) and unmanned underwater vehicles (UUV), and for which ruggedisation can be optimised to meet the platform's specific environmental requirements.
The principles of MOSA help to eliminate the use of proprietary architectures that impede and increase the cost of tech upgrades. They include the use of modular design, defined interfaces, standards process, accessible data, open interfaces, and IP rights.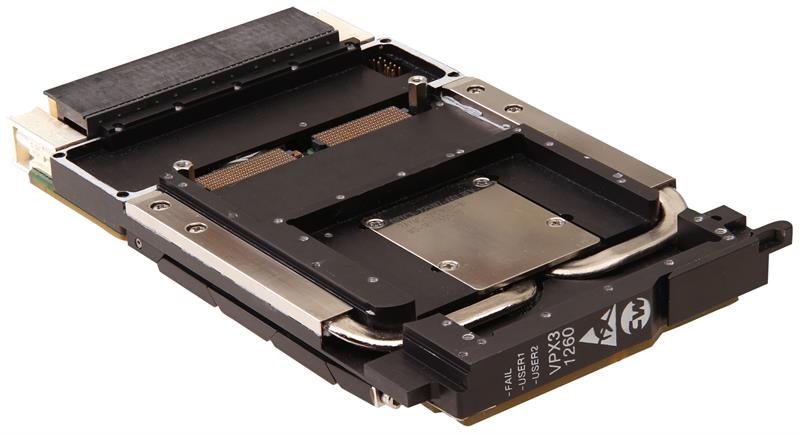 Above: Curtiss-Wright's VPX3-1260 is an Intel Xeon powered 3U OpenVPX single board computer developed in alignment with CMOSS and the SOSA Technical Standard

By using a common open networking interfaces, system designers can apply these MOSA principles to more easily upgrade legacy electronics, frequently based on proprietary architectures, up to modern performance levels without the need of extensive retrofit, while also freeing the design from on-going vendor lock.

Upgrading legacy avionics

For example, a number of the companies being contracted by the Navy to provide Aggressor aircraft are upgrading legacy F-5 aircraft and upgrading them using a MOSA approach. Curtiss-Wright is providing Parvus DuraCOR small form factor (SFF) computers based on PC-104 modules as well as DTS3 aircraft data recorders that interface using Ethernet. Other LRUs are also being added to the F-5 leveraging the Ethernet interface providing a quick turn, low-cost solution that was made possible by utilising the MOSA approach.
In another recent example, and a major milestone for MOSA-based electronics, Lockheed Martin Aeronautics tapped Curtiss-Wright to supply the first open architecture COTS modules ever selected for service on the F-22 Raptor, the world's preeminent tactical fighter aircraft.
In this case, open standard 3U OpenVPX form factor modules are being used to upgrade the F-22's mission processing system, replacing the original system which was based on a custom architecture, making it difficult to upgrade. The new open systems approach delivers cost-effective new capabilities to the USAF sooner and more affordably while enabling more economical and timely upgrades of the aircraft's avionics systems going forward.
The COTS modules are being used in support of the F-22 Tactical Mandates program to upgrade the aircraft's Central Integrated Processor (CIP). The CIP provides data and signal processing for the F-22's radar, sensors, electronic warfare, and other compute intensive capabilities. The module also provides support for Trusted and Secure Computing hardware and software protections.
MOSA and interoperability

Lack of interoperability is a significant issue for proprietary, non-MOSA solutions. This impedes the ability to share information between machines. Leveraging common standards ensures interoperability between sensors and systems, enabling common interface communications within the platform. MOSA-enabled interoperability also facilitates the rapid sharing of information from one platform's equipment with other platforms in a combat team, with command stations, or even across domains.
Traditionally, tactical networks developed by each military branch have been unable to interface with one another, hindering the ability to share intelligence and quickly make decisions or issue commands based on that intelligence. To address this problem, the DoD has introduced Joint All-Domain Command and Control (JADC2), a concept that aims to connect sensors from all military services into a single cloud-like network that will enable swifter, more informed decision making. JADC2 is expected to rely heavily on MOSA principles.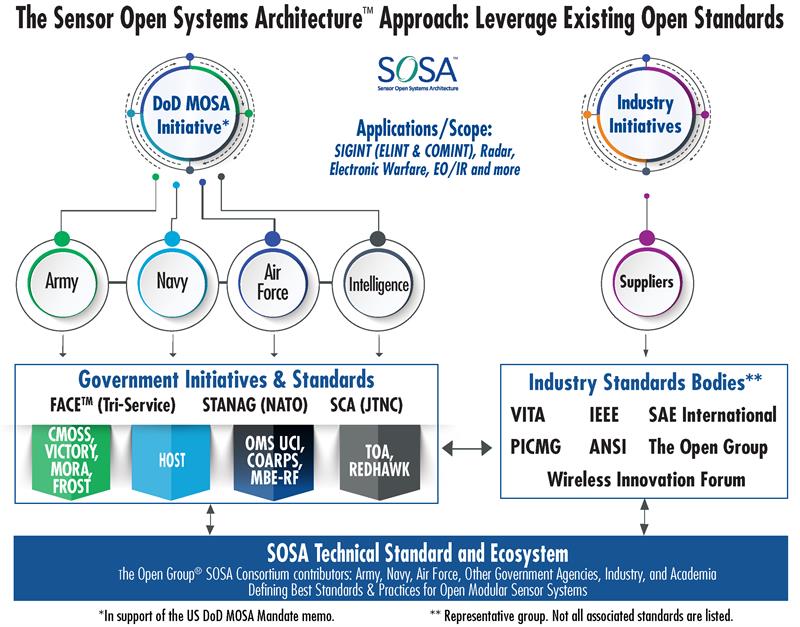 Rapid integration and deployment

Certain MOSA supporting hardware standards, such as CMOSS and the SOSA Technical Standard, define common hardware architectures. By prescribing common specifications for pin outs, Ethernet capabilities, serial ports, and other feature sets, these standards simplify both initial system integration and future technology insertions or refreshes. The strain on in-house resources is lowered, as integrators no longer need to become experts on each proprietary solution or rely on expensive vendor support to complete development.
Because MOSA solutions are designed to be interoperable, a significant amount of complexity is removed and deployment timelines are accelerated. What's more, MOSA-aligned hardware is designed to be configurable and adaptable, allowing for existing systems to be upgraded or reconfigured with new capabilities without costly and time-consuming system or subsystem redesigns. Both MOSA-aligned hardware and software are designed to be portable so that existing applications can be easily reused.
Vendor independence

MOSA mitigates vendor lock-in by defining common characteristics for hardware and software that allow integrators to choose best-in-class solutions without feeling bound to a specific vendor for fear of escalating costs and integration burden. This freedom encourages competition between vendors, motivating them to engineer more innovative products, lower prices, and create new value propositions (such as life cycle management services). Vendors can no longer count on recurring revenue from customers facing vendor lock-in, which ultimately forces them to provide better value.
Life cycle supportability

Proprietary solutions can be challenging to maintain and repair, especially if the vendor no longer supports the product or has gone out of business.
Customers may also be forced to accommodate undesirable engineering changes or a changing product roadmap if one of the product's components is discontinued or reaches end of life. With MOSA, the elimination of vendor lock-in ultimately increases the sources of supply for products and components, making it easier to replace technology and manage obsolescence. Again, integration is simplified, which reduces risk, required training, and complexities during development.
Today, MOSA requirements are increasingly called out in program requirements as the open standards approach has moved from its early years of evangelism to today's turning point, where open system architectures are not optional but mandated.
The good news is that embracing open architectures will speed the delivery of new capabilities to our warfighters now and in the future.
Author details: Mark Grovak is Director of Avionics Business Development at Curtiss-Wright Defense Solutions