In the UK, there are estimated to be over 21,000 nursing and residential care homes providing accommodation for upwards of 500,000 people.
How can technology be used in helping to make the sector more efficient and more sustainable?
There has certainly been growth in the deployment of digital and mobile health services, as well as in the development of telehealth, telecare, telemedicine and self-care services for patients in need of long term care.
However, the uptake in technology – particularly in the UK – is many years behind its potential, partly due to a lack of awareness but more likely because of low levels of investment in the sector.
According to charities and the health authorities Covid-19 has devastated care homes across the UK, and official reports suggest that outbreaks of the virus have occurred in one in twelve care homes.
The health and care sectors have responded by using technology and technological advancement is accelerating. In fact, as a result of the virus and the need for social distancing, seeing a GP in the UK is now 99% virtual – for many, telemedicine has become the 'new normal'.
Within the NHS telemedicine has been implemented quickly and with efficiency and it's likely that the demand for both will remain high, even as the pandemic recedes.
Staff working in care homes, have had a key role to play in the response to Covid-19 and many have rapidly implemented new ways of thinking and of working.
Few homes in the UK use technology to deliver therapy or rehabilitation but a growing number are using telecare and environmental sensors such as fall alarms, or movement sensors. While few appear to use telemedicine a sizeable number have deployed some form of telehealth for self-reporting of health and wellbeing among residents.
So, by building on these trends could we be looking at a fundamental shift in how the care sector operates in the UK, with much greater use of technology?
Smart healthcare
The Essence Group is a global provider of IoT connected solutions for communication, security and healthcare and is seeing its technology being adopted across the world in support of the elderly.
Essence SmartCare, its healthcare subsidiary, is focused on allowing the elderly to live independently and it has developed a suite of products for monitoring people remotely.
"Our main market is the elderly who want to live independently in their own homes," explains Rafi Zauer, the Head of Marketing at Essence. "But in the past few years we have focussed on the care home market, where there is a very strong case for our technologies and communication products.
"The Covid-19 virus has accelerated this trend and we are looking at ways to apply our technology more effectively in this space."
Earlier this year the company announced that their technology was being deployed at a care facility in Australia, in partnership with the care home provider Homestay.
The project looks to provide a 'robust response' to the challenges posed by Covid-19 and uses the Essence SmartCare platform, and its advanced monitoring technology, in conjunction with thermal cameras to detect virus symptoms.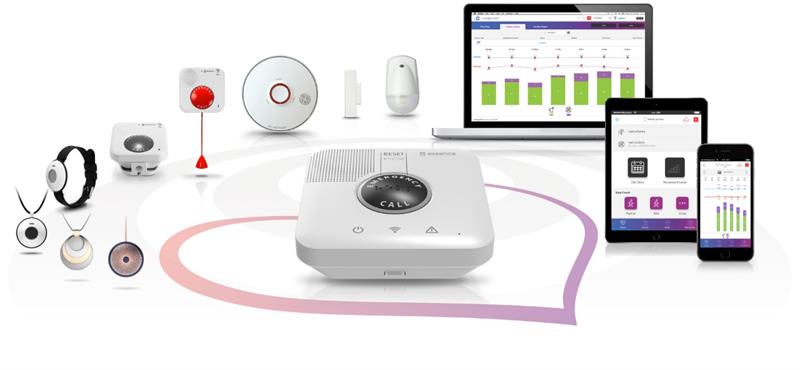 Above: The Care@Home platform
"Our platform combines security and safety for those in care, but as a result of the pandemic it also provides effective support for care givers, by reducing the need for person to person contact and activity. Crucially it is being used to ensure that no new diseases are able to enter the care home," says Zauer.
The company's activity monitoring technology, which is at the heart of its platform, is based on the Cloud, AI and audio and is part of an integrated system that provides nurse call functionality and it uses thermal cameras to detect individuals with a high temperature.
"We want to be able to provide an improved level of safety in the care home environment by adding advanced layers of protection," Zauer explains.
Similar technology will soon be rolled out in the UK, after the company signed a deal with a leading UK provider of care homes.
In terms of fall detection, the use of panic devices or monitoring daily movement artificial intelligence is being used to provide activity pattern and behavioural analysis, in order to better predict things should they happen outside a regular pattern of behaviour.
"Privacy is at the heart of our platform and we don't actively promote the use of cameras. All of our analytics is done on the edge, and nothing is sent to the Cloud until it's authorised," explains Zauer, who says that a lot of data and intelligence is generated inside its platforms whether from multi-sensors, motion sensors, radar sensors and the like.
While cameras aren't part of the platform they can be part of a specific deployment. "It depends on the individual deployment and the needs of the care home, but if cameras are deployed – for example, thermal cameras, they will only be connected to the internal ecosystem – they wont be transmitting to the Cloud or connected to the local Wi-Fi network."
Corona Hotels
Essence's technology has also had a more direct role in combating Covid-19 and was deployed in "Corona Hotels" that were set up in the Netherlands to help take the strain off ICU beds. In fact, the company's advanced remote-monitoring technology has been deployed across numerous care spaces to provide support.
"The crisis has demonstrated a need for quick and flexible deployments and the need to be able to integrate efficiently into various command and control services – our APIs need to be flexible," says Zauer.
A key part of its SmartCare offering is the Care@Home monitoring platform which uses radar technology to track the whereabouts of the elderly, and more importantly, provide immediate detection in case of falls.
"This multi-sensor fall detector uses a mmWave sensor developed by Texas Instruments and by using radar technology we can track the positioning of an individual and deliver accurate fall verification – so it's now possible to immediately alert healthcare providers if a person falls," explains Zauer. "This is a significant improvement on wearable devices which tend not to be able to verify when a fall occurs. With this new device we can detect the individual is moving, how often and whether they have just fallen. But we can also monitor the movements of that person to build a pattern of daily life, so when anomalies happen they're easily identified."
Falls can have serious consequences, with almost 90% resulting in hospitalisation and many can go unnoticed for several hours. Research has found that 60% of people spend 12 hours on the floor and 50% of falls are not reported to a doctor at all.
In terms of deployment the sensors can be placed throughout a home/care home to enable extremely accurate activity monitoring.
The Care@Home platform can also be used to help combat Covid-19 by reducing the need for physical contact, while still allowing family members and professional care providers to monitor the elderly remotely 24/7. The platform keeps everyone safe, reduces the risk of infection, and takes pressure off essential services.
While digitalisation is set to transform the care home market, nothing will happen unless the necessary funding is in place, says Zauer.
"The challenge of deploying technology in care homes is the range of applications that you have to address, often it will have to be on a case by case basis.
"The impact of Covid-19 will mean that homes will now have to provide enhanced services and additional health and safety checks on visitors, anything that will help to reduce person to person interaction, especially during emergency situations."
Technology, according to Zauer, will not only be critical in providing improved levels of care, but will be essential should another crisis happen as we look to address this 'new reality'.