As technology evolved, including the integration of graphics processing units (GPUs) with the central processing unit (CPU), single-board solutions emerged, i.e. those with most components pre-installed on the motherboard. This has opened a gateway to significant miniaturisation.
From compact to single-board computers
New products by AAEON
PICO-APL1 and PICO-APL4 computers
PICO-APL4-SEMI computers
EMB Mini-ITX computers
From compact to single-board computers
Single-board computers have gained immense popularity over the last decade. This is mainly due to their technical performance, which is now close to that of laptops, their industrial design, compact size, and good price-performance ratio. They provide sufficient computing power for most industrial applications. In addition, the amount of heat released allows for passive cooling of the system, which means they are virtually noiseless. Due to their capabilities and affordable price, single-board computers are used in many industries, including automation (process control, data processing), energy, transportation, mobile applications, networking and communication systems, image processing applications, vending machines, information kiosks, automated mailboxes, etc. They are also finding their way into the sectors of consumer electronics (multimedia, entertainment) and education (programming and robotics).
Many global manufacturers have recognised the potential of single-board computers. Today, customers can choose from a wide range of products, diversified in terms of specifications and intended use. As you can see, industrial single-board computers could not be missing from the TME catalogue. Below, you will find a selection of the latest solutions from one of our leading suppliers, AAEON (member of the ASUS group). It specialises in the design and manufacture of solutions for Industry 4.0, Internet of Things (IoT)and related areas of application.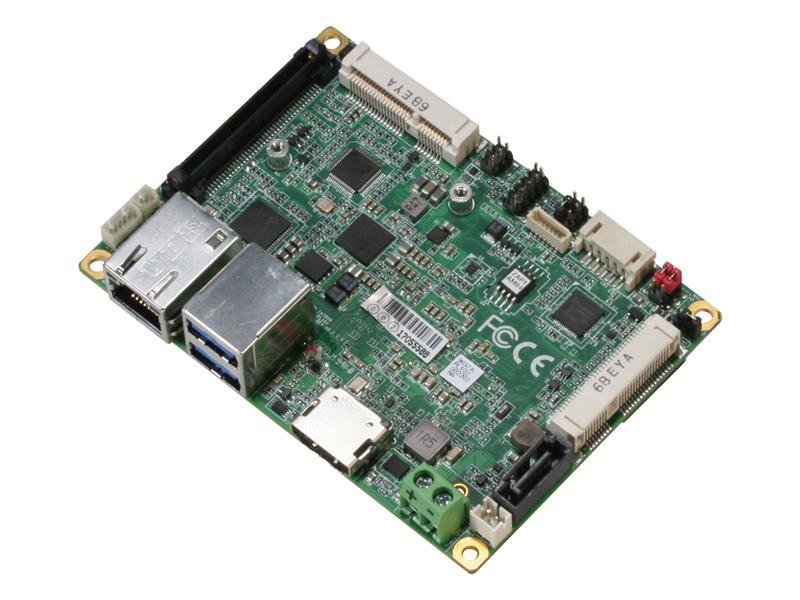 New products by AAEON

New AAEON products available from TME are based on Intel® processors with 64-bit x86 architecture. The first one is dual-core Celeron® N3350, with integrated Intel® HD Graphics 500 and 2MB cache. It runs at 1.1GHz to 2.4GHz in burst mode (i.e. work under load). The second processor is the Pentium® N4200 (previously known as Apollo Lake) with parameters that are comparable to the previous model. However, it's a quad-core processor clocked at 2.5GHz and featuring Intel® HD Graphics 500/505 (Intel® Gen9).
All products offer gigabit Ethernet ports as well as USB 3.2 ports, support DDR3L memory, and most of them are upgradeable using M.2 expansion cards. We'll discuss the specifications of these computers later in this article. In the table below, you'll find a comparison of their key features.
| | | | | | |
| --- | --- | --- | --- | --- | --- |
| Model | Size | Processor | Built-in SSD | RAM | Enclosure |
| PICO-APL1-A10-F001 | Pico-ITX | Intel® Pentium® N4200 | none | none (up to 8GB) | none |
| PICO-APL4-A10-F003 | Pico-ITX | Intel® Pentium® N4200 | 32GB | 4GB | none |
| PICO-APL4-SEMI-A10-S001 | Pico-ITX | Intel® Celeron® N3350 | 32GB | 2GB | metal |
| PICO-APL4-SEMI-A10-S003 | Pico-ITX | Intel® Pentium® N4200 | 32GB | 4GB | metalowa |
| EMB-APL1-A10-3350-F1-LV | Mini-ITX | Intel® Celeron® N3350 | none | none (up to 8GB) | none |
| EMB-APL3-A10-4200-F1-LV | Mini-ITX | Intel® Pentium® N4200 | none | none (up to 8GB) | none |
PICO-APL1 and PICO-APL4 computers
The PICO-APL1-A10-F001 computer features an integrated processor, but it is left to the user to upgrade it with RAM and a storage device that will act as a hard drive. DDR3L RAM is installed in a standard SODIMM connector (maximum frequency of supported modules is 1867MHz), while non-volatile memory can be connected via a SATA interface (e.g. a 2.5" hard drive) or placed in an mSATA connector (in the form of an SSD module). Although the lack of built-in memory may seem like a drawback, it should be noted that this solution facilitates the expansion and servicing of the computer. Damage to RAM or HDD chips in embedded systems usually means that the entire unit has to be replaced.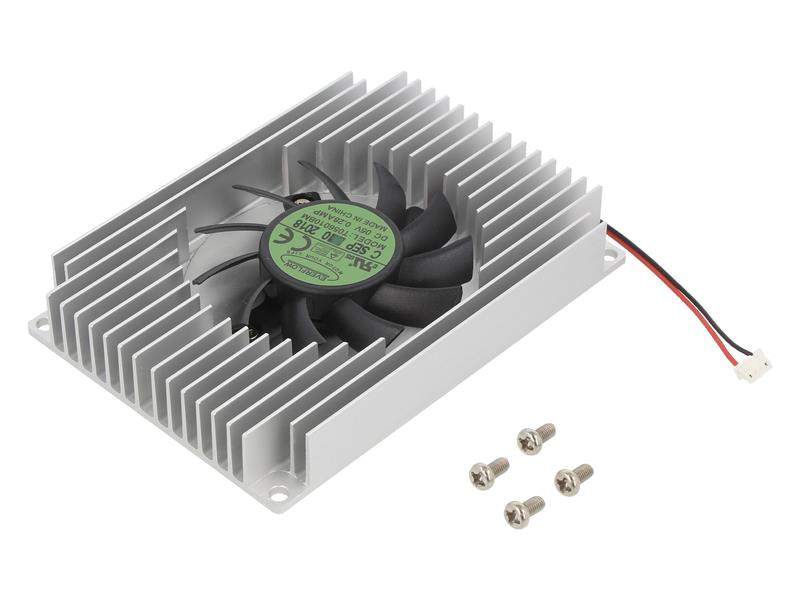 PICO-APL1 computer with 100x72mm footprint
Furthermore, this model has an LVDS connector for communication with LCD matrices (two channels, 18-or 24-bit). This makes it possible to build lower-cost, energy-efficient and more reliable devices, as the target display does not require an HDMI driver.
The PICO-APL4-A10-F003 model is equipped with 32GB eMMC and 2GB RAM. There are two M.2 sockets (E 2230 or B 2280) fitted on the motherboard, which can be used for data storage or expansion of the computer, e.g. with a Bluetooth or Wi-Fi communication module. Video signal can be sent via HDMI or eDP (Embedded DisplayPort). Just like the PICO-APL1 model, this product also features an integrated network card connected to the processor via the PCIe bus – however, in this case the user is provided with two independent Ethernet ports. In combination with an x86-64 architecture processor (supported by Windows and Linux, among others), this puts AAEON products a class above competing solutions.
Both computers are powered by 12V DC. They also feature dedicated connectors for the I2C bus (or SMBus), a COM socket output (RS-232/422/485), and a BIO expansion port. The latter is a combination of several buses: PCIe, USB, GPIO, and audio output.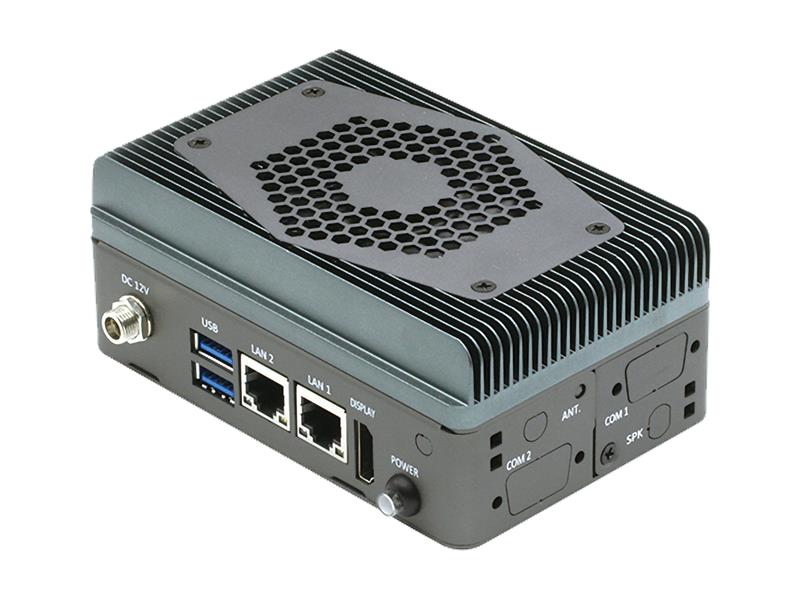 Accessories

Our catalogue also includes accessories which improve the cooling efficiency of the products described above. For the PICO-APL1-A10-F001 model, these include passive cooling modules and an aluminium heat sink attached to the CPU (thermal paste is included), with mounting openings which can accommodate a 60mm cooling fan. The PICO-APL4-A10-F003 model can be equipped with one of two similar modules, namely PICO-APL4-HSK01 or PICO-APL4-HSP01. The manufacturer also offers a heat sink with a built-in cooling fan (powered by the motherboard). This low-profile solution is ideal for heat dissipation during intensive CPU operation.
Heat sink with a built-in cooling fan (official AAEON accessory).
PICO-APL4-SEMI computer
The PICO-APL4-SEMI computers are, as the name suggests, products related to the abovementioned PICO-APL4 model. However, in this case, they are adapted for use in industrial environments to operate as controllers for automation systems and machines, as well as other devices operating in harsh environmental conditions. The products have been contained in a metal enclosure that acts as a heat sink and simultaneously protects the system against electromagnetic interference. The devices are equipped with a threaded power connector (vibration-resistant). In terms of capabilities and available interfaces, the main difference is the lack of a BIO expansion port, as the PICO-APL4-SEMI design does not offer a possibility of expansion by means of board-stacking.


SEMI computer in a metal enclosure.
Thanks to their mechanical resistance, high-end CPUs, and low power consumption (less than 20W), these computers are perfect for "field" applications. These may include sensors and controllers for city surveillance system, GPS trackers and multimedia centres in vehicles (e.g. public transport), controllers of multimedia street advertising, as well as central units in vending machines, ticket machines, interactive information kiosks, etc.

EMB Mini-ITX computers

EMB-APL1-A10-3350-F1-LV and EMB-APL3-A10-4200-F1-LV solutions by AAEON don't differ significantly in terms of their capabilities. The dimensions of these devices (Mini-ITX size, i.e. 170x170mm) allowed the manufacturer to equip them with many functionalities. They are, in many respects, the "elder brothers" of the PICO-APL1 and PICO-APL4 – universal solutions which do not constrain designers and software developers. The computers are fully compatible with Linux (Ubuntu distribution) and Windows 10.
The picture above shows the layout of the EMB-APL3 motherboard. On the top, there are standard PC pinouts (from the left): audio line-out , 4 USB 3.2 ports, VGA, DisplayPort and HDMI sockets and a power jack that offers a secure connection to the power supply. The board features a 12V ATX connector, as well as two SODIMM slots, a PWM fan output (optional active cooling). Like in the case of smaller models, LVDS signal output (LCD panel control) and eDP are also available. The 2230 and 2242 M.2 slots can be used for the installation of expansion cards and memory devices (additionally, there is a SATA slot next to them). On the left side (from the bottom), there is a pin connector for front panel components (on/off switch, reset, activity indicator), outlets for 6 serial COM ports and 4 USB (2.0) ports, a PCIe slot, and a connector for the Multimedia HD Audio interface.