The new generation of touch displays which are capable of being operated in this way have a basic structure of TFT-LCD, a touch sensor glass and a cover glass. The touch sensor/ cover glass combination can be directly bonded by an optically clear resin to the LCD surface. This provides low reflection, high contrast, and excellent mechanical stability. It can also be separated by a small air gap from the LCD surface which results in a more economical solution while still displaying a high-quality image.

PCAP touch technology has the added advantage of durability because there is no degradation to the surface of the display or the performance of the touch sensor. It also offers the capability of detecting multiple touch points and allowing control by gestures.
There are also other possibilities that can be added to the displays such as anti-glare, anti-reflective and shatter-proof film and optical bonding. Optical bonding uses an optically clear resin adhesive to fill up the air gap between the LCD and the sensor glass.This improves the readability in outdoor and other high ambient light environments, as well as providing strength to the overall structure of the LCD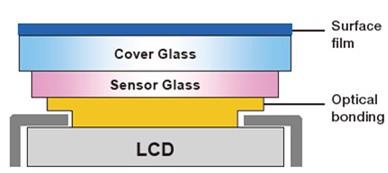 The cover glass can also be customised by chemically strengthening, etching, coating, custom shaping or by decorating the glass.
Here at RDS we have solutions for a range of displays and embedded computer applications.With our expertise and product knowledge we can help bring your ideas to reality. We design, prototype, test and manufacture, everything is in house and built to the highest quality standards.
If you would like further information on these Displays with PCAP technology or have an idea or project then call us, we are here for you on 01959 563345 or go to www.review-displays.co.uk