Advances in technology are having a profound impact on the global defence industry, not only in terms of the platforms and systems being developed but also in the way countries are looking to accelerate their procurement as they look to deploy platforms more quickly.
Around the world countries are investing in new defence platforms, from ships and submarines to tactical aircraft, as they move away from the asymmetric warfare of the past twenty years and return to more traditional forms of defence.
As with most other sectors there's a growing use and deployment of artificial intelligence (AI) and many militaries are now more focused on how to use data to gain a tactical advantage in the modern battlefield - there is a huge pressure on countries to reinforce innovative efforts and research and development to stay ahead.
One of the key results of the on-going pandemic has been a significant economic hit to many economies which could have an impact on defence budgets, at least in the short term, as other public services take priority.
But that's not true of all economies - the UK announced a £16.5bn increase in defence spending over the next four years, the largest practical increase in the UK's defence budget since the 1980s.
Today, international conflicts are no longer confined to land, sea and air, and the defence and security sector is having to invest not only in the procurement of high-value, technologically complex, mission-critical assets but is also having to show an interest in space, especially the security of satellites which are critical to modern communications but also so the running of modern economies.
In the UK, a new National Cyber Force is now working alongside GCHQ's National Cyber Security Centre, and a 'Space Command' is to be formed under the Ministry of Defence.
Former President, Donald Trump, described space as, "the world's new war-fighting domain" and created the United States Space Force, while France launched its own Space Defence Strategy back in 2019.
These kinds of developments mean that companies operating in this sector now face new competitors, demands for growing digitalisation and accelerated procurement times all of which call for changes in the way
they operate and forcing many to reassess how they engage with and go to market. Pressure is growing to invest in greater digitalisation to accelerate R&D, development and manufacturing, while more companies are now looking at partnerships with commercial players, Silicon Valley and academia to accelerate the development of innovative technologies.
While the defence sector is certainly investing more in AI and digitalisation, as a sector it continues to lag behind other industries in terms of overall levels of research and development spend whether that's on autonomous technologies, advanced materials or space.
According to figures from Strategy&, PWC's strategy consulting group, Amazon spends more on R&D than the entire combined global aerospace and defence industry!
As a consequence the defence industry is transforming the way in which it operates. It is not only looking at how to embed new technologies into products and services but is turning to commercial technologies and solutions and increasingly engaging with non-traditional defence players.
All of which means that defence companies that want to remain relevant and competitive are in the process of reforming nearly every aspect of the way in which they operate.
"The move from the asymmetric warfare to near-peer engagement means that the battlefield has been levelled with all parties having the similar resources and knowledge to invest in, advance and build new technologies," says Eric Lakin, VP Finance & Strategy, Smiths Interconnect.
"It's a sector, much like medical or industrial, which is seeking to gain faster, more reliable transmission of data by using smaller, lighter and more ruggedised packages. Together, these packages are bringing forward an exciting era of unprecedented interconnection, signal relay, tracking, imaging, artificial learning and automation."
With international threats to security, privacy and freedom of both expression and information rising, the technology 'battle' in the defence sector has also shifted, according to Lakin.
"What that means is that you are not trying to outwit and overpower a patchwork of legacy technologies. Today, it's not about a show of might and destructive capabilities but, instead, the new focus is on how to gain more intelligence, stealthily and rapidly so that the response is far more pre-emptive, strategic, precise and decisive to any threat."
Procurement

As procurement evolves so many incumbent defence companies are now developing relationships with commercial companies so that they can access the very latest in cutting-edge technologies, and one interesting change in the sector has been the flow of new ideas. In the past defence technologies often resulted in new commercial applications, today disruptive new ideas are now tending to come from the commercial sector.
"We are seeing this manifest itself in the desire for the military/avionics sector to move away from custom-designed products and instead rely on more readily available off-the-shelf components," says Mark Laps, a Technical Product Manager for Ceramic Product Business Unit at KEMET
Electronics. "That said, there is likely to always be a need for some custom components to address certain application requirements."
Due the impact of the pandemic, procurement programmes are likely to be affected in the short term whether through budgetary cuts, delays or supply chain disruption. Looking further ahead, many experts believe that
procurement budgets will have to prioritise expenditure that targets specific programmes and, as a result, will need to use commercial innovations more.
Material and technical advances

With companies looking to revamp processes and develop new platforms and systems, Lakin suggests that new material technology has become a key focus for many.
"The near-peer dynamic was already creating a shortage and price spike for some materials, and the pandemic has highlighted how future geo-political, health and weather events could impact supply. So the aim is to seek new ways to synthetically produce conductive materials which could be manufactured quickly and cost-efficiently as alternatives to traditional mined and finite resources such as gold or copper."
However, it is not possible to anticipate or invent everything.
"For many companies in this space this activity is complemented by a very proactive acquisition strategy designed to gain competitive advances in niche capabilities faster than could be developed in-house," adds Lakin.
"Critically, in relation to Smiths, this means that when a customer comes to us with a problem, there are already a wide range of possible solutions to be offered."
Solutions are not just about being ahead in R&D, but also about being ready to deliver in time whilst interacting effectively and symbiotically with the customer and forging new partnerships.
"As a consequence, this is driving an increased focus on commoditisation, where even high-end bespoke projects seek to use off-the-shelf, mass- produced components that make it possible to get products through into prototyping and, finally, into production more rapidly," Lakin adds.
Across the defence industry more companies are turning to Industry 4.0 programmes and looking to introduce lean practices and hybrid digital/robotic technologies that will enable rapid ramp-up of component production in-house.
"One of the key ways technology has advanced and continues to advance is via the miniaturisation of components and the overall systems/sub-systems that they are part of," argues Laps.
"When it comes to the passive components, if we look at Multilayer Ceramic Capacitors (MLCCs) as an example, miniaturisation has been enabled by making the dielectric layers as thin as possible, whilst still maintaining the capacitance values required.
"Thinner layers provide higher capacitance densities in the same volume (higher CVs). In the early 2000s, this meant that there was a move away from precious metal electrode (PME) technology to base metal electrode (BME) arrangements, in order to enable thinner dielectrics - as these prove more suited to higher density applications."
When BME capacitors were first introduced, both defence and aerospace customers began to evaluate them as a solution for high reliability applications.
"However, early reliability issues were found and prevented the adoption of BME until now. With major advancements in development and processing this technology is now widely used for many applications where reliability is critical," says Laps.
"The two current legacy Defence and Aerospace specifications for Ceramic capacitors (MIL-PRF-55681 and MIL-PRF-123), however, are limited to PME technology which has meant that customers haven't been able to capitalise on MLCC industry trends limiting technological advancements."
In response the MIL-PRF-32535 standard was developed as a joint effort between capacitor manufactures and their customers and the Defense and Logistics Agency (DLA) and is focused on thinner dielectric MLCCs.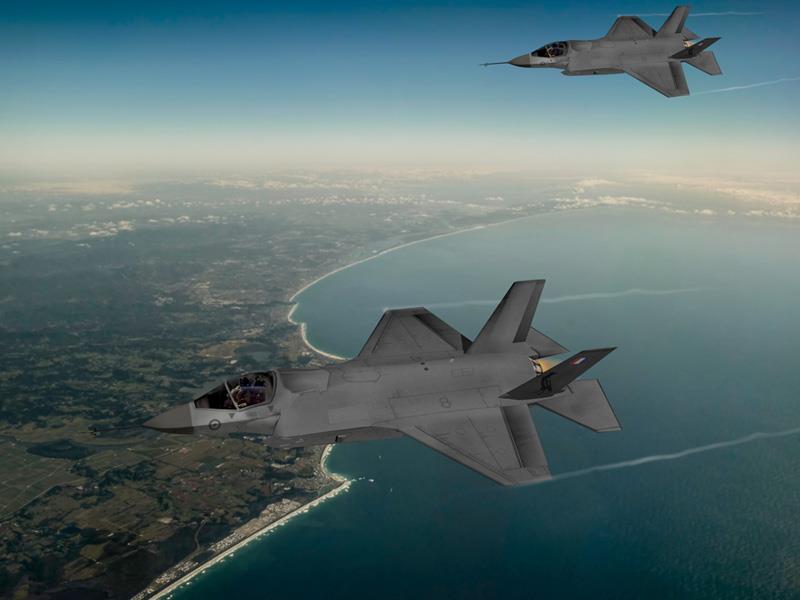 Over ambitious

Large defence programmes tend to be costly and investing in advanced technological platforms has never been without its risks.
Officially begun in 2001, the F-35 programme has come in for considerable criticism entering service many years later than originally planned.
Critics argue that it was over-ambitious, with the result that costs soared as the project sort to deliver a multi-role fighter airplane that would be significantly better than any potential competitor.
For many critics it would have been cheaper to have built specialised aircraft to meet the different needs of the services, rather than one multi-purpose aircraft, and one that focused on stealth capabilities at the expense of speed, climb and overall manoeuvrability, according to others.
"Smiths Interconnect has been involved in the programme for more than 20 years, supplying hundreds of different interconnect devices including high reliability technologies, from RF components and high-speed/power/density/filtered connectors to integrated microwave assemblies," explains Lakin.
"The F-35 programme set out to achieve a quantum leap in air dominance capabilities, providing superior electronic warfare and intelligence, surveillance and reconnaissance capabilities.
"You have to accept that looking to pack that much into a small, rugged, secure aircraft was going to push the boundaries of the 'known'. Therefore by its very nature, that was going to involve uncertainty around the costs, timescales and ultimate destination."
According to Lakin part of the project's value has been in how far it pushed the boundaries of what was known and what those who have been involved have been able to create technologically.
But the costs and delays demonstrate the risks associated with big defence projects.
Looking to the future several Western countries are now developing next generation fighter aircraft - the US has the Next Generation Air Dominance platform while the UK is leading the development of the
Tempest platform and France and Germany are collaborating on the Future Combat Air System.
It'll be interesting to see if the lessons of the F-35 programme are learned and incorporated into these programmes.
Future horizons

When looking at the defence sector it's clear that there's no slowing of demand for technologies that enable customers to do things faster and further, and in bigger volumes, and with more precision – whether that's providing defensive cyber capabilities, IoT interconnectivity, quantum computing, artificial intelligence, human enhancement or big data analysis.
"All of this demands more powerful, reliable and adaptable communications and calculations, underpinned by more sophisticated testing and manufacturing capabilities," concludes Lakin. "But there is also an increasing imperative to not only achieve this more cost-effectively but also more responsibly, which is driving a whole new technology market that is focused on sustainability and low environmental impact."