SoC for high end automotive display systems
Renesas Electronics and its subsidiary, Renesas Mobile have unveiled a new automotive SoC, the SH7769, for high end automotive display systems (graphics cluster, multifunction graphics display) supporting advanced human machine interfaces.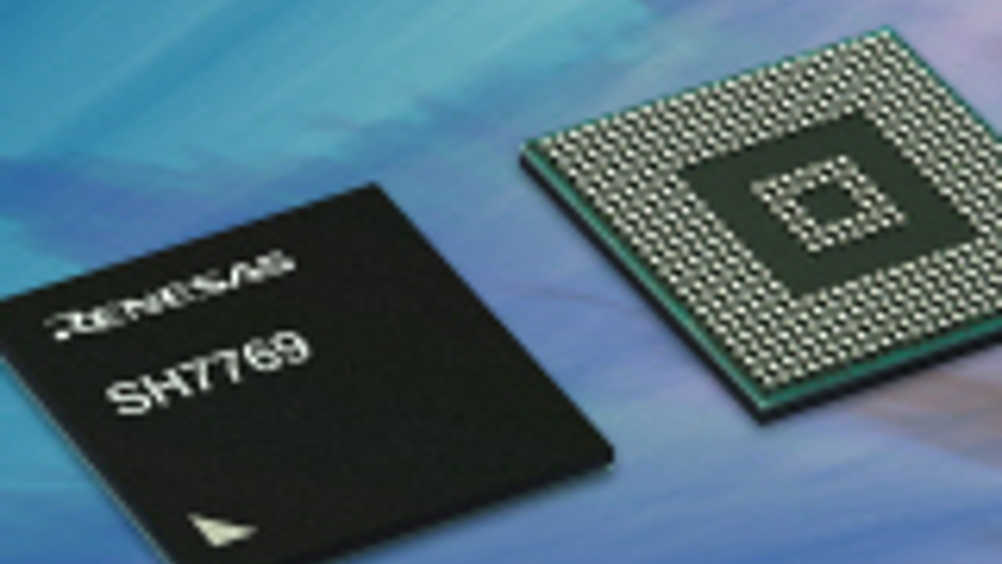 The SH7769 SoC is designed to enhance functions such as video input, display output and high reliability systems present in Renesas' existing SH-Navi3 (SH7776) SoC. According to Renesas, the SH7769 SoC implements functions essential for automotive display systems such as 3d graphics meters and central displays. Due to the recent increase in demand to process enormous volumes of information through in vehicle network and multimedia systems, car information systems are required to deliver this information to the driver clearly and safely. Renesas says the SH7769 SoC implements a high function 3d graphics engine and display units, which allow 1600 x 480pixel high definition video decoding. A graphical user interface display can be used to deliver a realistic instrument cluster system and in vehicle information to the driver. This GUI is said to allows realistic 3d graphics display and improved operability. Up to three video data streams can be processed simultaneously to provide a driver with information from external vehicle cameras, navigation systems, and night vision devices at the same time. The SH7769 SoC also contributes to the reduction of system costs by reducing the number of external components as it integrates functions like an NTSC decoder and an image render function, which perform the compensation of fish eye images. The SoC incorporates Imagination Technologies' 3d graphics IP core, the POWERVR SGX530, in the 3d graphics engine. The new SoC also supports an intelligent GPU that supports OpenGLES2.0 for the rendering of realistic 3d objects and high quality GUIs, making it suitable for multimedia applications such as HMIs. The SoC implements Renesas' 32bit risc cpu core, the SH-4A, and operate at up to 533MHz. The integrated floating point processing unit supports both single and double precision processing, and achieves a performance of up to 7.46GFLOPS, allowing high speed codec processing of still and moving images. The device implements two channels of image compensation. One channel, the IMR-LSX, is dedicated to the compensation of camera image distortion and the other channel, the IMR-X, dedicated to the compensation of a given image. The IMR-LSX channel can flatten the distortion of a fish eye image. According to Renesas, this hardware processing can achieve lower power consumption and higher speed operation compared to the same function implemented on the cpu. The IMR-X channel can transform the image data into a given form and can be used as a head up display image conversion. The SH7769 SoC is also capable of converting one digital image input channel and one digital image output channel for HUD simultaneously.