iSuppli reduces 2010 semiconductor forecast by 3.1%
With consumer demand slowing and inventories rising, market research firm iSuppli is reducing its 2010 semiconductor revenue forecast to 32%, down from its previous outlook of 35.1%.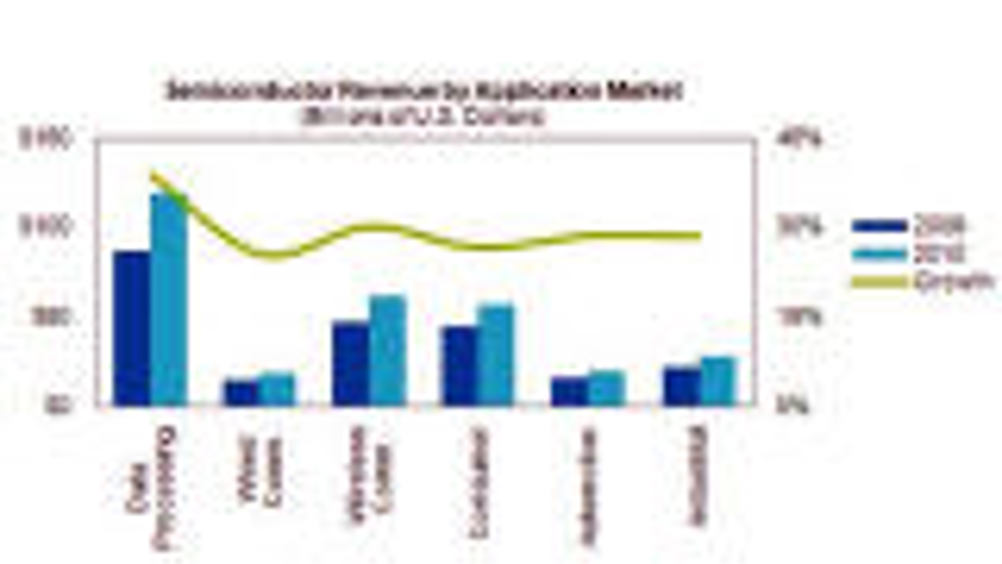 The analyst forecasts that global semiconductor sales will amount to $302billion in 2010, up from $228bn in 2009. Revenue in 2010 is said to rise by $73bn compared to 2009 and be almost $28bn higher than 2007, the previous last peak year for semiconductor revenue, according to iSuppli's semiconductor industry analysis. iSuppli now expects that revenue in the fourth quarter will decline by 0.3% compared to the third quarter, the first sequential decrease since the market collapse in the fourth quarter of 2008 and first quarter of 2009. "There has been a significant slowdown in the second half in consumer demand for some electronic devices, including pcs," said Dale Ford, senior vice president at iSuppli. "Meanwhile, inventories have been building throughout the semiconductor supply chain. These factors will conspire to cause a small sequential decline in semiconductor revenue in the fourth quarter." Largely because of this fourth quarter decline, Ford forecasts that global semiconductor revenue in the second half of 2010 will rise by 7.8% compared to the first half of the year. This is down from 10.7% growth in the first half of 2010 compared to the second half of 2009. iSuppli believes the leading electronic equipment market driving demand for semiconductors in 2010 will be the data processing area, a category dominated by pcs. With shipments of mobile pcs - including tablets - continuing to soar in 2010, the firm sayd semiconductor sales to this area will rise by 38.6%.