The use of smart machinery, systems and equipment offers many benefits, including the transformation of MRO (maintenance, repair and operations) services to allow for predictive maintenance and its related cost-saving implications.
But what are the options for companies where the complete replacement of machinery to achieve Industry 4.0 compatibility is not an option? Many manufacturers will be limited by the cost of such a strategy and instead need an upgrade path for existing machinery to make it Industry 4.0 ready.
Browsing the brochures or websites of new machinery vendors reveals that most new offerings come with straplines such as 'Smart Ready', 'IoT enabled' or 'Industry 4.0 compatible'. They also come with significant price tags, beyond the reach of most looking to upgrade an entire workshop.
And yet the road to Industry 4.0 need not be eye-wateringly expensive. Convenient retrofit options are available to make the pathway smooth, straightforward and cost-effective.
But why seek out Industry 4.0 solutions in the first place? Well, there are in fact many advantages on offer.
Over the past few years, the concept of the smart factory has been steadily evolving as its moves towards the goal of providing harmonious communication between shop-floor devices and enterprise-wide management systems.
Ultimately, those adopting a connected environment can ensure productivity and quality are maximised, from quotation and order, to manufacturing and dispatch.
Of course, the latest component innovations are required in order to support the necessary levels of automation.
Communication on two levels – vertical and horizontal – is required as it facilitates ongoing connectivity and data exchange between all systems in the manufacturing chain of operations. To achieve these levels of communication, the principles of value-chain operation can be put into effect, based on cyber-physical systems, cloud processing and the IoT.
For those looking to take their first steps towards Industry 4.0 by, for example, upgrading a production line, there are various cost-effective ways to turn this idea into reality. Some of the components that can help might include communication cards compatible with various bus types, industrial converter modules, Power over Ethernet (PoE) switches and smart sensors, to list but a few.
Vertical information transmissions are two-way (duplex) and, as such, support simultaneous transmission, receipt and subsequent data use. Here, a communications card with the capability to correspond with a variety of different buses is a cost-effective upgrade strategy.
For instance, take one of the buses that is currently popular across industry – the PCI Express bus. If this high-speed serial bus is the preferred option then an example of a supporting communication card is the IX-100 from Brainboxes.
The IX-100 provides an industry-standard nine-pin RS232 serial COM port in a single PCI Express slot. As PCI Express is fully plug and play compatible, the BIOS and operating system (Linux or Windows) will automatically configure the card, ensuring a trouble-free installation. Users can choose between standard height and low-profile options.
So what of horizontal data flow? This is where information is also shared with the company's operating system. In a typical example, data is uploaded to the cloud, ensuring its availability to users anywhere around the world who have a device able to access the company's intranet.
Data sharing
Data sharing is a key constituent part of Industry 4.0 and to be able to deliver this outcome, there is a need for an Internet of Things (IoT) at factory level, with all relevant devices connected to a network.
Access to these devices can be restricted to a set of pre-defined individuals in line with specific requirements.
An IoT network of this nature can collect operational data and upload it into the cloud. As well as allowing users to communicate with colleagues, it serves to optimise production processes. To achieve this ambition quickly and easily, converters and input/output modules can be retrofitted to the appropriate devices.
A case in point is the ADAM-4520-EE converter, which comes in a durable ABS enclosure.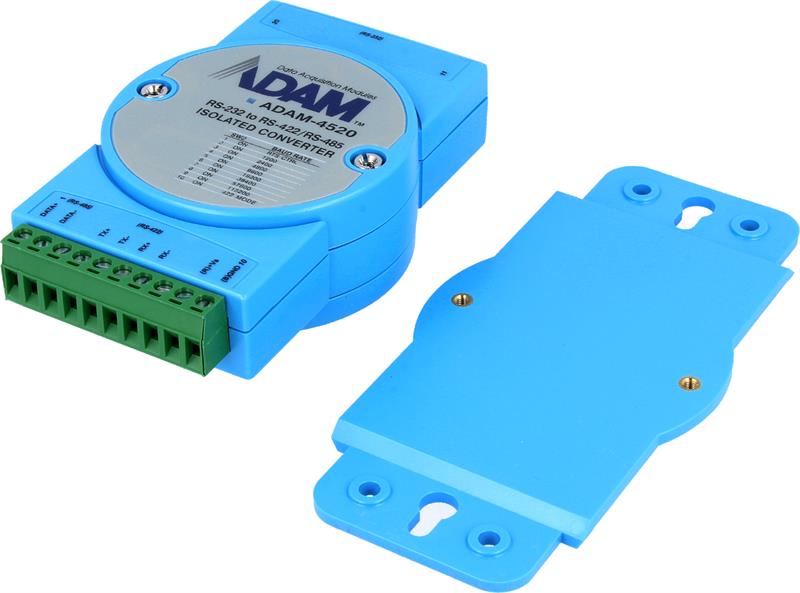 Above: Automatic data flow control is fully supported by the ADAM-4520-EE converter
ADAM-4520-EE is an isolated converter for systems originally equipped with RS-232. The device transparently converts RS-232 signals into isolated RS-422 or RS485 signals. As users do not need to change the industrial PC's hardware or software the, simplicity to upgrade is assured; ADAM-4520-EE lets users easily build an industrial grade, long-distance communication system with standard PC hardware.
Hands-free data flow control is fully supported as ADAM-4520-EE can automatically detect the flow direction of RS-485 data, and change the communication transmission direction accordingly. No additional handshaking signals are needed.
To uphold the original ethos of Industry 4.0, all machines, systems and devices should be connected to the same network. Extrapolating this idea further, all such devices should be powered from a single source in order to optimise the network's configuration and application.
The facilitating technology of choice for many installations is Power over Ethernet (PoE). In fact, the same network cable can be used to transfer data across devices in the network. This concept can help reduce the costs of electrical installations. In such applications, such as the Antaira LNP-0500G-24 PoE switch with a metal housing and five access ports, this easy-to-install product series provides a reliable, hardened Ethernet connection with PoE functions for any harsh industrial application environment, such as automated manufacturing lines, as well as oil and gas production, energy plants and water/wastewater treatment facilities.
Sensors
Sensors are of course at the heart of Industry 4.0, and an increasing number are offering 'smart' capabilities. But how does a regular sensor become smart? One way is to couple it with a smart plug.
Using a smart plug saves the need to use expensive timing elements or supplementary control elements because such a device makes the sensor smarter.
Connected with a smart plug, such as the SensoPart MF series the sensor is able to take over additional control functions; as a timer, counter or inverter, for monitoring frequency, or for on-delay or drop-out delay.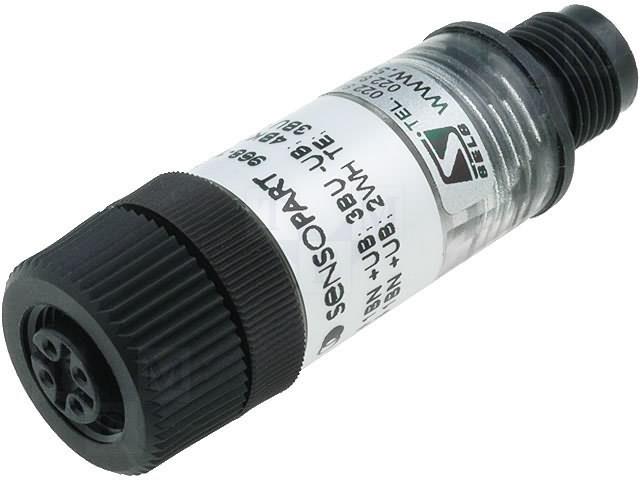 Above: A smart plug allows a sensor to take on additional control functions
Importantly for Industry 4.0 compatibility, smart plugs can typically be programmed using a PDA or notebook via an infrared interface. Top tips include seeking out smart plug variants that can be cascaded, so that counters and timers, for example, can be combined.
Also, for factory-wide commonality, smart plugs should be selected that are suitable for sensors from all producers. Most will offer standardised M12 plugs with a special adapter cable for connection to an M8 plug. For extra plug-in intelligence, some smart plugs can also be used as switching amplifiers.
Faced with a growing number of competitors investing big in Industry 4.0 factory architecture, more astute industrial plant managers – perhaps those struggling with ageing infrastructure and/or ever-tightening budgets – are seeking out more cost-effective ways to upgrade.
Retrofit options can make a major contribution to better communications and optimised manufacturing, resulting in a cost- and energy-efficient outcome.
Author details: Arkadiusz Grzegorek is Head of Automation-Maintenance Division at TME