One of the most promising is G.Fast, a DSL variant that essentially extends the frequency range and thus the capabilities of copper, promising operators the potential of offering fibre-like speeds without having to make the huge investments needed to take optics directly to homes and offices.
The operators that have to date done most of the heavy lifting to get G.Fast standardized at the ITU and trialling the technology, believing it makes economic sense in the medium term to sweat their copper assets to the maximum, include AT&T, Swisscom, Deutsche Telekom, Canadian carrier Telus, Israeli carrier Bezeq and, most enthusiastically, BT. These are strongly supported by some of the biggest names in the communications equipment sector, including Adtran, Huawei and Nokia (via its acquisition of Alcatel-Lucent.)
The three semiconductor groups best established with chip-sets and reference designs for G.Fast are Sckipio, Broadcom and Ikanos, the latter acquired by Qualcomm last August but, reportedly, its DSL operation shut down several weeks ago.
Last year, Intel made an undisclosed but strategic investment in Israeli start-up Sckipio, which was established some five years ago to exploit the potential of G.Fast (see main copy).
Ultra-fast broadband
According to Trevor Linney, BT's head of access network research, "G.Fast has become an integral part of our plans for ultra-fast broadband, and we are really encouraged by the progress by our partners, and with the latest feedback from the various trials that we have been conducting."
He told New Electronics the operator now plans to offer G.Fast-based services operating at data rates between 300-500Mbit/s to 10 million UK premises by the end of the decade. Those of course are the download rates; unfortunately, the upload rates are nearer the 50Mbit/s mark.
As to effective reach, he suggests the optimal would be 300 metres, the typical distance between a street cabinet and the customer premises.
Initially, it was thought the technology would only perform to the necessary bit rates at about 100 metres. "But, working with industry and standardization efforts, we have achieved a repeated renaissance when it comes to speed and distance through improvements in cross talk interference, or vectoring. This, and the fact that we are now able to use significantly higher frequencies, has been key to the advances we are seeing," Linney stressed.
Not that any of this has been plain sailing from a technological standpoint. "To squeeze out the maximum potential from the installed copper networks, there are two significant barriers to overcome. One is the length of the line, since signal strength will diminish as the distances become longer. Then there are problems due to interference between copper pairs.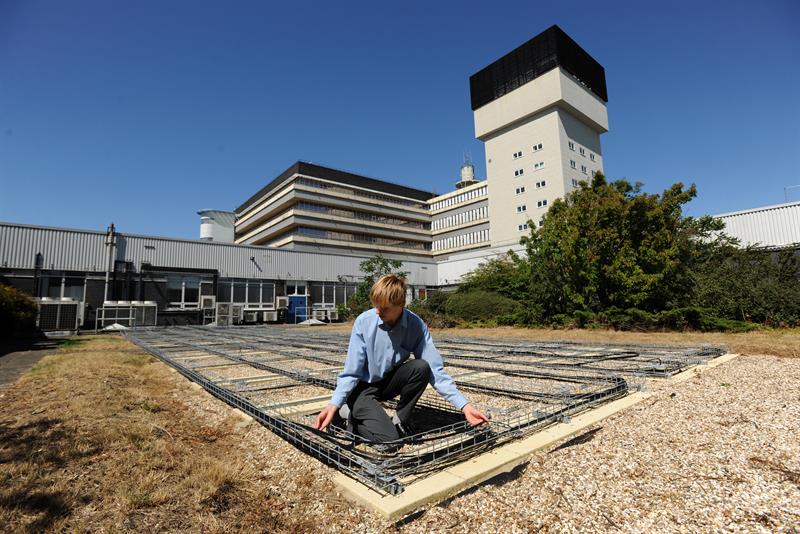 "Really high speeds can only be achieved by deploying the highest possible frequency, but, unfortunately, the higher the frequency and the greater the noise, and consequently, the lower the capacity. All these factors needed very clever and intricate signal processing and maths to achieve the most efficient 'rate verses reach' ratio", said Linney.
And all this had to be done while ensuring there was no interference at all with the existing VDSL2 technology used in the access network. Here the use of spectrum guard bands will play a crucial role.
The test network for G.fast tests layouts for the copper loop from the cabinet to the premise using a variety of configurations

He notes that vectoring – which uses Multiple Input, Multiple Output signal processing to mitigate crosstalk and allows single line performance - was optional for the current flavours of DSL, VDSL and VDSL2, but is mandatory for G.Fast.
As regards frequencies, VDSL works at either 17MHz or 30MHz, while the early version of G.Fast is designed to operate at 106MHz. There is an important tweak in the pipeline and being discussed in regulatory bodies that will double this to 212MHz, making use of some novel coding technologies under development.
Linney points to another significant challenge to any commercial roll-out of G.Fast –the availability of sufficient distribution ports on the current generation of DSLAMs. Eight to 16 ports was just not enough for deployment at the cabinet locations targeted by BT for a roll-out. Linney suggests at least 96 ports in distribution point (DP) units (where fibre from the central office meets the existing copper wires that connect residences) would be the ideal.
Here they would be deployed in existing street cabinets that already house the gear needed for vectoring capabilities, a scenario that would make G.Fast more commercially favourable for operators looking for alternatives to investing in FTTH or FTTP.
Such a scenario was boosted a few weeks ago when The Broadband Forum, the industry pressure group and standardisation body sanctioned the latest specifications to improve the performance of DPUs. Dubbed the TR-355 they target the management of FTTDp and comprise software modules written in the YANG data modelling language. This should allow operators to configure and control DPs remotely, and the Forum stressed this will "provide further stimulus for developing technologies such as G.Fast."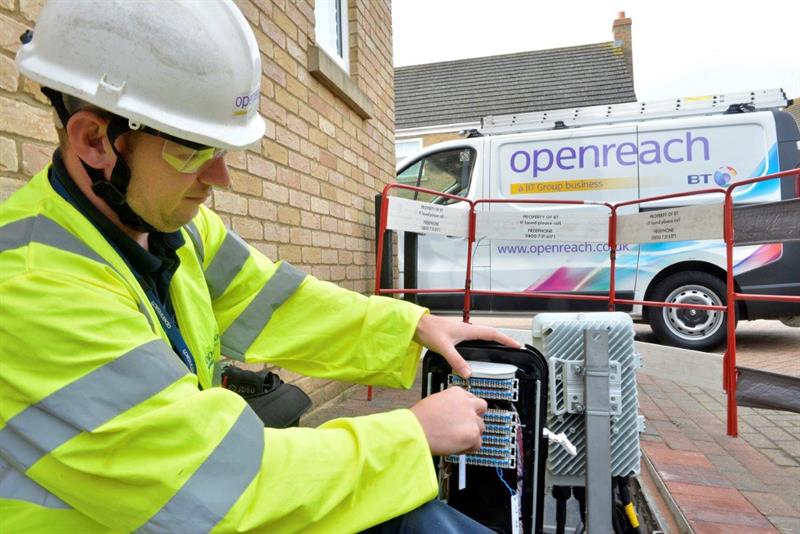 Linney notes BT' decision that it would go from typically 16 ports to at least 96, "generated sharp intakes of breath amongst many of our vendor partners. But the suppliers responded magnificently and such gear is now on most of the chip designers' and equipment vendors' product roadmaps," he told New Electronics. The latter include companies such as Adtran, Huawei and Nokia, and Sckipio, who are all involved in at least one of the three field trials BT has been or is still conducting with G.Fast technology.
Huawei and Nokia have also provided trial CPE units for these field tests, as have Technicolor and Zinwell.
G.Fast is becoming an integral part of BT's plans for ultra-fast broadband in the UK
Large scale trials
BT has been conducting two large scale trials in Huntingdon, Cambridgeshire and Gosforth near Newcastle since the summer of 2015, with some 2000 premises signed up for both, and subsequently technology trials in Swansea where the focus has been on deploying the technology to 'Multiple Dwelling Units', or blocks of flats, as well as some business centres. Reports suggest over 75% of the lines were able to deliver over 300Mbit/s download, and 30-50Mbit's upload. Just over a third of the lines were shorter than 100 metres, and about 15% were between 200 to 300 metres.
"The trials were positive and met all our and the vendors' expectations. The next stage is to set up a pilot passing some 25,000 dwellings in two locations", said Linney.
The trials also corroborated BT's earlier decision not to roll out fibre to distribution points close to customers premises, as had been envisaged early on in the project, but to provide G.Fast from many of its 90,000 street cabinets dotted round the country. BT had previously said the former approach would have been 'untenable' from an economical viewpoint, with the operator having 4 million DP across the UK.
BT has indicated that rolling out G.Fast using the FTTC model could be managed within the carrier's 'existing capex envelope', without offering any actual figures, and also stressed G.Fast would co-exist with VDSL2 for a long time.
Linney cautions that this is just the beginning of the G.Fast story. "The technology first emerged back in 2006 as part of a European Union collaborative project. Industry then started a standardization process at the ITU in 2011, which, while slow at times came up with the first specs G700 and G9701 in 2014. There have been some changes following further research and operational needs, with input from some 100 companies, notably here at BT, equipment suppliers such as Huawei and chip group Sckipio, We have overcome some big engineering challenges, but I foresee several more ahead."
He suggests the key outstanding issues include enabling higher bits per tone, typically 15 rather than the 12-14 now; better receiver sensitivity (<-150dBm/Hz); increasing the transmit power from 4 to perhaps 8dBm; optimising the frequency usage with VDSL2; and increasing the vectoring group sizes to 96.
And BT is already one of the major proponents, together with Alcatel-Lucent's Bell Labs, of a follow-on variant dubbed XG.Fastthatat the operator's Adastral Park research facility and Bell Labs'Antwerp, Belgiumtechnology group - has delivered 5Gbits/s over 35 meters and data rates of 1.8 Gbit/s over longer copper loops measuring 100 meters."This, of course is a research project, but it does signpost that copper has the potential to deliver even higher speeds."
As of now, though, this would not help in getting ultra-fast broadband over longer distances, since XG.Fast operates at 500MHz.
So, while G.Fast is no panacea, it is likely to play a key role in helping operators upgrade the access network in the near future. But in the longer term, there is little doubt fibre will win out.
Sckipio lengthens lead in G.Fast chips
Israeli group Sckipio is widely admired for the pace at which it has been developing chip solutions for G.Fast and for the work it has done in standardising the technology. And it work benefitted recently from a cash injection it received from Intel Capital.
According to Michael Weissman, the company's Vice President for marketing, some of the money will be spent on meeting the challenges set by companies like BT to improve the densities of the number of ports in DPUs. "We have already demonstrated compact units that support 32 port vectoring, and are now working to make sure we are ready for when BT will need 96 port DPUs." (See main copy).
More resources will also be needed for standardisation efforts as the industry moves to G.Fast at 212MHz. "There are a number of important technical issues to be resolved around that."
Weissman said the company would be able to support more technical trials as operators around the world are starting to focus on the technology and the economics are also changing. Sckipio now believes it is cheaper for an operator to roll out G.Fast than to deploy vectored VDSL2.
Almost all North American carriers are looking at the G.Fast opportunity, as well as numerous cable operators, says Weissman.He notes that the demand there is for a bonded version of the technology since most homes in North America have two pairs of copper wires coming in to the premises, potentially doubling capacity to nearer 1Gbit/s. A trial with Windstream using equipment from Calix has just commenced using this approach.
Weissman said: "We expect bonded download speeds in excess of 1Gbit/s and total aggregate capacity to be more than 1Gbit/s. These are over deployed distances – not just lab loop lengths."
Sckipio's SoCs targeting both single channel and multiple port DPUs integrate a DSP processor and an analogue front end that includes a line driver. The vectoring functionality for cross-talk cancellation is also within the SoC, saving board space. "We have gone for a simple solution that can scale very easily as the market needs develop", Weissman told New Electronics.
Continuing to advance the technology's capabilities, the company revealed in May it has developed and demonstrated a bandwidth technology dubbed Dynamic Bandwidth Allocation (DBA) that, Weissman maintains, will significantly improve the business case for G.Fast and even give carriers an edge over the big cable operator rivals, at least as regards upstream performance.
Carriers such as AT&T and Telus have already endorsed the concept, and Adtran has developed a DSLAM using the chip.
The software embedded in the DBA device allows it to sense the combined upstream and downstream demand of each subscriber and dynamically allocate the bandwidth in each direction in real time.
Sckipio suggests the technology could support connection speeds of up to 750Mbit/s in each direction.