However, it is a sector in which companies are facing increased competition and, as a result, they have to be smarter and faster in order to manage ever more demanding customers.
Could Industry 4.0 or the Industrial Internet of Things provide CEMs with a competitive edge?
The concept of the smart factory, which is at the heart of Industry 4.0, aims to have everything imaginable connected to a network that is capable of storing, transferring, analysing and acting upon information gleaned from a network of connected machines, control systems and sensors.
This information and communication technology is intended to drive a revolution in the working of the supply chain and make production, supported by a much higher level of automation and digitisation, far more efficient.
"In my opinion, much of what we call Industry 4.0 has been embedded within Western companies' ERP systems for decades," suggests Adam Fletcher, chairman of ECSN. "But what we are seeing today is the unleashing of its true capabilities. It will not be achieved quickly, nor at low cost; many high volume manufacturers of components already use very sophisticated automated manufacturing systems to produce semiconductors, passive components and connectors in high volumes.
"You can point to numerous examples where complex ERP systems are being used in high volume product assembly; from vehicle assembly and petro-chemicals to food processing."
AWS, a specialist contract electronics manufacturer, is a case in point. According to CEO Paul Deehan: "Our customers are calling for more structured methods of measuring all aspects of our relationship, whether that's quality, cost or delivery times. It is, and will remain, an on-going trend."
"In order to better meet their needs, we needed to have a real time picture of all our business operations so that we could deliver a high standard of service to customers, whether that was enhanced traceability, reduced manufacturing times, speed of response or continuous improvement."
To that end, the company has invested more than £50,000 in a fully integrated control system for use in its manufacturing plants both in the UK and Slovakia.
The system covers all key business processes, from front end processing of enquiries, quotes, contract review and orders (including document control) to the manufacturing process itself, with scanning route cards, work order tracking and the provision of live 'in process' productivity, quality and test reports.
"That level of detail helps us to differentiate ourselves from many other EMS providers," explains Jamie Maughan, the company's group operations director.
"Our control system enables us to monitor activities and provide immediate feedback to customers concerning their orders," he explains. "It enables us to monitor in-process quality pass levels and test results; we can track orders and, while management and workers can access the system, only trained operators (those who have been authorised) can pass product onto the next stage."
According to Maughan the response from customers has been positive. "Our customers can now see live progress of their jobs across all stages from contract review, through build phases to pack and shipped dates," he says. "That level of detail has surprised many customers, especially as it is coming from a company of our size and one that operates in the CEM space.
"While our existing ERP software has been controlling and monitoring activities within our business processes for many years, this investment represents a significant step towards the era of the Smart Factory.
"We are now able to measure our manufacturing performance in real time, at all process stages and on all machines, which means we can make decisions a lot faster."
Importantly, management has 'visibility' at any time in real time from any workstation and senior management can see the same information across the company's two sites.
To prevent operators signing off jobs for which they are not trained or jobs going through to the next station after missing an operation, the system features built in 'fool-proofing' and it even controls Engineering Change Notifications from any source, whether it is a customer, supplier or an internal operator.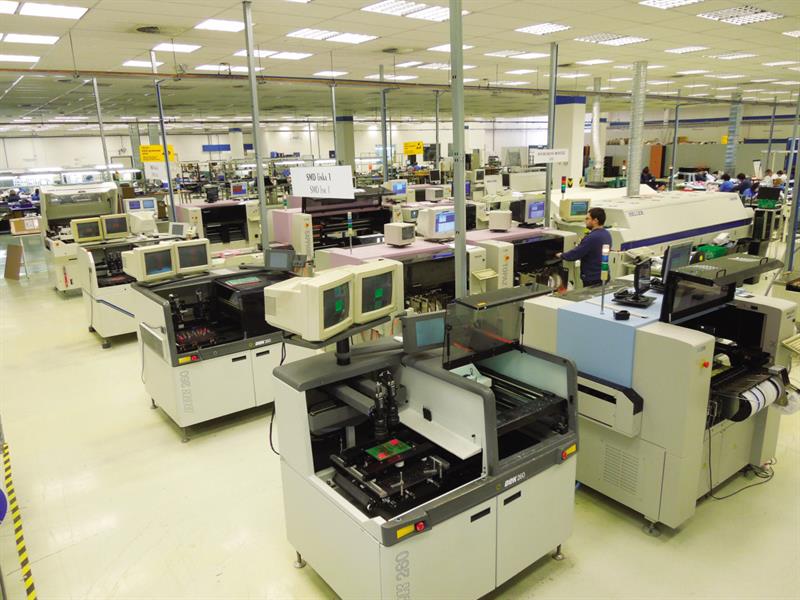 Part of AWS' fully automated dedicated production line
Early adoption
While it is likely that 'early adopters' of Industry 4.0 will be larger manufacturing organisations and their supply network, the key challenge is to get a diverse supply network fully engaged in the process, Fletcher suggests.
"The challenge will be to implement those elements that genuinely release new added-value opportunities. But, to achieve this, the costs and timescales of implementation need to decline to a point where mid and lower volume manufacturers will be able to justify investment in migrating fully to Industry 4.0."
Many lower volume CEM manufacturers, especially those with manufacturing operations predominantly outside Europe, are taking a more cautious 'wait and see' approach, he believes.
"Most UK based CEMs have a primary customer base that is looking for lower volume, high mix, board assembly, where the cost of an Industry 4.0 implementation today just couldn't be recovered. They will only adopt these new processes when their customers volumes, value or needs demand it."
In many cases, smaller (and some larger) organisations are adopting a lower tech approach, looking to deploy intelligent, lower cost human labour and 'knife and fork' IT systems capable of achieving lower costs, faster implementation and greater flexibility.
"I only came across the term Industry 4.0 six months ago," concedes Maughan, "but it isn't a new technology or a new business discipline."
What it is, according to Fletcher and Maughan, is the ability to use technology that wasn't available just a few years ago to achieve improved results that benefit both manufacturer and customer.
"As a manufacturer, we can use Industry 4.0 to manage much smaller production runs and to act on received data immediately. It was one of the key reasons why we decided to invest in this new ERP system," explains Maughan.
"As batch sizes have got significantly smaller, it really is beneficial if you can monitor in real time. We can monitor production, assess it, spot any defects and then make the necessary changes immediately. It's ongoing."
According to Deehan, this capability will probably be adopted more widely within the next five years.
"There are still big gaps to fill if we want to fully deliver on the concept of Industry 4.0, but the benefits for us and our customers are already obvious – it means that, as a CEM, you have the data to hand that allows you to be much more proactive and to provide customers with a much more transparent and efficient manufacturing process."
While Industry 4.0 remains in the early stages of what market researcher Gartner refers to the 'hype' cycle, the advantages and benefits it brings to manufacturing are becoming increasingly obvious.